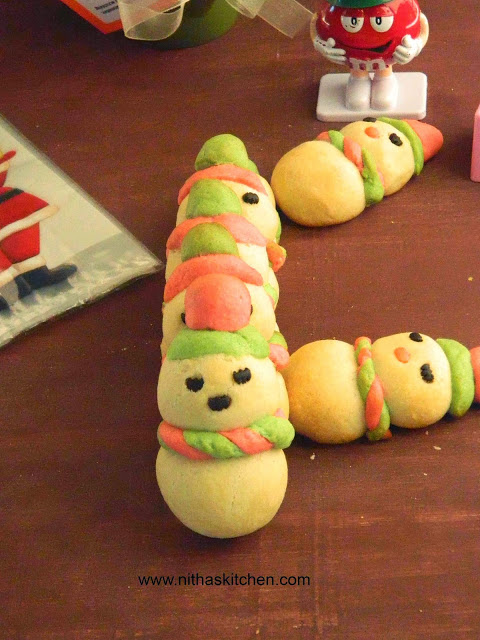 Snowman Cookies : As Christmas is around the corner you can see few bakes/Christmas recipes here in future posts. Coming to today's recipe its chemical free (baking powder or soda) and Egg free Snowman butter cookies. Thanks Priya sis and Priya Ranjit for this wonderful challenge for Home Bakers Group. During last long weekend I made it and totally enjoyed decorating this cute cookies. Also personally my daughter loved it to core 🙂
Recipe Source – Tasteofhome 
Yields – 12 (But I reduced butter about 4 Tbsp and used more dough for hat and scarf so got only 10 Cookies)
Snowman Cookies Ingredients
All Purpose Four – 2 and 1/2 Cups
Butter – 1 Cup/2 Sticks (Softened)
Sugar – 1/2 Cup
Water – 1tsp
Almond (Or) Vanilla extract – 1/4tsp
Red and Green Liquid/Paste Food colors – (I used Gel type)
Black and orange jimmies or sprinkles – (I used Pumpkin Shaped Sprinkles)
Method
In a large bowl, cream butter and sugar until light and fluffy.
Beat in water and extract, gradually beat in flour and mix well.
Place 1/3 cup each of prepared dough in two small bowls, add red food coloring to one and green to the other, keep aside (Pic 1).
Shape remaining dough into twelve 1-inch balls and twelve 1-1/2-inch balls (Pic 1).
Now place one smaller ball over the other large one on ungreased baking sheet and flatten slightly(Pic 2).
Make ready with the hat and scarf so you can place them easily over the round balls (Pic 2).
For scarf, shape 1/4 teaspoon of each color into a 3-in. rope, twist ropes together, leaving one end untwisted (Pic 3).
Place scarf around snowman's neck (Pic 3).
For each snowman, shape 2tsp of colored dough into a hat; place above head (Pic 4).
I mixed 2 colors for a single hat.
Insert jimmies for eyes and nose/mouth (Pic 4).
Bake at 350° for 15-18 minutes or bottom turns light brown (Pic 5 & 6).
Cool on baking sheets n store in air tight container.
Tips
It takes time to make scarf and hat by the time the dough gets dry so use dough in small proportion at a time.
Also when dried wet your palms with little water and roll the dough gently, otherwise you will get cracks on cookies.
While rolling the balls, sometimes they break due to lack of moisture, here too wet your palms and proceed.