Happy Mother's day to all. I am dedicating this Eggless Butterless Strawberry Cake to my Mom who is so special for me. Every Mom is a roll model to their children. I am proud to say that i am a mom for 2 kids and trying to be like my mom in showing love, patience, tolerance etc…I made this cake for her but she couldn't taste it as we are separated in matter of miles (Just showed the cake picture). So coming to the post what is special with this pink lady? Fresh strawberries good then, Egg less hmm then, butter less cake oh wow yup, definitely you guys love this cake and no compromise on taste.
Eggless Butterless Strawberry Cake 
Ingredients
Fresh Strawberries – 3/4th Cup of puree
All Purpose Flour/Maida – 1 and 1/2 Cups
Thick Curd/ Hung Yogurt – 3/4th Cup (Yogurt should be very thick refer note)
Baking Powder – 1 and 1/2 tsp
Baking Soda – 3/4 tsp
Cooking Oil – 2 Tbsp
Powdered Sugar – 3/4th Cup
Red food color – Optional
Salt – Pinch
Lemon Juice – 1 and 1/2 tsp
Milk – Optional
Yields – 5-6 Slices
Eggless Butterless Strawberry Cake Preparation
Clean the berries, wipe it, cut the odds and blend with a Tbsp of sugar to fine puree (Pic 1).
In a large bowl add yogurt,lemon juice and sugar whisk well for few mins then add half of strawberry puree,baking powder,soda and salt whisk till it forms a foamy mixture.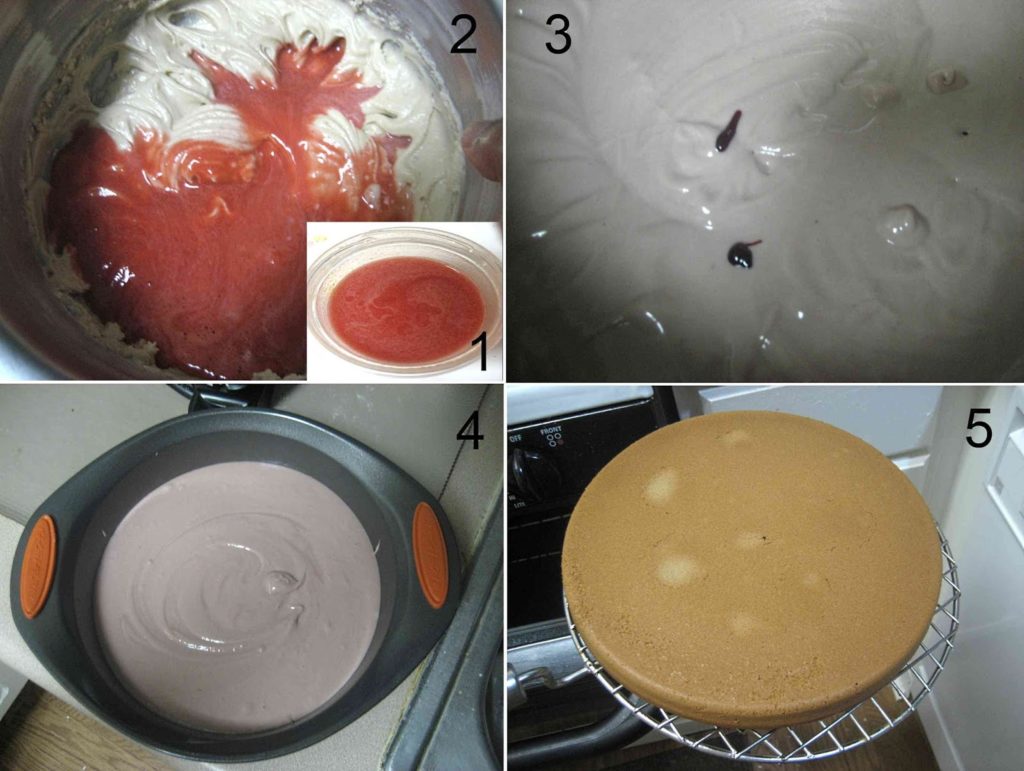 Now add flour in small proportions alternate with remaining strawberry puree (Pic 2), once done and if it is not to dropping consistency add few drops of milk.
Finally add few drops of food color (Pic 3).
Pour the batter in greased 8″round cake pan (Pic 4).
Preheat the oven to 350° F, Bake for 15mins or till toothpick comes out clean when inserted in the center of the cake (Pic 5).
Whipped Cream Frosting
Heavy whipping cream – 1 Pint (473ml)
Pink/Red Food color – i used gel type.
Vanilla Essence – 1 tsp
Powdered Sugar – 1 Cup 
Whip till it reaches soft peak. Watch my video on whipped cream.
Separate 1/3rd of the whipped cream and mix it with red food color for final decoration.
Apply the white cream all over the cake and refrigerate it for at least 5hrs or when you touch the cake it should not stick to your fingers.
Then apply the colored 1/3rd of whipped icing according to your creativity and serve chilled.
Notes:
If you don't like frosting, just have it as it is. This is the first time i decorated with star shaped tool, hope its not too bad :-).
I have used hung homemade curd made from whole milk for preparing the cake.
Can use the extractor to extract strawberry puree.
Beat well while mixing the ingredients, much more aeration makes the cake soft.
If the homemade yogurt is not thick add fat free milk powder/condensed milk/oil to make the cake soft and better.
If you want to make in 2 cake pans/bit large quantity then double the above mentioned ingredients.