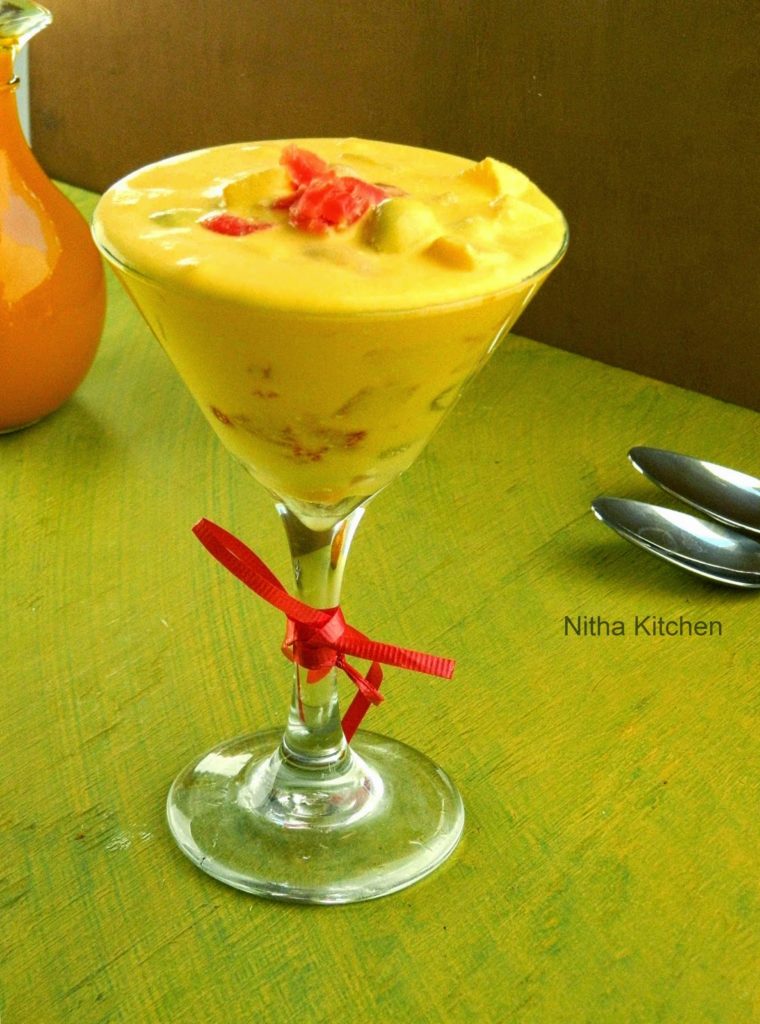 I am not a regular buyer of Canned/Tinned Foods. But when comes to party or get together then lot to bake and cook. So at that time its much appreciable to have a quick and delicious dessert that can be made in 10 minutes of time. Today's recipe is much close to restaurant version of Mango fruit custard and this recipe
calls for just 3 main ingredients. You can alternate canned fruits with fresh fruits…Also refer note section regarding custard powder tips.

Preparation Time :- 10 Minutes
Yields :-
6 Servings
Ingredients
Store Bought or Homemade Mango Pulp – 1 and 1/4 Cups or More as per taste (300gms approx)
Canned Cocktail fruits or Fresh or Frozen – 1-1 and 1/4 Cup (16 oz approx)
Heavy Cream or Whipping Cream – 2 Cups (16 oz approx)
Powdered Sugar – 2-3 Tbsp (You can increase)
Mango Essence or Any Flavor – 1/2tsp (Optional, substitute cardamom powder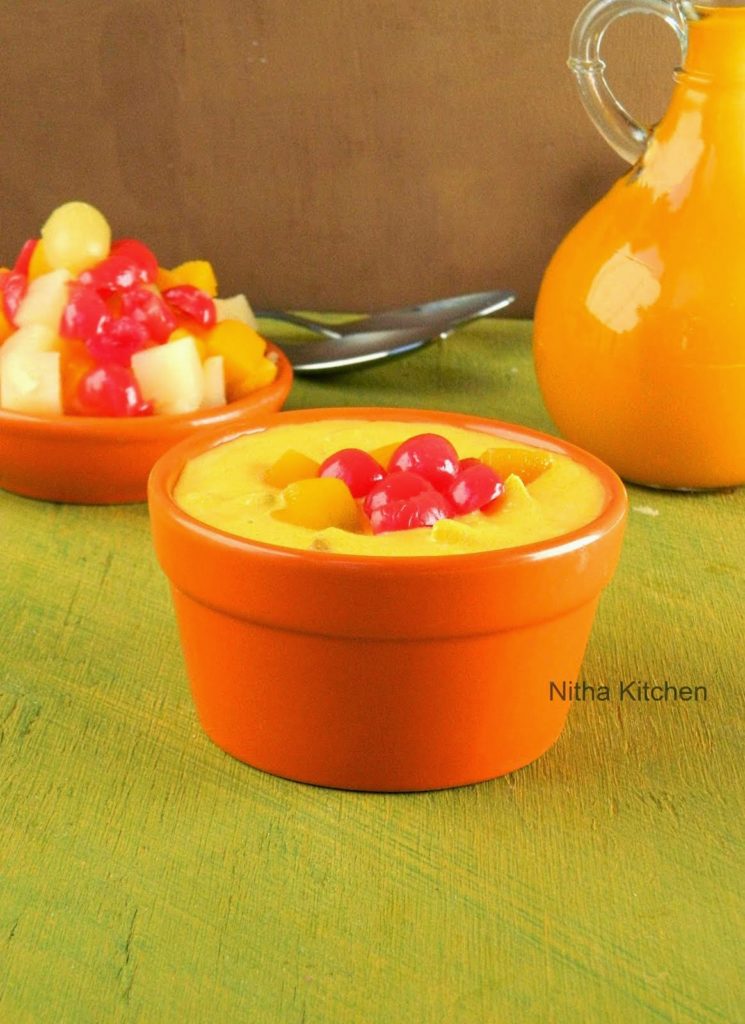 Mango Fruit Custard Preparation
Try to use Alphonsa Mango Pulp (Pic 1).
Chill the bowl and whisk attachment before whipping the cream.
Whip the cream to soft peaks (Pic 2).
Add Mango Pulp (Pic 2) and powdered sugar.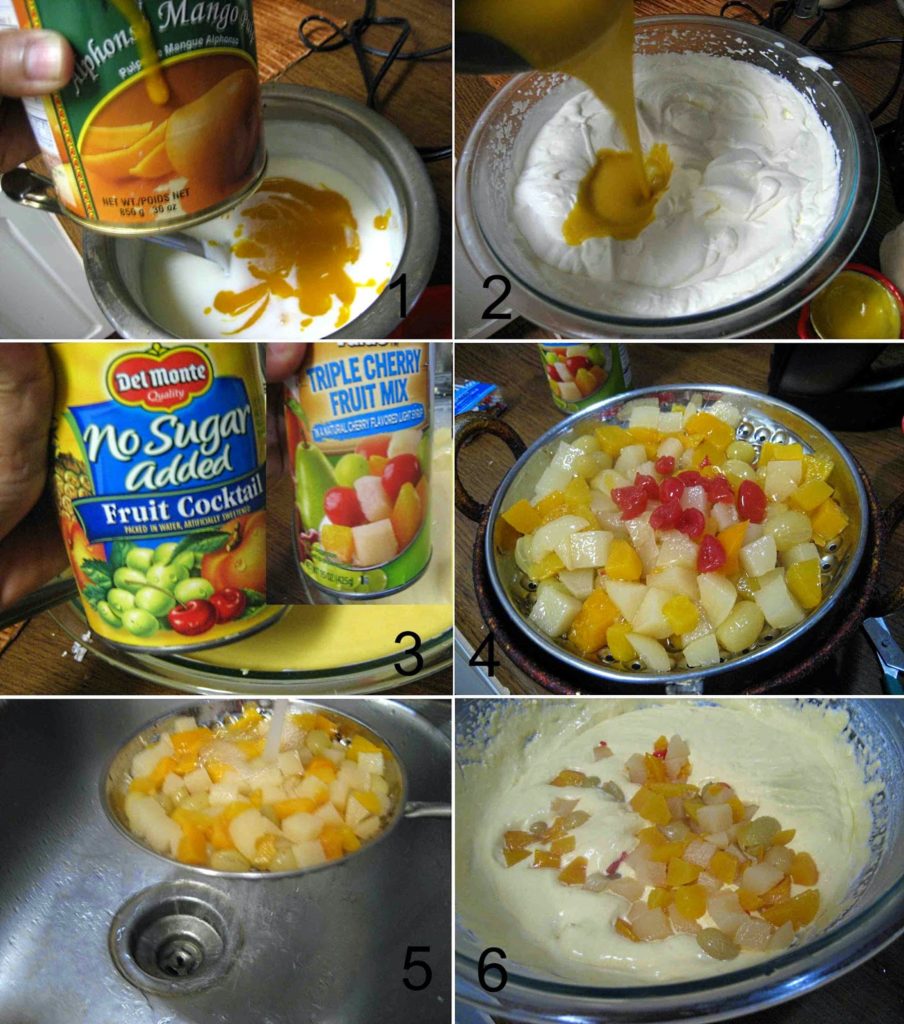 I have tried these two varieties (Pic 3) Fruit cocktail and Triple Cherry Mix, both works good.
If using canned fruits, drop the fruits in a colander (Pic 4) and wash it in running water(Pic 5), drain well and keep it aside.
You can add the essence/flavor right now to the whipped cream and mango pulp mixture.
Finally add the mixed fruits (Pic 6) fold it gently and store in refrigerator till use.
Once you mix fruits with cream then it should be used in 1-2 days, it wont stay good after that.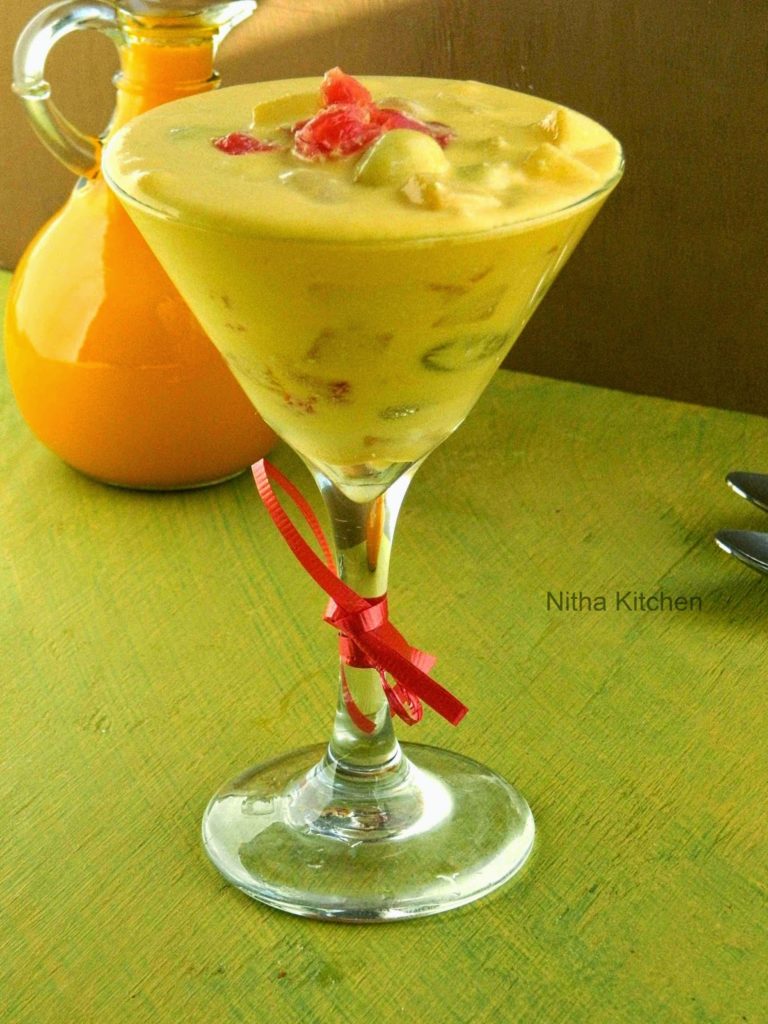 Tips
Use fresh chopped assorted fruits instead of canned ones.
Usually Fruit Custard has regular milk and custard powder in it but i usually skip both.
To make custard, boil 1/2 cup milk, mix it with 1-2 Tbsp custard powder without lumps and cook again in low flame for a while by stirring continuously. When its cooled down add it to the whipped cream and other remains same in the above recipe.