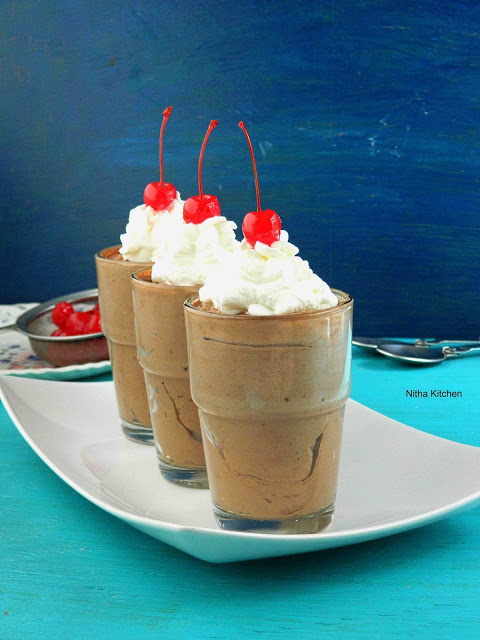 Cooking is my passion though I am getting hard time to blog, I love to post recipes of my day to day cooking often. Today I am here with my 400th post, EGG FREE GELATIN FREE CHOCOLATE MOUSSE RECIPE . I am taking this opportunity to thank you all from my bottom of heart for your consistent encouragement and support. When my friends and readers mail/comment or message saying that they tried recipes from Nitha Kitchen and it turned out good, it gives me boundless joy and I feel that my hard work has paid off. Also your single word of appreciation boosts me to share more and more recipes here. Dear readers do keep encouraging…As a thank note today I am sharing a very chocolaty dessert it is egg free and gelatin free chocolate mousse recipe which is so easy and quick to make that can satisfy your sudden sweet craving. Also Valentine day is approaching and you can plan to make it accordingly 🙂
Serves – 3
Ingredients for Egg Free Gelatin Free Chocolate Mousse
Heavy Cream Milk – 1.5 Cups
Dark Chocolate Morsels or Chips – 3/4th Cup or 5 Oz (approx, I use 60% cocoa, if using reduced cocoa chocolates increase the quantity a little bit)
Instant Espresso Powder/Coffee Powder – 1tsp or more (Optional)
Condensed Milk – 2 Tbsp (Optional)
* Powdered Sugar – Depending on the type of chocolate you use you can add 2-3 Tbsp of sugar while whipping the cream or just ignore it.
Method
Measure the chocolates or chocolate chips and add it in a heat proof glass bowl (Pic 1).
Use double broiler (placing the choc placed glass bowl over well boiled water like in Pic 2) and melt the chocolates (add 2 tbsps of cream so it melts quickly), once the water boiled simmer it and keep stirring the chocolate over it (Pic 3).
Let it cool meanwhile whip the heavy cream (Pic 4).
Using hand mixer or hand whisk whip the heavy cream to stiff peaks also you can whip in advance and refrigerate till you use.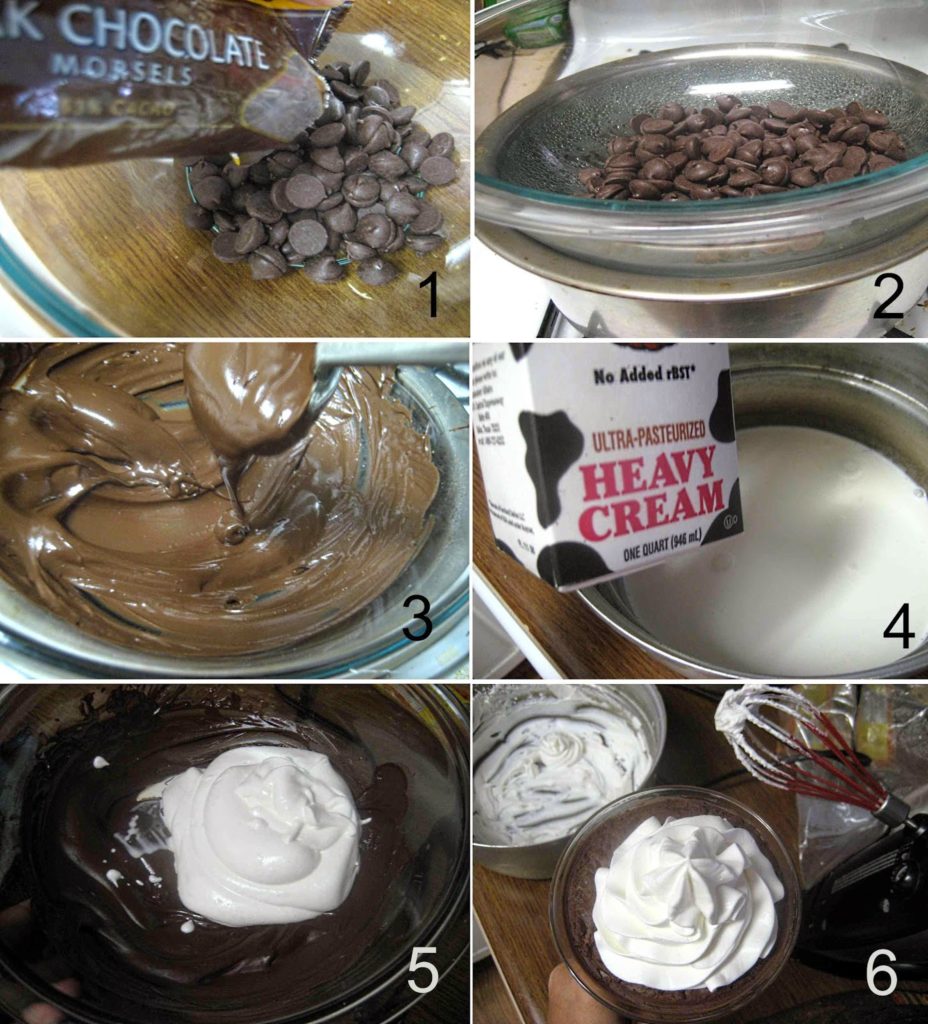 Add sugar if you prefer while whipping the cream.
Dissolve the coffee powder in 2 Tbsp milk and add it to the melted chocolate chip, mix up well.
When the mixture is cooled completely, gently mix it with chilled whipped cream, Pic 5 (reserve few to top it later).
If you dont prefer cut and fold method, just add remaining cream to chocolate and whip all together till the choc mousse attains stiff conssitency (like shown in video)
Don't over mix and make sure the mousse texture is airy and fluffy.
Complete Video Tutorial
HERE
Place in individual bowls or cocktail serving glasses (use fork or stick to release unwanted air bubbles if any in the jar).
Then top it with reserved whipped cream (Pic 6, here i used 1M tip) and finally decorate with some chocolate sprinkles or shavings or cherries over it.
Chill for 30 minutes at least before serving.
I have updated the old post with new pictures and video.