Learn to make eggless wheat bun from scratch, the only thing you have to keep in mind is to knead the dough slightly sticky and well moisture. If you do so then you will get a super soft buns and as usual use the best quality yeast to get it rise well and for more tips do check the notes at the end.
REFER HOW TO KNEAD DOUGH 100% wheat bun video recipe
Eggless Wheat Bun Ingredients
Half bread flour and Half Wheat Flour – 3 Cup Plus 1/2 Cup (replace with 100% whole wheat)
Active Dry Yeast – 2.5 tsp (Instant 2 tsp)
Salt – 3/4 tsp
Sugar – 2 Tbsp
Butter – 3 Tbsp
Water + Milk – 1 and 1/2 Cups
Melted butter for brushing on top – 2 Tbsp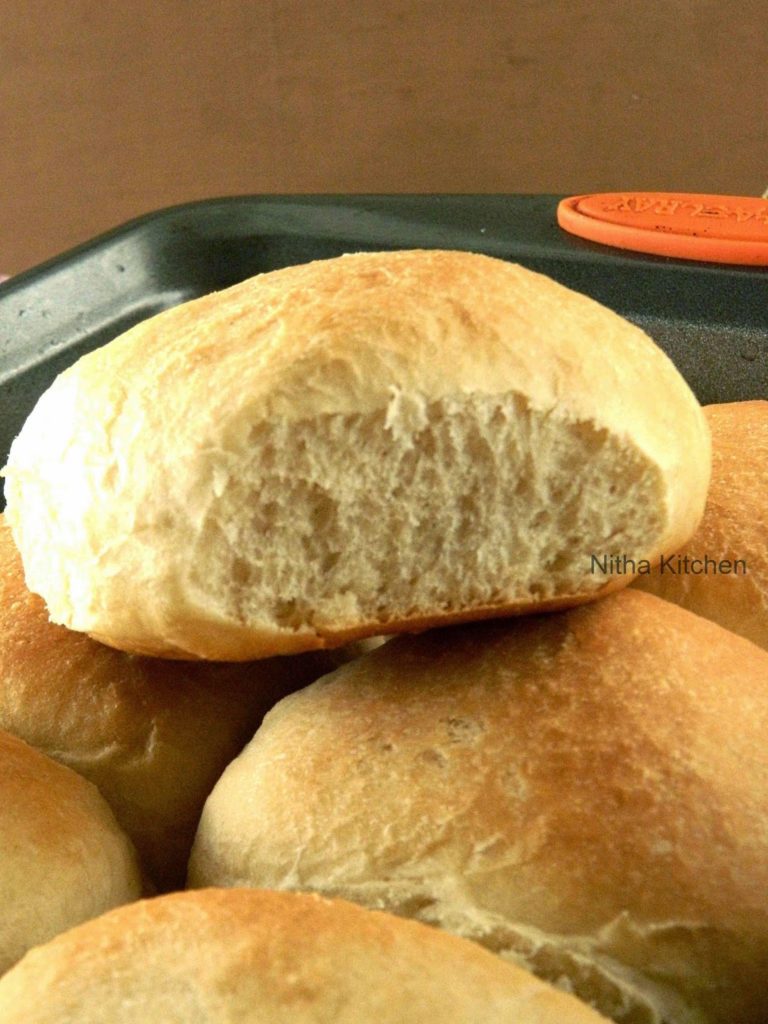 Eggless Wheat Bun Preparation 
In a mixing bowl, mix flour, sugar and salt.
In a sauce pan or mug warm water+milk and add yeast (Pic 1) to it.
Leave it aside for 5 minutes.
Later pour milk mixture to prepared flour mixture in batches (Pic 2).
Knead it to soft dough or in stand mixture, in 2 setting allow the mixture to knead for 8 ~ 10 minutes.
I divided the dough in to 3 portions and kneaded with my hands to slight sticky dough.
If needed you can sprinkle a tsp of water or milk at a time.
Finally add the soft butter (Pic 3) and keep kneading for few more minutes.
The dough stick a bit initially (Pic 4) and later it turns non sticky and very soft (Pic 5).
Cover with cling wrap and allow it to rise in warm place.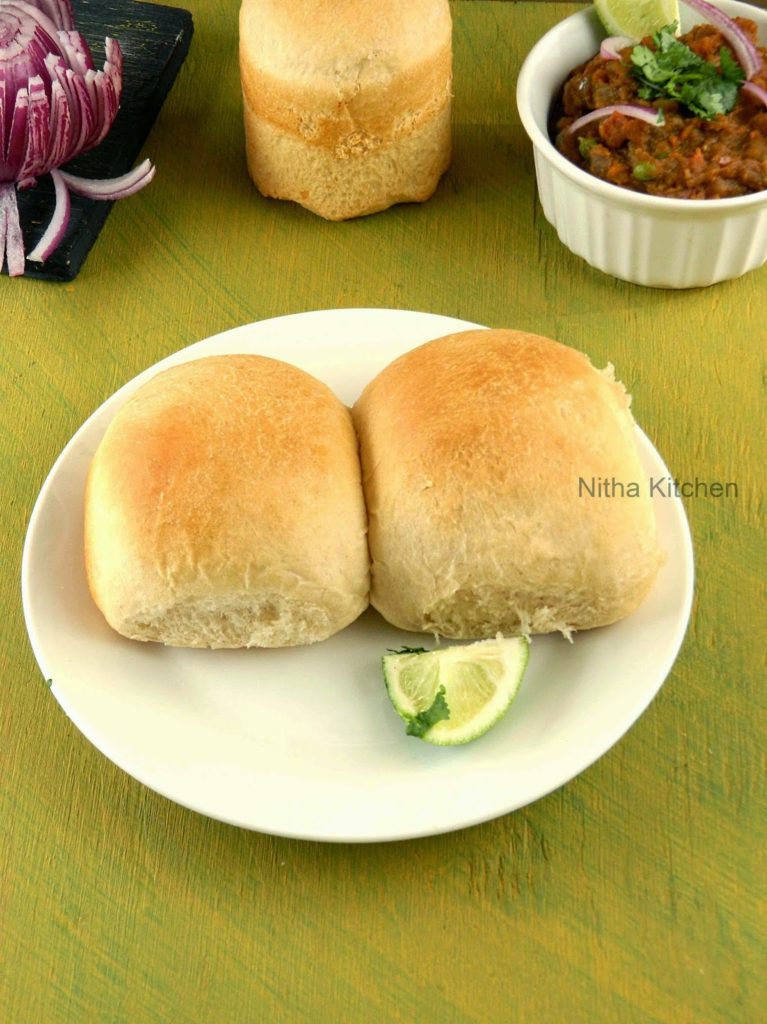 After 45 minutes or the dough volume has doubled (Step by step Pic 6) short knead and divide into equal portions.
I split the dough in to 9-10 large lemon size balls with equal weight each and arranged in a rectangle cookie pan and added one in the aluminum tin (step by step Pic 7 below).
Cover the top with cling film and allow to rest for 30 minutes for second proof (Pic 8).
At the end of dough rest time, pre heat oven to 350° F.
Brush the top with melted butter (Pic 9) or egg wash (if desired).
Transfer the pan to the oven and bake it for 20-22 minutes or until golden brown.
Do not open the oven in between or after it baking time because it will shrink the pav buns.
And when it is out from oven immediately brush the top with melted butter.
Serve it with Paav bajji masala/butter/sliced onions by squeezing some lemon juice on top.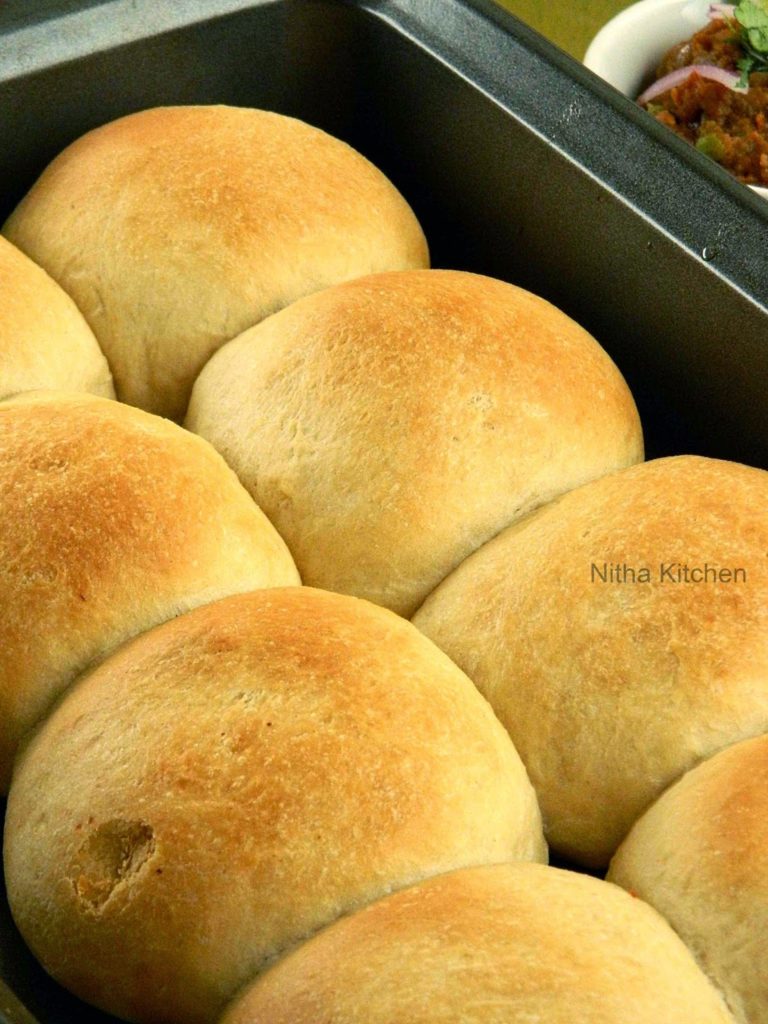 Some Trouble shooting Tips
If the yeast dissolved in warm water is hot then it kills the yeast and the dough doesn't rise at all.
If the dough has too much sugar then it prevents proper rising.
Usually make the dough with good enough moisture at the same time not too sticky by this way inner bun turns too soft.
Allow proper time to ferment also cover the top loose.
Beginners try with small proportion of wheat flour along with bread flour or maida. Later increase to 50:50 ratio.