Chocolate Sugar Cookies : The whole week went just like that, both kids had Valentine exchange in their schools and for elder kid apart from candies and cards exchange she had cookie decorating event yesterday so I baked and sent her 2 giant chocolate cookies with store bought whipped cream and sprinkles. For Younger one I baked the same cookies of medium size with royal icing decoration. 2 days back he shared the heart cookies with other stuffs like cards and candies
with his friends. So today's recipe none other than Heart shaped Chocolate
cookies mildly flavored with coffee powder (you can skip it for kids) and finally
decorated with royal icing.
Yields – 21/2″ – 36 Cookies Approx
Recipe Source Adapted from Glorioustreats
Chocolate Sugar Cookies Ingredients
APF/Maida – 3 Cups
Cocoa Powder – 1/2 Cup (I used Dark Cocoa Powder)
Butter – 1 Cup (2 Sticks, you can reduce 2 Tbsp)
Sugar – 1/2 Cup Brown Sugar + 2/3 Regular Sugar)
Strong Coffee Powder – 2tsp (Optional you can skip for kids)
Vanilla Extract – 1tsp
Baking Soda – 1/2tsp
Salt – 1/4tsp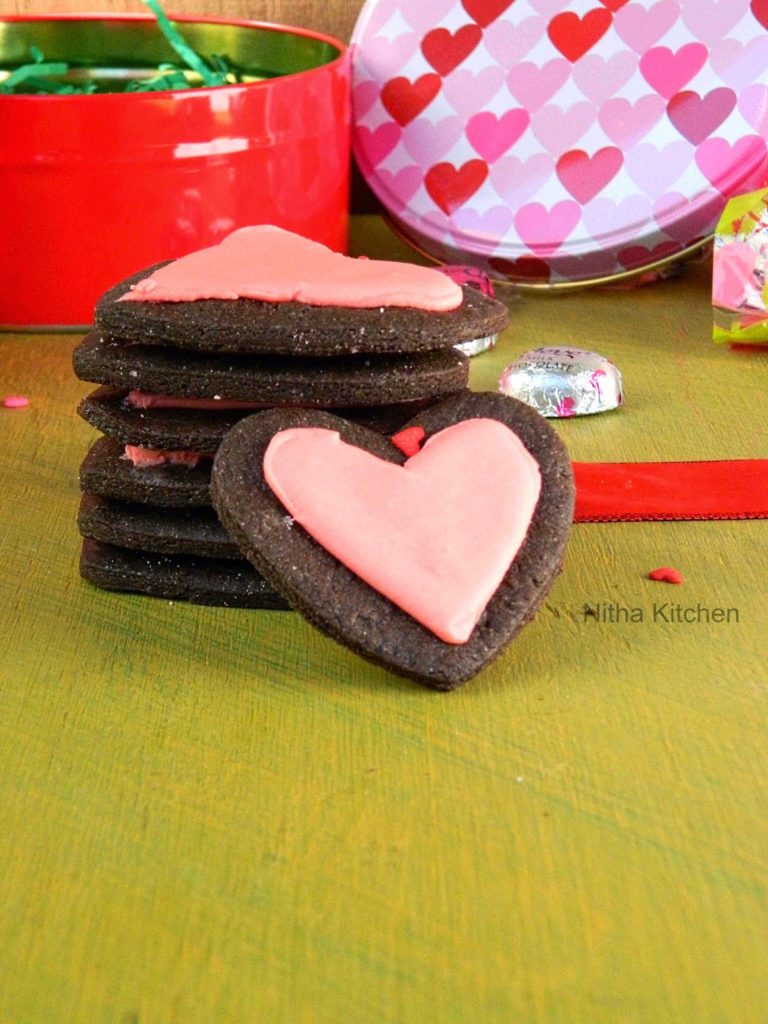 Chocolate Sugar Cookies Preparation
Bring the butter to room temperature.
In a microwave bowl add 2 Tbsp water, 1/2 cup brown sugar and just heat for 30 seconds – 1 minute, the large sugar crystals will dissolve when you do so.
Finally mix coffee powder and keep aside (Pic 1).
In a mixing bowl add AP flour, Cocoa powder, baking soda and salt, mix well (Pic 1), keep everything ready (Pic 1).
In another large mixing bowl cream butter and regular sugar(Pic 2), add vanilla extract.
Add flour and coffee mixture in batches(Pic 3).
Mix everything well, for first 2 batches you can cream the cookie dough with hand mixer, from next batch of flour on wards start kneading by hand (Pic 4) otherwise the flour spills everywhere.
Keep adding flour and knead till the right dough consistency attain as shown in Pic 5.
Divide dough in to 2-3 balls, Cover/Wrap the dough with cling film and rest it for 2 hours or overnight in refrigerator.
Take 1 portion of dough at a time, rest in room temperature for 5 minutes at least and roll to even thickness, cut the cookies as desired (Pic 6) and place it on parchment greased cookie pan (Pic 7).
Preheat the oven to 350° F, bake the cookies for 7-10 minutes, its hard to identify like brown edges in basic sugar cookies so make sure not to burn the bottom of cookies.
Once done remove the cookies from  oven and rest it in the cookie pan for 2-3 minutes, later transfer them to the cooling rack.
Cookie Decoration
I went for royal icing with pink/red food color, first use thick royal icing for cookies borders (Pic 8), let them dry for 5 minutes at least then pour a thin consistency icing to fill the heart cookies (Pic 9).
Allow to dry for 30-40  minutes or as needed.
Store it in air tight container and in Pic 10 I was filling the treat bags with cookies :-).
These cookies stays out for 3-5 days.
For detailed royal icing recipe do check Here.
Tips
Use 2-4 parchment papers and place the desired cut cookies, 8 cookies in a sheet and while baking the cookies in batches just use the same cookie pan by altering the parchments.