As Christmas is fast approaching here are the basic sugar cookies (recipe follows) that I made few days back for my younger one's class Christmas party also I have provided detail description on how I decorated them with royal icing. Do check the detail post…
Yields :- 24-30 Cookies Approx
Ingredients for Sugar Cookies


APF/Maida – 3 Cups (Reserve 1/4 Cup and if needed add at last)
Unsalted Butter, softened – 1 Cup (Two Sticks)
Confectioner's Sugar – 1and1/2 Cup (Replace with 1and1/4 cup of powdered granulated sugar)
Egg – 1 Number
Vanilla or Almond Extract – 1-2tsp
Baking Powder – 2tsp
Salt – 1/2tsp
Adapted from here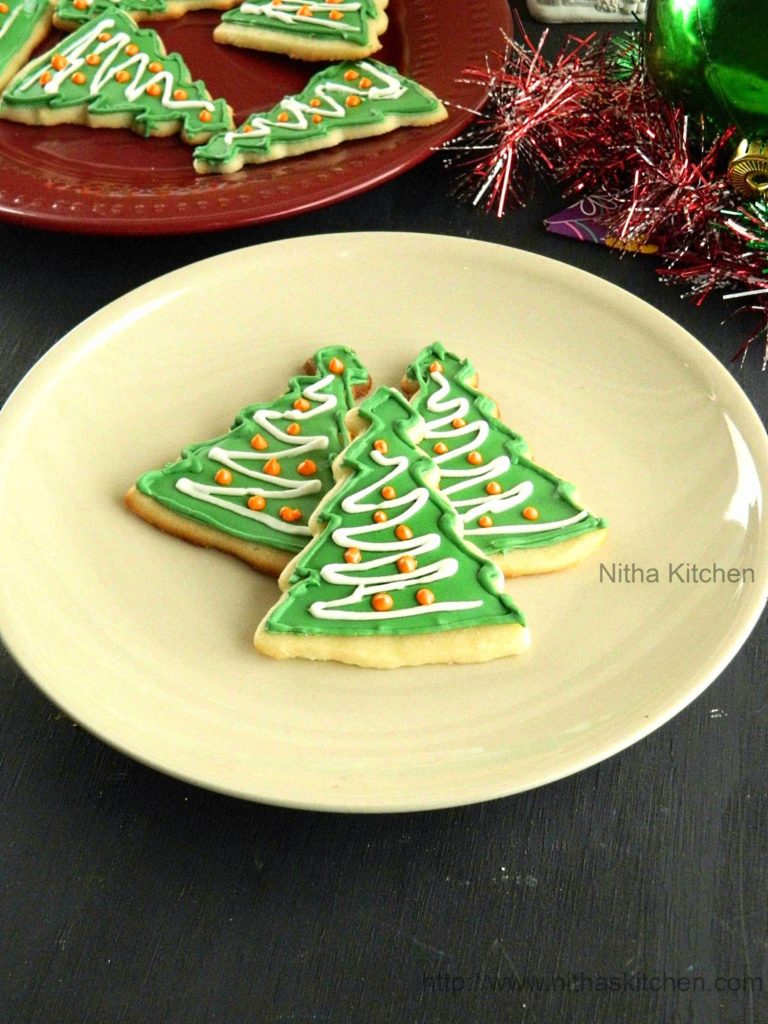 Method
Cream together softened butter and confectioner's sugar (Pic 1).
Crack the egg into a separate bowl, and add the flavoring.
Add that to the butter sugar mixture and mix until the egg is thoroughly incorporated.
In a separate bowl, sift together the flour, baking powder, and salt, then add little by little to the mixture (Pic 2).
You can either use hand mixture or by hand to make the dough.
When you touch it, it has a little give, but does not stick to my fingers (Pic 2).
The original recipe says no need to refrigerate and you can make it immediately but i chilled for 30 minutes(overnight works) for the dough to get firm and I strongly recommend to chill the dough for easy and perfect shaped cookies.
Make the desired shapes by rolling the dough as shown in Pic 3
Place the cut cookies in parchment placed cookie sheet.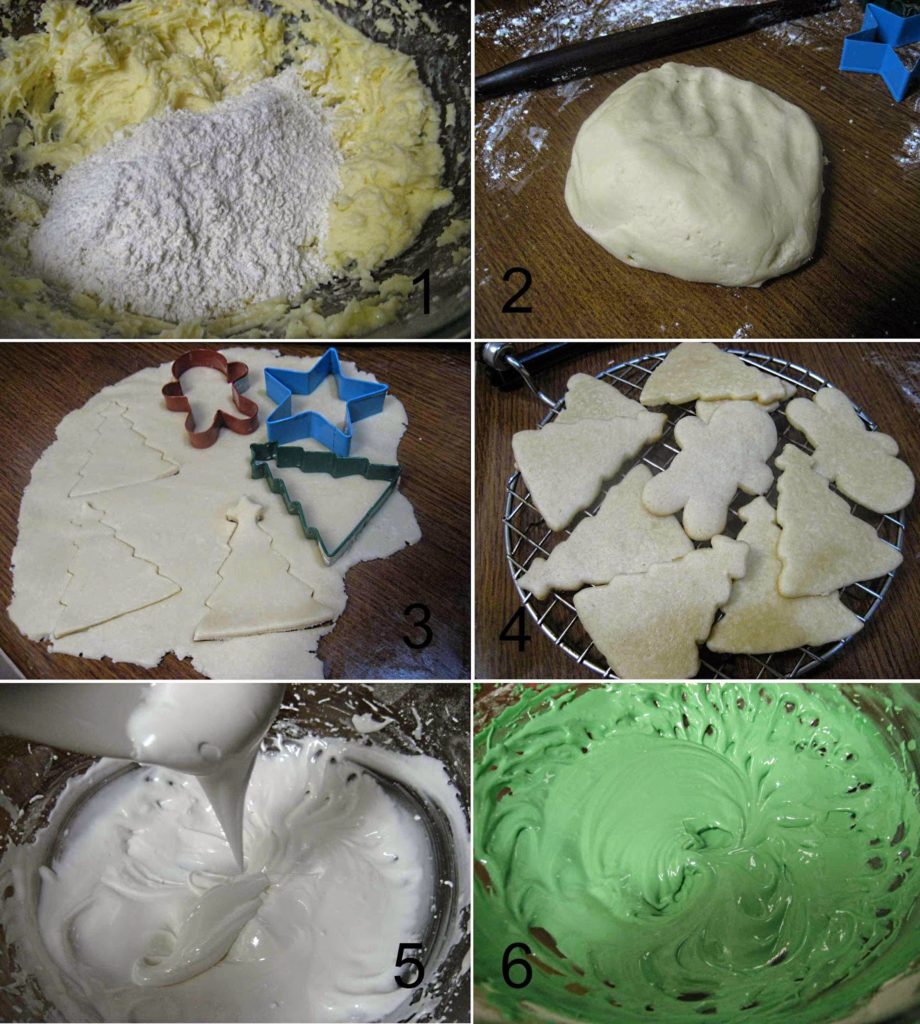 While working with dough take half quantity at a time and you can freeze the leftover dough to get firm for quick process.
Bake at 400°F for 5-7 minutes and by this time the cookies usually will be super soft so don't try to remove from the sheet, if you do so the cookies crack.
Place the baked tray over cooling rack and leave it as it is for 5-8 minutes.
Later remove the cookies and allow to cool completely (Pic 4).
Store the cookies in air tight container and i used one day old cookies to decorate further.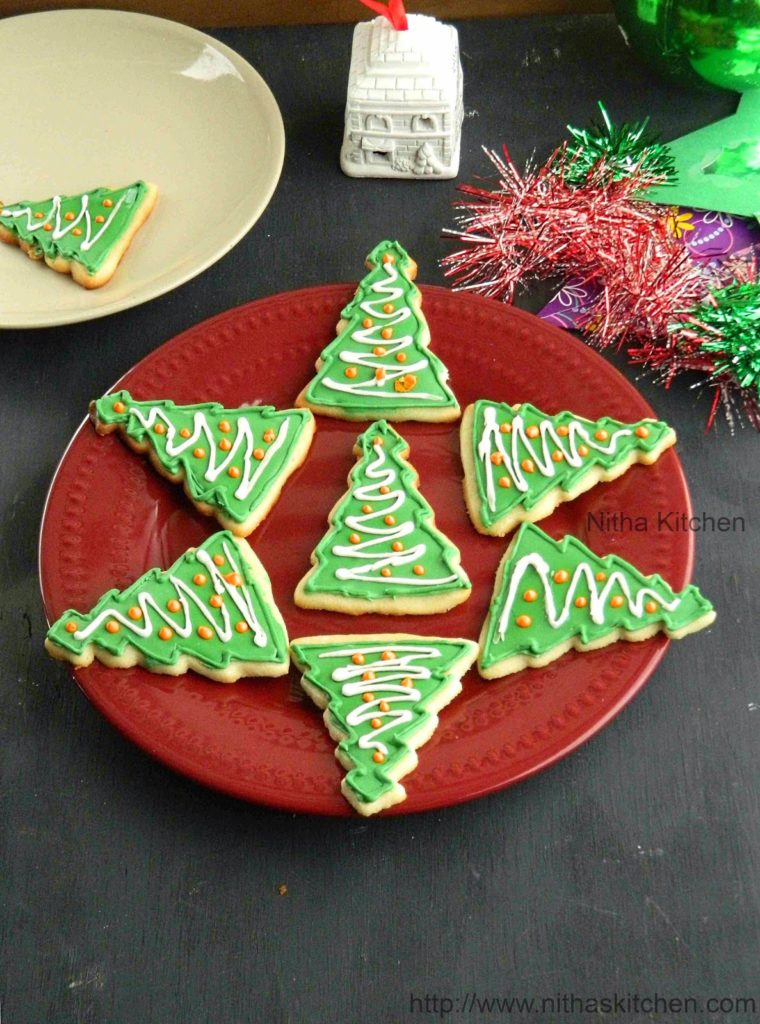 Ingredients for Royal Icing (Approximately you can decorate 20 Cookies as shown in pictures)
Confectioner or Icing Sugar – 2 Cups
Egg White – 1 Large
Cream of Tartar – 1/4tsp (Optional)
Clear Vanilla Extract – 1/2tsp
Water – As Needed
Food Colors – I used Green and Orange


Method
Beat egg whites with cream of tartar for a while 3 minutes approx or till egg whites start foaming.
Then add vanilla extract and add sugar in batches.
If needed you can add water, the stiff peak icing is what required to make borders (step wise Pic 5).
Reserve half of the icing and color the remaining half icing with green color (Pic 6).
Spoon the icing in to the piping bag (Pic 7).
Now cut the edge of the piping bag with scissor and just pipe it over parchment paper and make sure the thickness and consistency of icing is good to continue.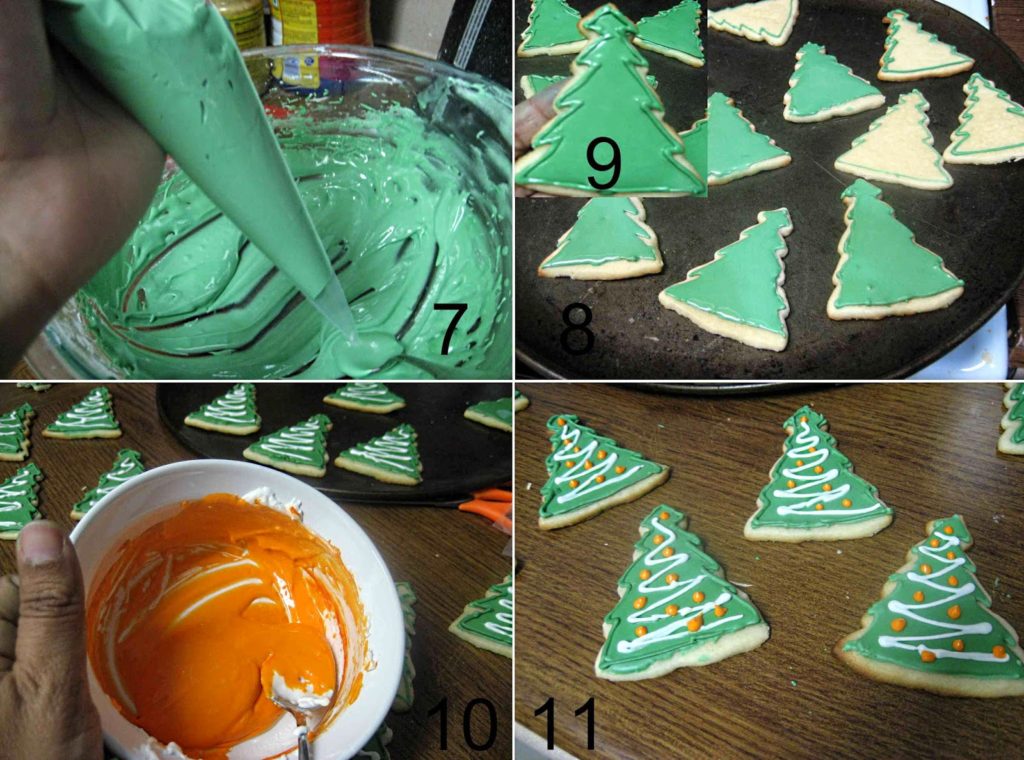 If the consistency is too thick add bit water vise verse add more sugar for the runny icing to make it thick.
Pipe the icing over borders of the cookies and allow them to dry, it dries out quickly (Pic 8).
Now make the same green color icing bit watery use spoon and fill the center of the cookies, using tooth pick fill the gaps (Pic 8).
Allow them to dry completely before making further decoration to cookies.
I again made a border with same color as shown in Pic 9.
Now I used the reserved white icing to pipe zig zag strips inside cookies(Pic 10) and colored a small portion with orange food color(Pic 10) and decorated as shown in Pic 11.
Note:
I have reduced butter version and egg less sugar cookies recipe, do check it.
Also for icing you can skip egg and use 2-3tsp of corn syrup ie thick sugar syrup instead.