We the whole family fell in love with Butterscotch flavor, even in this winter we have butterscotch ice cream 🙂 and 3 months back for the first time I did butterscotch flavored frosting for a cake will make the post soon and later for my daughter birthday party held on Nov 1st week I made Vanilla cupcakes and decorated them with the same frosting. So today's post is going to be the detailed one as usual with perfect vanilla cupcakes recipe and butterscotch butter cream frosting recipe. Feel free to drop your suggestions in the comment section provided below!!!
Yields: Approx 26-28 Cupcakes
Ingredients
Cake Flour – 3 Cups (( 1 Cup Cake Flour = 1 cup all purpose flour (-) minus 2 Tbsp APF + 2 tablespoon of cornstarch or cornflour)
Eggs – 5 large, at room temperature
Bit Watery Yogurt ie Homemade – 1 Cup (optional plus 2-3 tbsp), at room temperature
Baking Powder – 1 Tbsp
Salt – 1/2tsp
Unsalted butter, at room temperature – 16 Tbsp (2 sticks)
Sugar – 1 and 3/4 Cups
Vanilla Extract – 1 Tbsp
I have 2 cupcake pans which holds 12 cupcakes each and one – 6 cupcake baking pan, so i used all the three pans at a time to bake this but you can divide the batter and plan accordingly!!!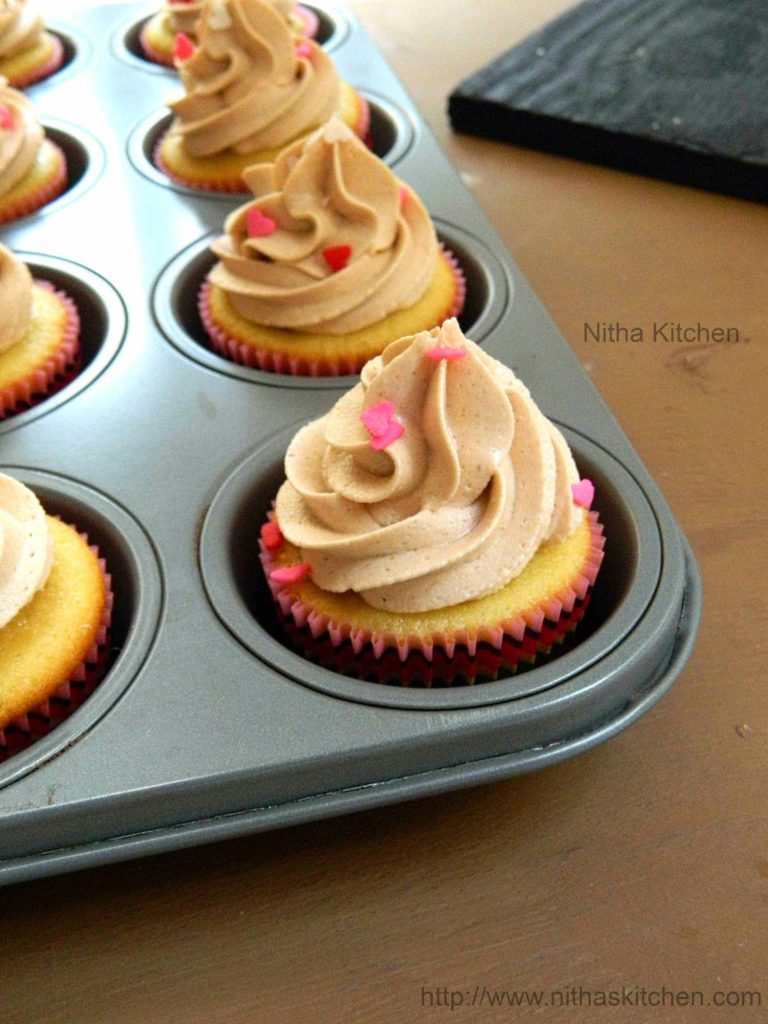 Method
In a mixing bowl, combine the cake flour, baking powder and salt, whisk together and keep aside.
Add the butter to the large mixing bowl of an electric mixer.
Beat on medium-high speed for 2 minutes, until butter turns light and creamy in color.
Add in the sugar, and beat for 2 minutes more.
Scrape down the sides of the bowl and beat for one more minute.
Mix the eggs one at a time until incorporated.
Scrape down the sides of the bowl after each addition.
Add the dry ingredients alternately with yogurt, beginning and ending with the dry ingredients and mixing just until incorporated.
Scrape down the sides of the bowl, add vanilla extract and mix for 15 seconds longer.
The final batter consistency should be as shown here.
Line two cupcake pans with paper liners/baking papers.
Divide the prepared batter between paper liners, filling each about 2/3 of the way.
In preheated oven at 350°F bake 18-22 minutes, or until a toothpick inserted in the center comes out clean.
Allow to cool in the pans 5-10 minutes, then transfer to a cooling rack to cool completely.
Decorate cooled cupcakes as desired.
Here i used Wilton 1M tip to decorate the cupcakes.

Butterscotch Buttercream Frosting (Adapted from Here)
Yields :- You can decorate 2 8 " cakes or approx 24-30 Cupcakes


Ingredients
Unsalted Butter – 1 Cup (2 sticks) + 4 Tbsp / 282.5 grams (Room Temperature)
*Butterscotch Chips – 1/2 Cup / 118 grams
Veg Shortening – 1/4 Cup / 47.5 grams
Icing Sugar – 2 and 3/4th Cups / 344 Grams (approx)
**Dark Brown Sugar – 1/4 Cup / 50 grams (Optional you can either increase to get dark color frosting or skip and make sure to adjust icing sugar accordingly)
Heavy Cream or Milk – 2 Tbsp or more for frosting consistency
Vanilla Extract – 1/2 tsp
* If butterscotch chips unavailable then melt butter and add sugar to dissolve completely, add the remaining ing and once cooled add to the frosting
For Homemade Butterscotch Syrup
Dark Brown Sugar – 1/4 Cup / 50 grams
Unsalted Butter – 2 Tbsps / 30 grams approx
Heavy Cream – 1/4 Cup
Vanilla Extract -1/2tsp
Salt – 1/2tsp (If using salted butter skip 1/4tsp salt is enough)
** First time I just added the sugar crystals directly in to the whipped butter cream (Stepwise Pic) and cream looked bit grainy if you don't like just melt the dark brown sugar along with butter scotch chips, what I did for this cupcakes.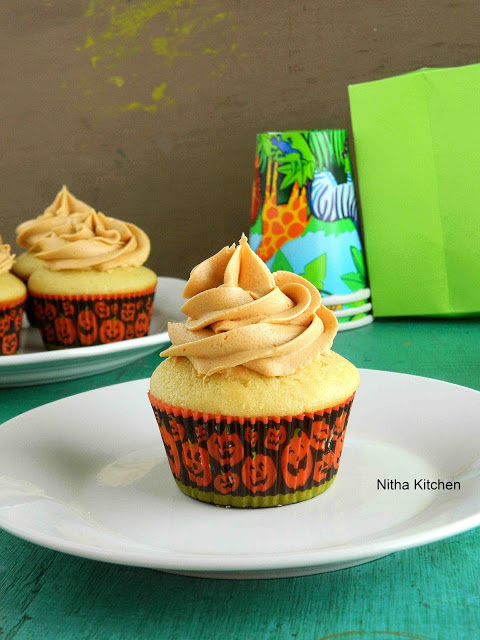 Method
Place the butter at room temperature (Pic 1)
In a mixing bowl whip room temperature butter with shortening(Pic 2) for 2 minutes approx till it looks creamy (Pic 3).
Mean while melt 1/2 cup butterscotch chips with milk/heavy cream(Pic 2) in microwave and keep aside(Pic 3) to cool completely.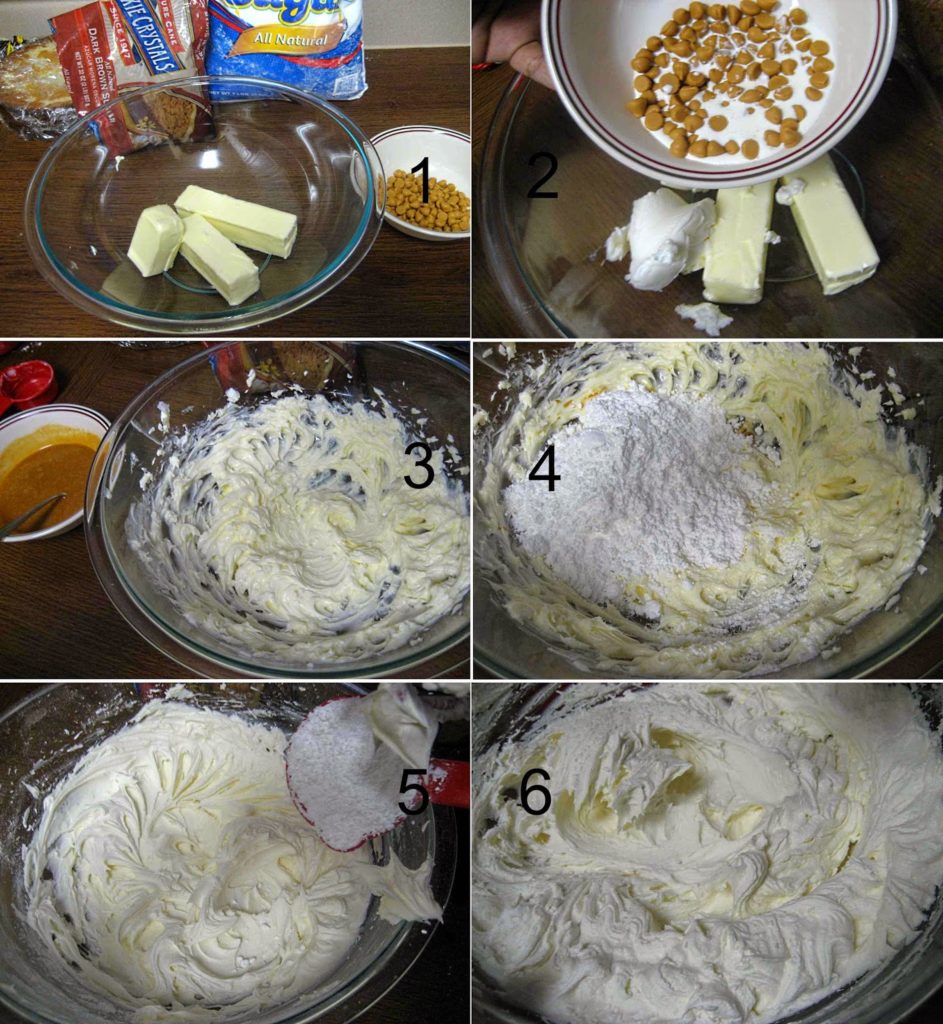 Add Sugar in batches first add 1 cup sugar and vanilla extract(Pic 4), blend well approx 1 minute.
Scrap sides after each addition and in pic 5 above shows the last addition of sugar.
Beat till the sugar blends well with butter and makes light and fluffy butter cream(Pic 6), approx 4-6 minutes.
Now add the melted chips, dark brown sugar (Pic 1 below) and beat well.
Don't add too much milk to butterscotch while melting then your frosting turns runny.
If it happens then you have to add more sugar to bring back to the right consistency.
If the cream is very thick and not to spreading consistency then add milk.
However the final consistency should be like shown in stepwise pic 2 above.
The other two step pictures are the cake i decorated 3 months back that i will post by this week.
Here is a picture from my daughter birthday
party
🙂
Notes
The butterscotch chips has sugar in it so stick with the measurements mentioned above otherwise the cream turns too sweet.
In the backdrop you see the Easter theme cupcakes I made recently hope to post next week.