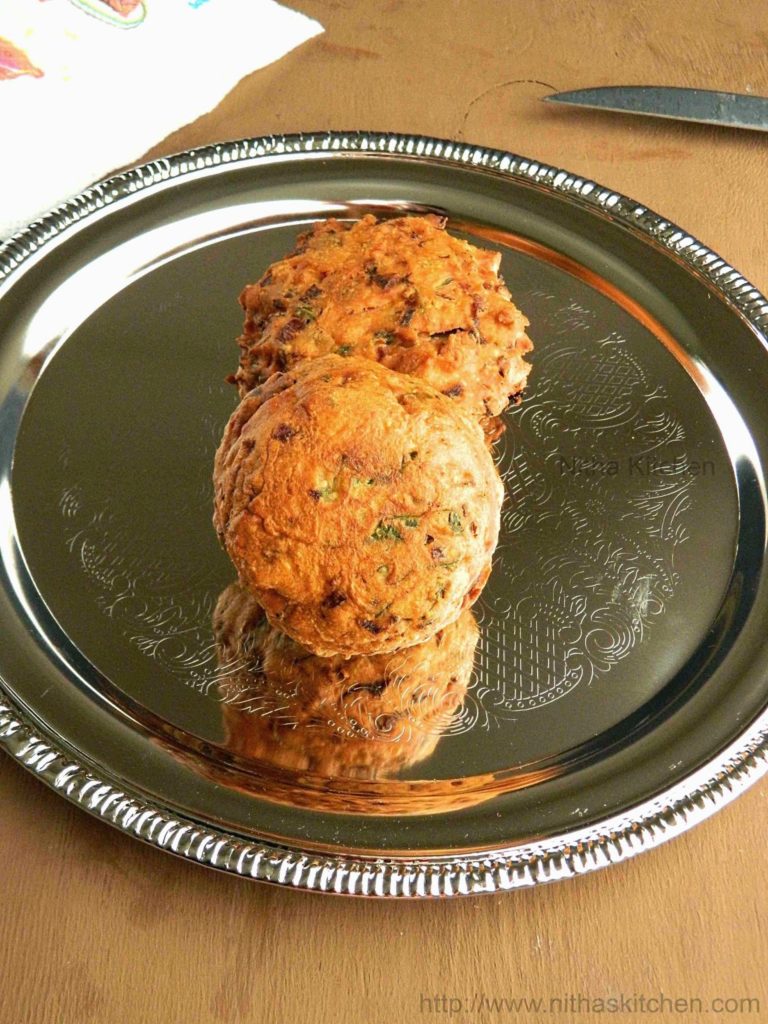 Today's recipe is quick yet yummy starter that can be made in few minutes of time. Unlike the egg pakoras/bajji this Muttai Egg Bonda s are made with thick batter contains chopped onions and chilis'. This snack is very popular in South India and I have tasted it in theaters during my childhood days. I have mentioned that story in my baked egg muffins/bonda recipe do check it for the healthier version of this bondas!!!
Ingredients for Muttai Egg Bonda Recipe
Boiled Eggs – 2 Numbers
Kadala Maavu/Besan Flour/Gram Flour – 1 Cup
Rice Flour – 1/3 Cup
Green Chilis – 1-2 Numbers
Red Chili Powder – 1-2tsp
Baking Soda – 1/8tsp
Shallot/Onion – 5 Numbers
Chopped Curry and Coriander Leaves – Few
Salt n Oil – As Needed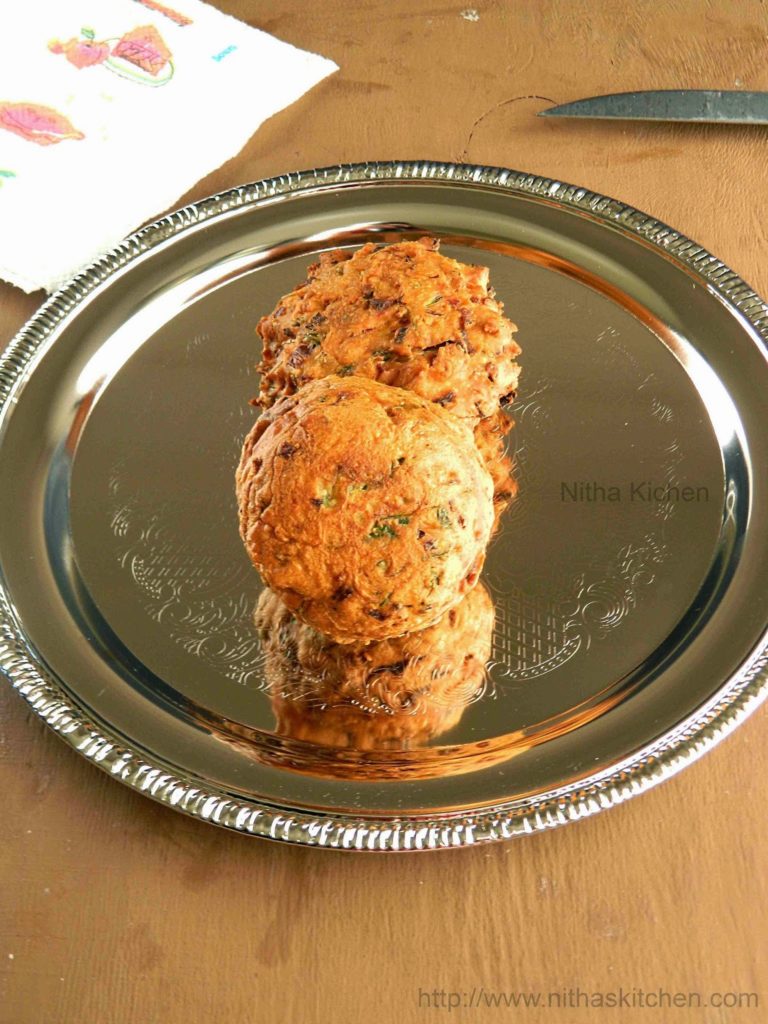 Method for Muttai Egg Bonda Recipe
Boil the eggs and cut in to halve.
Chop or grate the green chilis.
Keep the other ingredients ready (Pic 1).
Sprinkle little water at a time and mix gently.
The batter consistency should be very thick (Pic 2).
Mean while heat oil in a frying pan/kadai.
Add 1-1n1/2 Tbsps of hot oil to the batter mixture and mix gently.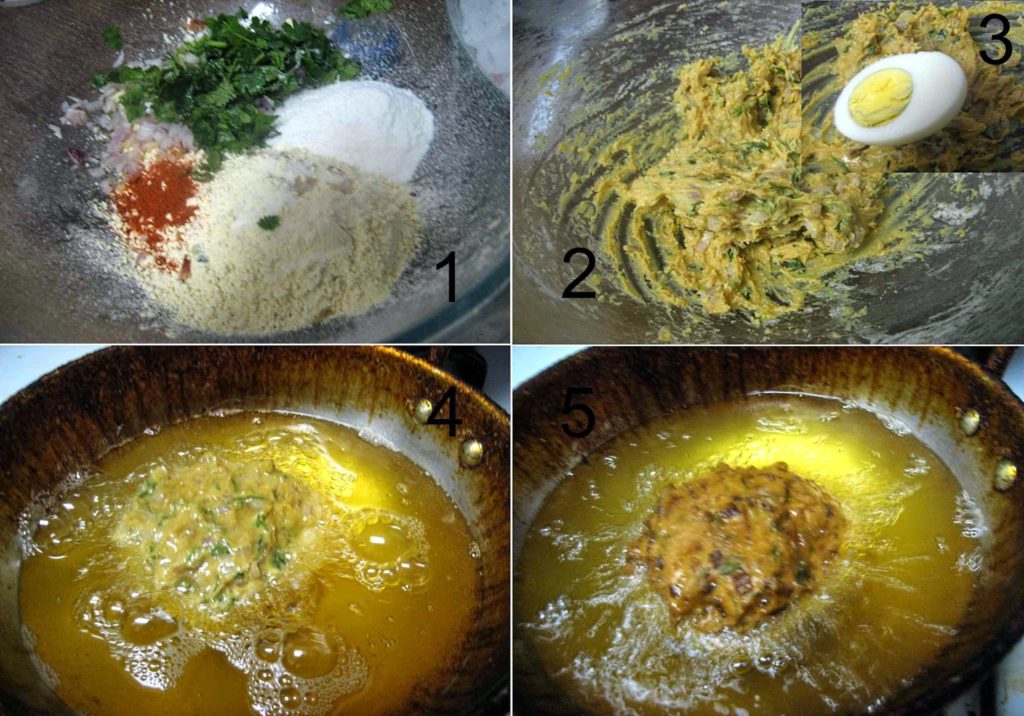 Now take sliced egg one at a time(pic 3) and gently cover it with the thick besan batter.
The dough will be little sticky so you can either wet your hands before rolling or use some ziploc/plastic sheets to avoid sticky hands while covering the eggs.
But when you use your hands and drop as it is you will get the crispy outer layer when compared to properly rolled round bondas, I liked the crispy fried one much.
Make sure to coat the egg well with besan mixture, when egg white or yolk is not properly coated then they may give crack sound while deep frying.
Add the coated egg in hot oil, flip and cook both side well till they turns golden brown in color.
You can serve this yummy bondas with coconut chutney or plain with hot tea or coffee.
Note
Add more red chili powder or green chilis as required.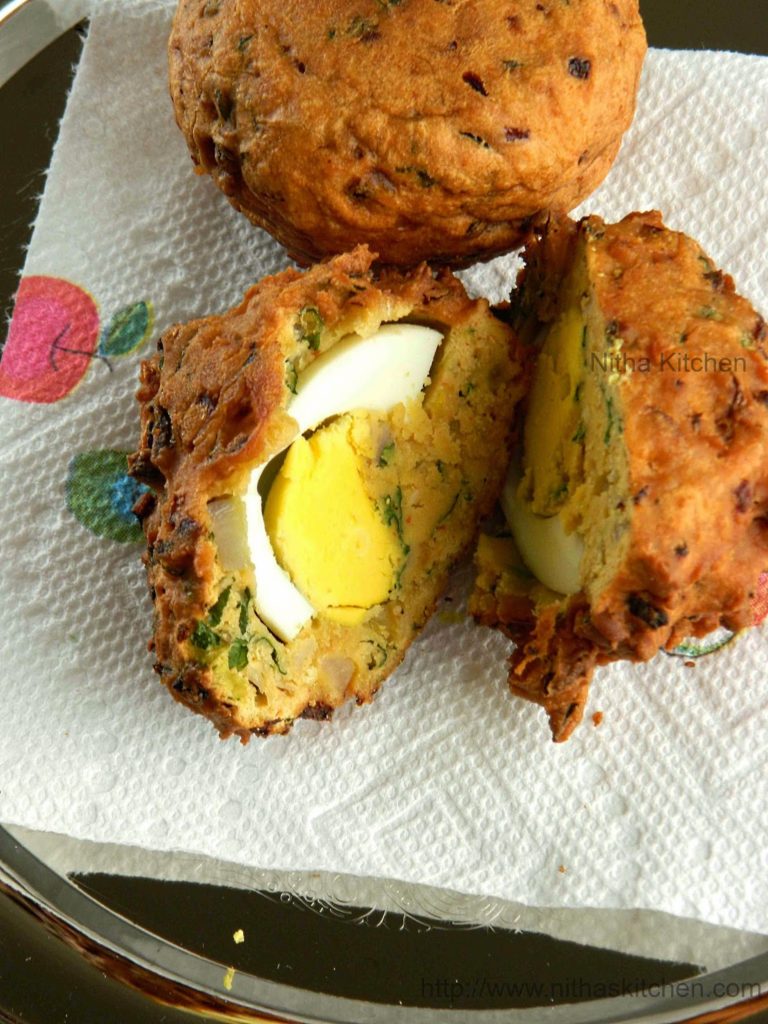 You can add full egg but make sure to prick or slit the eggs before coating with batter.