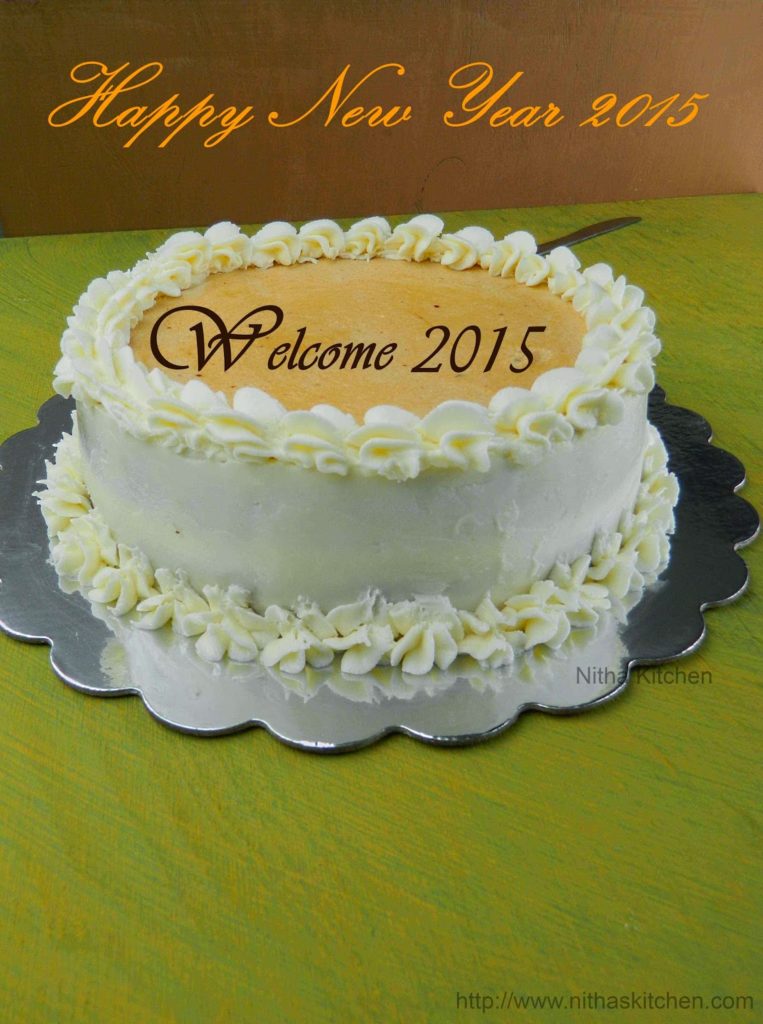 I would like to take this opportunity to wish all my dear readers a very happy new year 2015, let us thank god for all we have in our life. Coming to today's recipe I made this very soft and moist paneer (Indian cottage cheese) based vanilla sponge cake ie eggless vanilla paneer cake, 3 months back for my MIL who stayed with us
few months. We get Puratasi (Tamil month) in September, during that month many of us fast for the whole month and we neither take egg nor non veg during that time. So I preferred to bake an egg less cake for her, also this cake does not contain any egg in the frosting ie purely veg.


Yields :- Two 8 " inch cake
Ingredients for Eggless Vanilla Paneer Cake
Flour – 3 and 1/4 Cups
Butter – 1 and 1/4 Cup (2 and 1/2 Sticks)
Condensed Milk – 2-3 Tbsp
Sugar – 1 and 1/2 Cup
Milk -6 Cups or Homemade Paneer – 1 Cup
Whey Water – 3/4th Cup to 1 Cup or as needed (Whey water is the liquid extracted in the process of making paneer by curdling the milk, you can replace it with regular milk)
Baking Powder – 2 and 1/2 tsp
Baking Soda – 3/4 tsp
Salt – 1/4tsp
During my first experiment the outer layer of the cake turned bit dark brown so I reduced the temperature to 325 F in later attempts and it turned out perfect. If you are making homemade paneer then boil 6 cups of milk and add lemon juice to get the paneer out of it. For stepwise pictures refer here. Don't squeeze excess water just keep it soft and moist till you use in cake batter.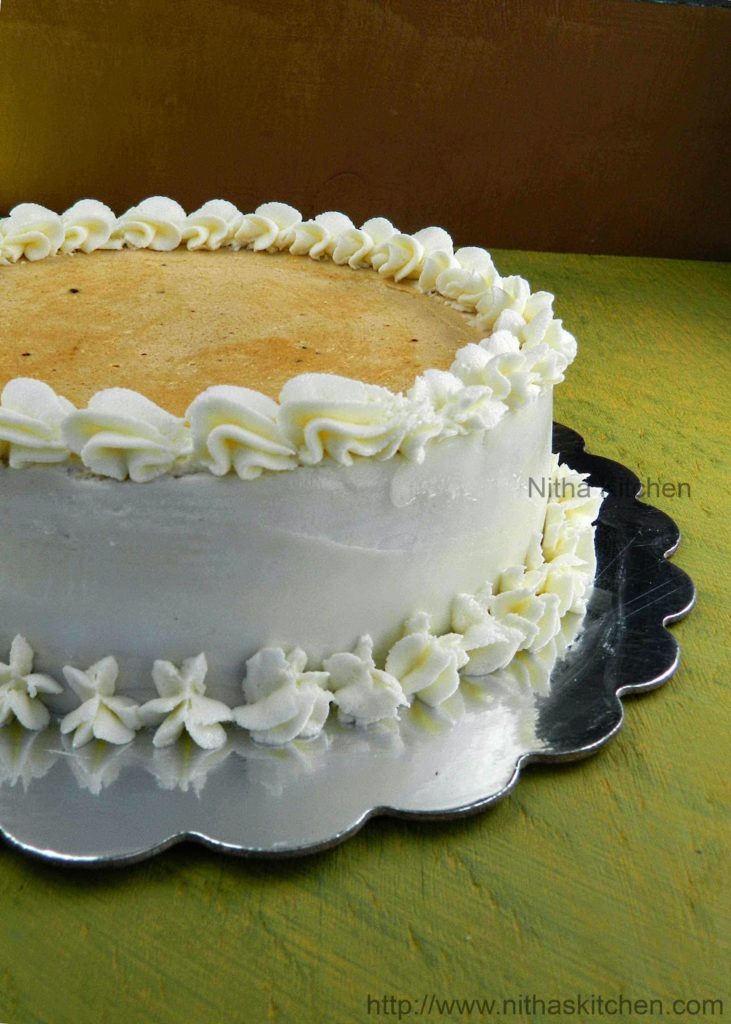 Eggless Vanilla Paneer Cake Preparation
Mix all the dry ingredients in a separate bowl (Pic 1).
Keep the other ingredients like paneer, condensed milk ready.
In another mixing bowl, beat the room temperature butter and sugar (Pic 1) until it looks creamy (Pic 2).
Meanwhile blend paneer in food processor/mixie to smooth paste (Pic 2).
Now add smooth paneer and vanilla essence to butter sugar mixture, also add condensed milk and beat till all blends well (Pic 3).
Now add the flour mixture in batches alternate with whey water (Pic 4), start and end with flour mixture (Pic 5).
Drop in well greased baking cake pans (Pic 6) and bake at 325° F for 25-30 minutes or till cake tester/toothpick inserted at center comes out clean.
Cool completely before decorating it (Pic 7).
Notes
Don't add too much whey water just look the step by step pictures for the cake batter consistency.
If you alter or skip any of the ingredient then the cake texture varies for sure.
If you like to replace paneer with yogurt then go ahead.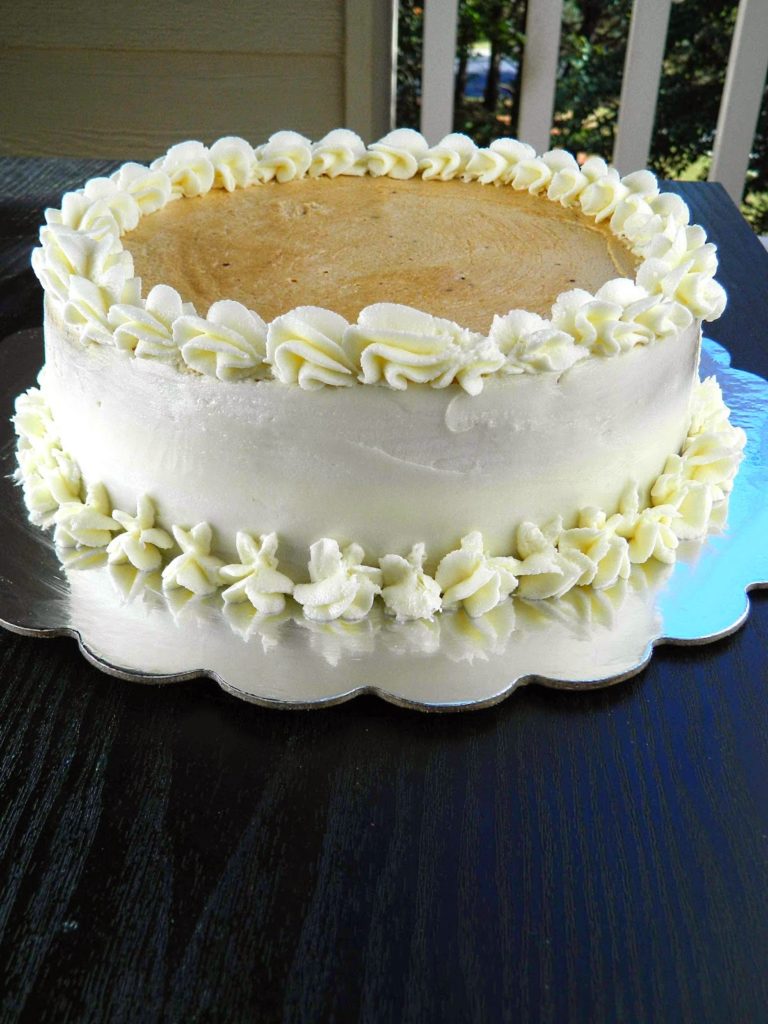 How to decorate the cake
You can bake the cakes in prior, when cooled completely wrap it and freeze it till use.
Bring the cake to room temperature 5-6 hours in advance before frosting the cake.
Here i used basic butter cream frosting all over the cake, for the layers and top of the cake i applied butterscotch butter cream frosting.
The quantity i have given is enough to decorate 2 – 8 inch cake layers.
I already mentioned about frosting in the vanilla cupcakes recipe though I am sharing here again for easy reference.
Butter Cream Frosting
Ingredients
Unsalted Butter – 1 and 1/2 Cups/3 Sticks (Room Temperature, replace 1/4 cup with shortening)
Icing Sugar – 5-6 Cups
Heavy Cream or Milk – 3 Tbsp or more for frosting consistency
Butterscotch Butter Cream Frosting
(I have halved the quantity that is enough for topping and filling the cake)
Unsalted Butter – 1/2 Cup (1 Stick) + 2 Tbsp (Room Temperature)
Veg Shortening – 2 Tbsp
Icing Sugar – 1 n 1/3 Cups
Heavy Cream or Milk – 1-2 Tbsp or more for frosting consistency
Vanilla Extract – 1/2tsp or any other flavor
*Dark Brown Sugar – 3 Tbsp (Optional you can either increase to get dark color frosting or skip and make sure to adjust icing sugar accordingly)
Butterscotch Chips – 1/4 Cup
* First time I just added the dark brown sugar crystals directly in to the whipped butter cream (Step wise Pic) and cream looked bit grainy so you can just melt the dark brown sugar along with butter scotch chips, that's what I did next time for the cupcakes.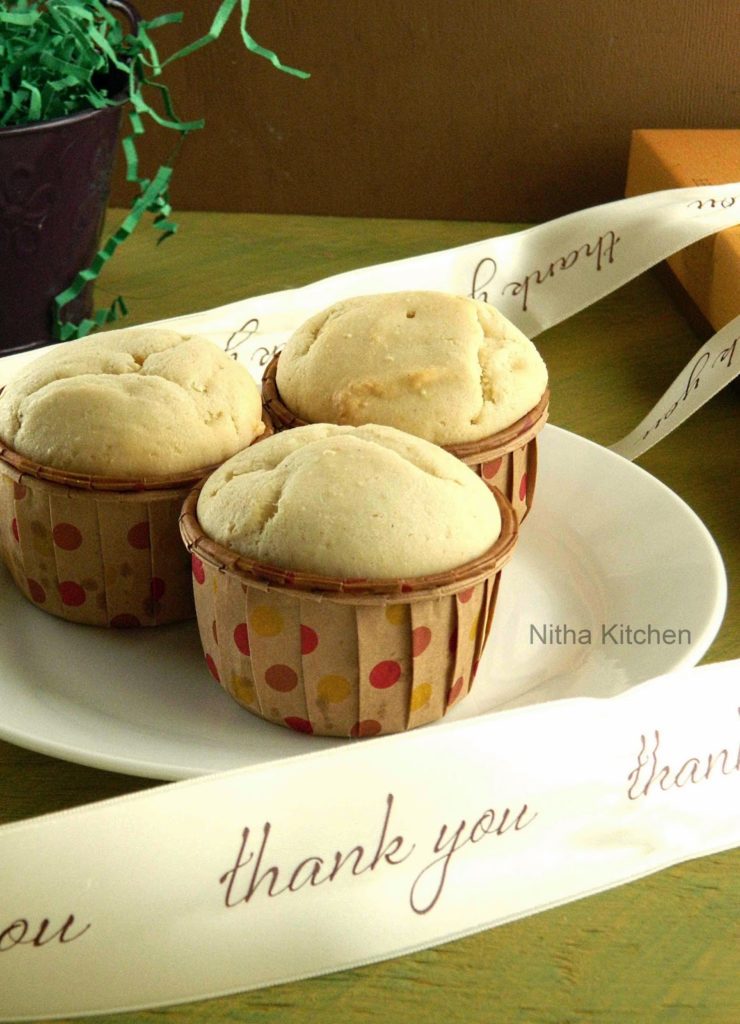 Method
Place the butter at room temperature (Pic 1)
In a mixing bowl whip room temperature butter with shortening(Pic 2) for 2 minutes approx till it looks creamy (Pic 3).
Mean while melt 1/2 cup butterscotch chips with milk/heavy cream(Pic 2) in microwave and keep aside(Pic 3) to cool completely.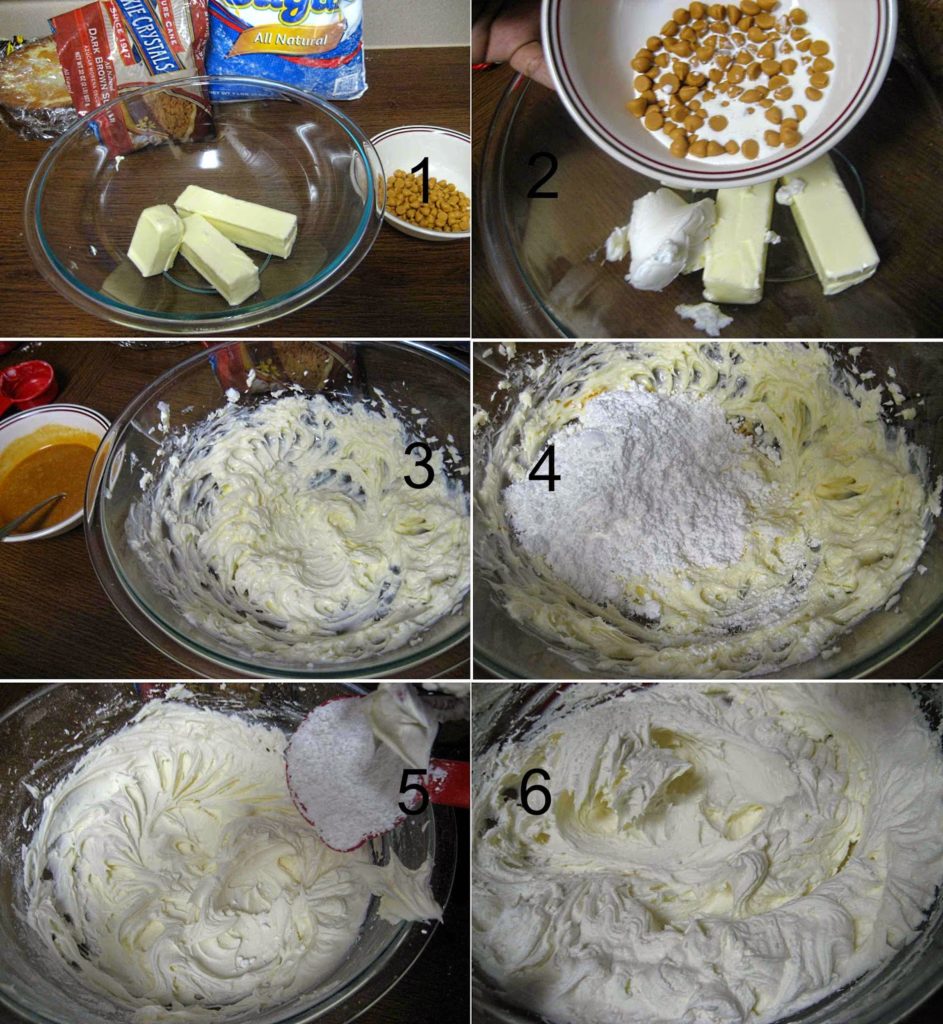 Add Sugar in batches first add 1 cup sugar and vanilla extract(Pic 4), blend well approx 1 minute.
Scrap sides after each addition and in pic 5 above shows the last addition of sugar.
Beat till the sugar blends well with butter and makes light and fluffy butter cream(Pic 6), approx 4-6 minutes.
Now add the melted chips, dark brown sugar (Pic 1 below) and beat well.
Don't add too much milk to butterscotch while melting then your frosting turns runny.
If it happens then you have to add more sugar to bring back to the right consistency.
If the cream is very thick and not to spreading consistency then add milk.
However the final consistency should be like shown in stepwise pic 2 above.
First sandwich the cake layers using butterscotch butter cream and also top the cake with it(Pic 3).
Once once apply the already made vanilla butter cream frosting over the sides of the cake(Pic 4) and if you wish you can decorate borders and more.
Related Videos
Look who is at the back to gulp the last few slices 🙂