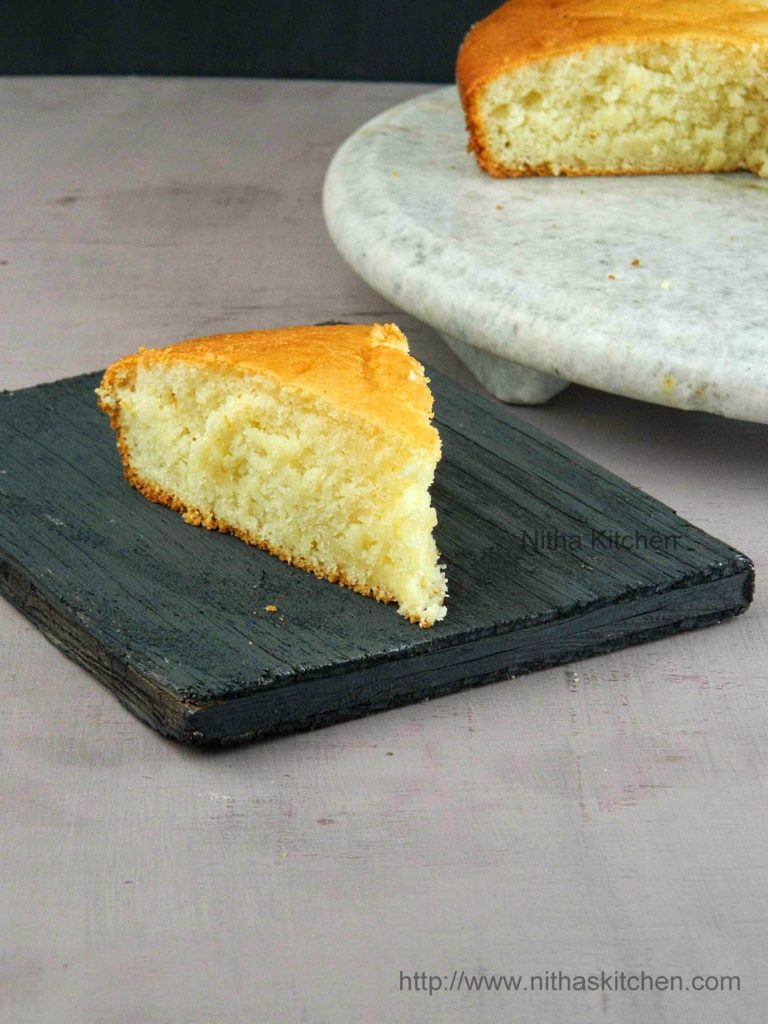 I prepare Vanilla sponge cake to make layers for Tiramisu, an Italian dessert. Tiramisu filling has Cheese and Whipped Cream (butter rich contents), so i usually prefer making the base cake an Eggless and butterless one. Here is the detailed procedure for making this simple and soft/sponge cake.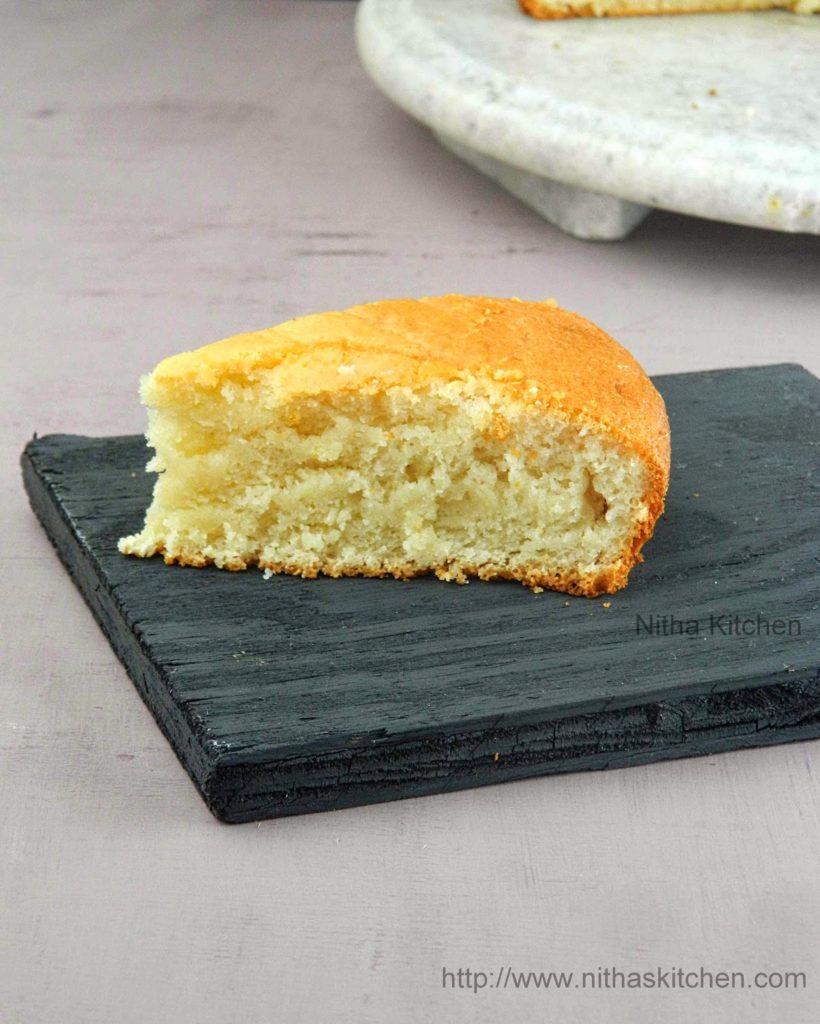 Use Exact Measurements otherwise cake texture may vary


Ingredients
All Purpose Flour/Maida – 1 n 1/2 Cup
* Thick Curd/Yogurt or Sour Cream – 1 Cup (If using reduced fat/watery yogurt then take 1 n 1/4 Cups of Yogurt and add 2 tbsp of milk powder or 2-3 tbsp of soft butter)
Baking Powder – 1 n 1/2tsp (I use double acting) **
Baking Soda – 3/4th tsp (I use double acting soda) **
Pure Vanilla Extract – 2tsp (You can use cardamom powder instead)
Granulated/Regular Sugar – 1 Cup or more
Milk – 1/4 Cup (Optional)
Salt – Pinch
* If Yogurt is not sour you can add 2tsp of lemon juice.
** If using usual baking soda and powder, add it in the yogurt and beat, other process are same as mentioned below.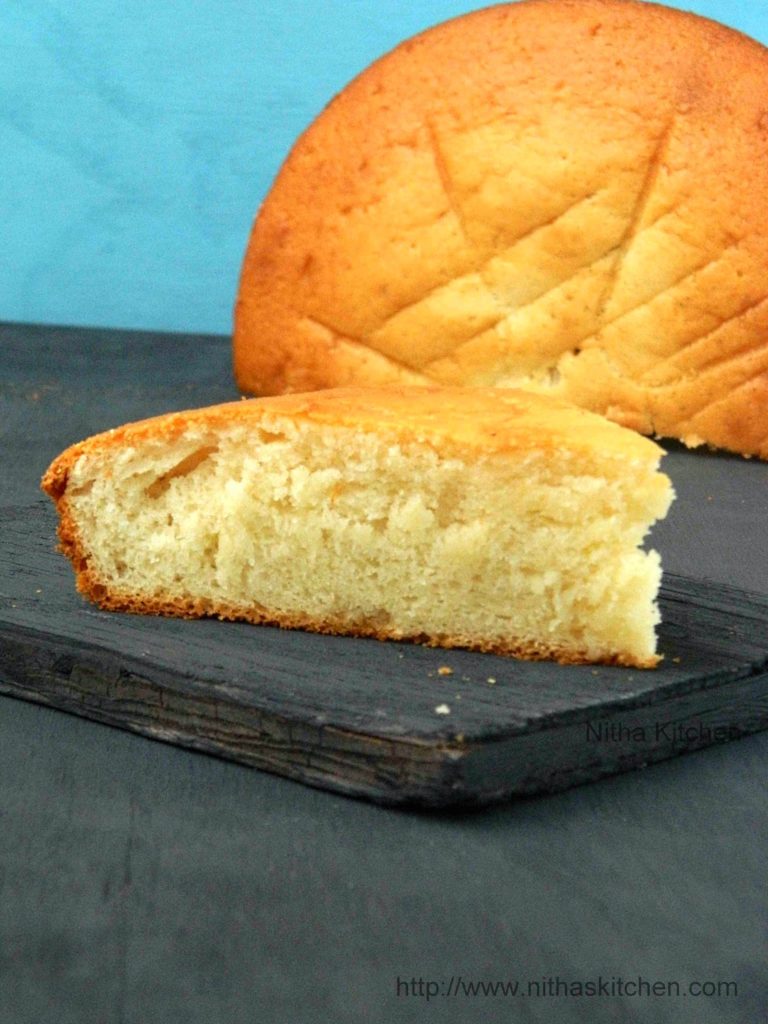 Method
Instead of butter i am using yogurt so start with it. In a large bowl add yogurt and sugar whisk well for few mins. If adding milk powder or butter add right now.
Add baking powder, soda,flour and salt in a separate bowl, whisk together.
Add flour mixture in to yogurt in 3 additions.
Finally add vanilla essenc, once done and if it is not to dropping consistency adjust it with few drops of milk.
The batter should not be too runny, yogurt has too much moisture in it, so make a thick yet dropping consistency batter…I will upload batter consistency picture when i make next time.
Grease the pan with light butter or Oil and flour.

Pour the batter in greased round/square cake pans.
Tiramisu needs a moisture cake, so I poured the thin batter in a square cake pan covered (bottom n sides) with aluminum foil.
You can directly pour the batter in pans, only thing is you get a thick browned outer crust.
Preheat the oven to 350° F, bake for 18-22mins or till toothpick comes out clean when inserted in the center of the cake.
Allow to cool completely on wire rack before slicing it.
Double-acting baking powder Vs Single-acting baking powder
(According to
Chemistry.com
).
You use the exactly same amount of double-acting baking powder as you would single-acting baking powder. The difference between the two types of powder is their chemical composition and whether they produce the carbon dioxide gas bubbles that make your baked goods rise when the ingredients are mixed or when the product is heated in the oven. Both types of baking powder produce the same amount of gas, so they are equally effective as leavening agents.
Single-acting baking powder reacts with a water-based ingredient to form bubbles as soon as the ingredients are mixed. If you wait too long to bake your food or mix it too long these bubbles will escape and your food will fall flat.
Double-acting baking powder produces some bubbles when the ingredients are mixed, but most of the rising occurs once heat is applied. This product is more reliable for home baking because it is harder to overbeat the ingredients and the recipe is less susceptible to fail if you forgot to preheat your oven. Because it is practically failsafe, this is the type of baking powder most often found in stores.
Few other eggless cakes
1 Eggless Alomnd Sponge -http://www.nithaskitchen.com/2016/09/eggless-almond-sponge-cake-recipe-from.html
2) Eggless Cake Using Paneer – http://www.nithaskitchen.com/2014/12/eggless-vanilla-cake-using-paneer-and.html
3) Eggless Cupcakes – ttp://www.nithaskitchen.com/2014/10/eggless-vanilla-cupcakes-party-cupcakes.html
Pressure Cooker Cake/Tea Kadai Cake – http://www.nithaskitchen.com/2013/05/tea-kadai-cake-basic-pressure-cooker.html