One excellent taste ice cream that we devoured mostly in this whole summer is homemade butterscotch Ice cream ; you heard it right yup it's going to be today's recipe. Butterscotch is made of primary ingredients like brown sugar and butter anyways butterscotch morsels/chips is the star ingredient here in this recipe. If you don't get in your place you can replace it with homemade butterscotch sauce (recipe follows) or store bought butterscotch essence.
Ingredients for Eggless Butterscotch Ice Cream Recipe
Full Fat Milk – 1 Cup/250ml
Heavy Cream/Whipping Cream – 1 and 1/2 Cups (360ml)
*Butterscotch Morsels or Chips – 1/2 Cup/85-90 grams
Condensed Milk – 1/4 Cup/4 Tbsp (Optional)
Brown Sugar – 1-2 Tbsp you can increase few more tbsps but the praline(nuts) is going to have more sugar so increase accordingly)
*For Homemade Butterscotch Syrup
Dark Brown Sugar – 1/4 Cup
Unsalted Butter – 2 Tbsps
Heavy Cream – 1/4 Cup
Vanilla Extract -1/2tsp
Salt – 1/2tsp (If using salted butter skip 1/4tsp salt is enough)
Method
Melt the butter in low flame, add the brown sugar, salt and heavy cream and stir the mixture in medium flame for 3-4 minutes or until it's well blended and reaches right consistency. Don't over cook.
Praline 
Regular Sugar – 1/2 Cup
Brown Sugar – 2 Tbsp
Chopped or Roughly broken Cashewnuts or Almonds – 1/3 Cup
Butter – 1 Tbsp
Oil – to grease the tray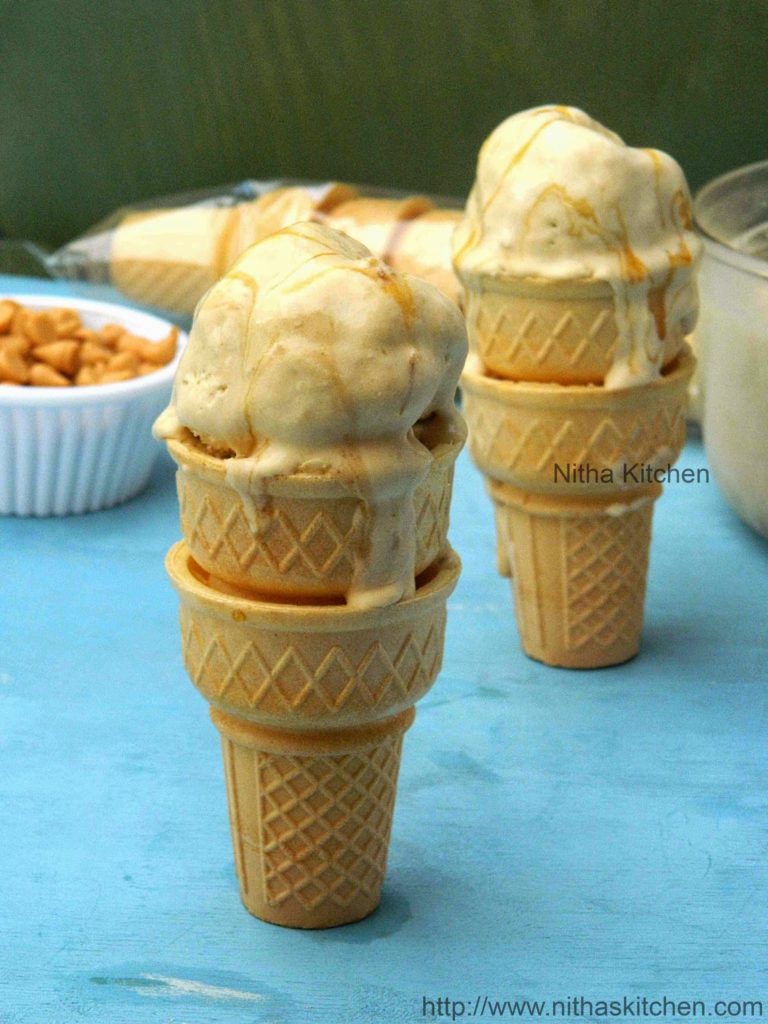 Method For Eggless Butterscotch Ice Cream
Chill/Freeze the bowl going to use for whipping the cream.
Boil the milk in medium flame, when it starts foaming simmer it for another 3-5 minutes.
Once done switch off the flame add the butterscotch morsels (Pic 1) and stir till morsels melts completely.
If using homemade butterscotch sauce then mix it here with warm milk not hot milk instead of morsels.
Keep it aside and let it cool completely (Pic 2).
Meanwhile whip the heavy whipping cream till soft peaks attained.
Now gradually add completely cooled butterscotch mixture (Pic 3), brown sugar and mix well.
Close it tight with lid or cling film and freeze it for at least 4 hours.
Now make the praline, grease the sauce pan with butter and add both sugars.
In low flame keep stirring till sugar caramelizes well.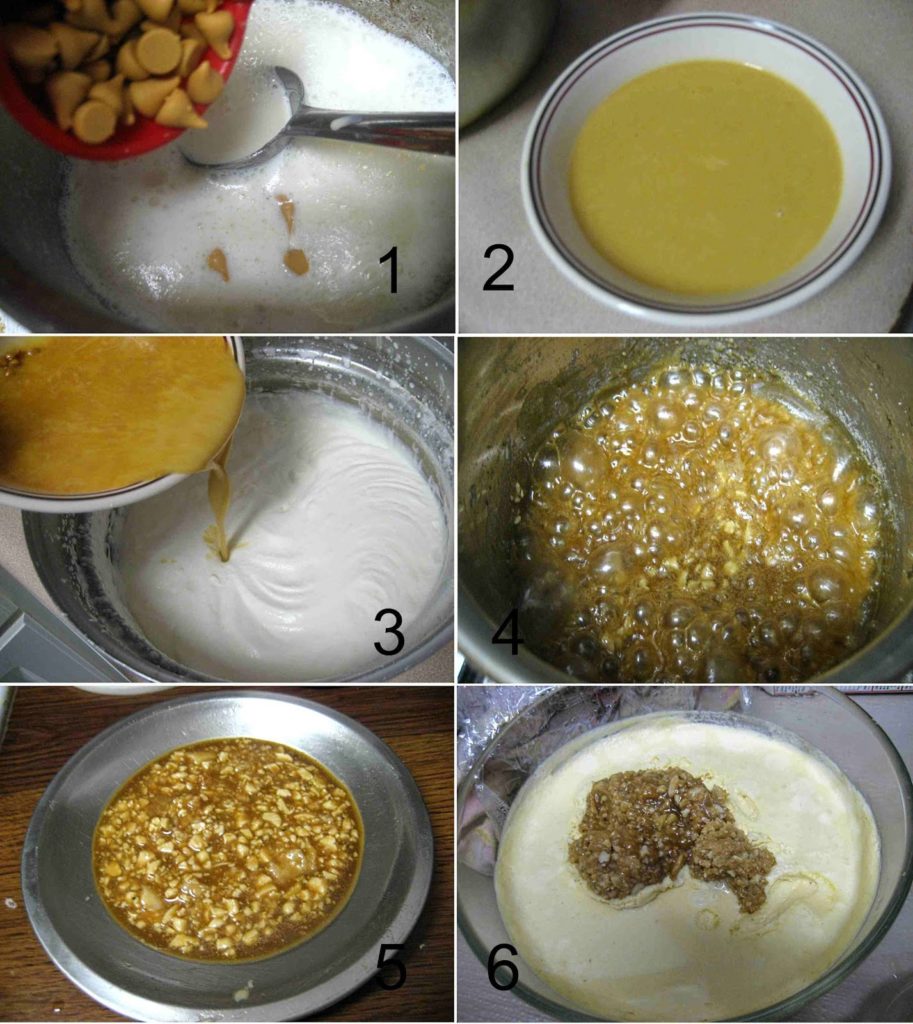 Once it comes to thick consistency, add broken cashew nuts/Almonds (pic 4) and spread it over greased plate (Pic 5).
Let it set in room temperature; it takes 30minutes minimum to set.
Meanwhile bring the ice cream to room temperature.
Once set break it in to little chunks, as my kids feel hard to swallow i added few drops of milk and churn in the food processor.
Now add it to the lightly melted ice cream (Pic 6), just give a gentle stir and don't overwork.
Again freeze it for another 2 hours minimum and serve it in ice cream cones/wafers!!!
Also if you have any leftover caramelized sugar syrup or store bought butterscotch sauce/chocolate syrup, top it over the ice cream and serve…