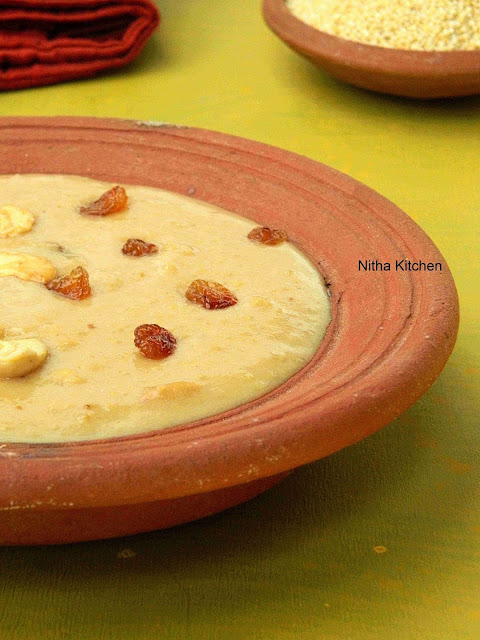 Today being an auspicious day (Saraswati Pooja/Vasant Panchami), I am posting a healthy Pani Varagu Payasam / Proso Millet Kheer recipe. The ninth day of Navratri is celebrated as Saraswati Pooja, Saraswathi is revered as a goddess for Knowledge, Music and art. I keep on saying
about my India trip in most of the posts. Today I have to say this again :-), I have bought all kinds of millets during my trip, my mom and grandma, they both were cleaned all those millets and packed for me. So I have loads of millets right now and using daily in my cooking. I will post the recipes one by one after the Diwali celebration. So coming to this millet, this is very rare or unknown millet, it looks like thinai but little big in size. I totally forgot the name, Me and my MIL only went to the store and purchased all the millets, so i asked her she too doesn't remember it, later I asked my friend by sending the millet picture (below). She confirmed it as "Pani Varagu" (correct me if I am wrong), by posting the picture in an agricultural facebook group. This millet is called Proso Millet in English (Hindi: Barri; Telugu: Varigalu; Kannada: Baragu).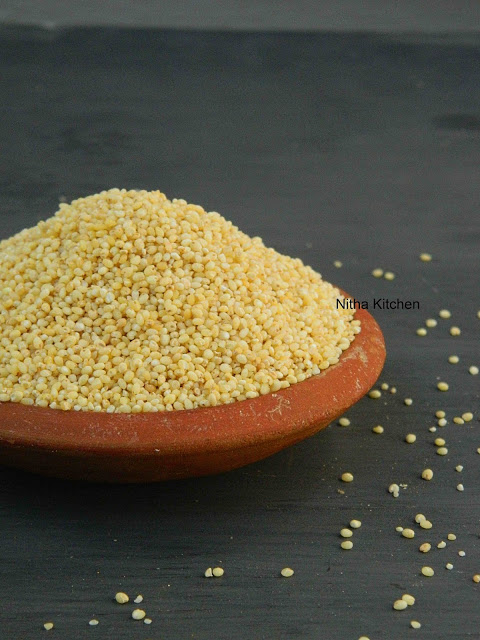 Ingredients
Proso Millet or Any Millet – 1/3 Cup
Jaggery or Brown Sugar – 3/4 Cup (just melt in 1/4 cup water and filter the impurities)
Thick Milk – 1 Cup
Ghee – 2 Tbsp
Cashewnuts – 2 Tbsp
Cardamom Powder – 1tsp
Raisins – 1 Tbsp
Pani Varagu Payasam Preparation
Take the millet in a bowl (Pic 1), wash and strain the mud or tiny stones if any.
Fry the cashews and raisins in ghee and when they turn golden brown (Pic 2) transfer it to a plate.
In the same pan with remaining ghee add the cleaned millet and fry till it reaches nice aroma (Pic 3).
You can either cook the fried millet with 1.75 cups of water (Pic 4) in the same pan (stove top) or in pressure cooker for 2 hisses (Pic 5, i did so).
Now mash the cooked millet well then add cardamom powder, filtered jaggery to it and boil well in a wide pan (Pic 6).
Now add milk, you can add some chopped and ghee fried coconut pieces, it tastes too good.
Allow them to boil well, finally add the fried nuts and raisins (Pic 7) and remove from flame.
Adjust the kheer consistency by adding milk or water.