How to Choose Jaggery For Adhirasam
Adhirasam sweet is typically made in Southern part of India and this sweet is a traditional delicacy as well. This is also called as Arisa Pitha / Anarsa in northern part of India. Usually in Tamilnadu, we use Jaggery or Nattu Sarkarai (Natural unrefined cane sugar) and the nature of Adhirasam is very very soft. So we pick the right jaggery and Raw Rice to make this sweet soft and perfect but this is not the case when we live outside the country. In USA we don't have much option to choose. Sometimes instead of raw rice we have to go for Sona Masoori and is hard to get south Indian jaggery products. So today's post is going to talk about how to choose Jaggery , What type of Oil is good to fry and Tips to get perfect Athirasam Adhirasamwith soft consistency.
Also in Telugu they call Ariselu, it has a crisp outside and soft inner one.
I have several Adhirasam recipes in blog,
1) First RECIPE is with sona masoori rice, kolhapuri jaggery and cholestrol free oil category.
2) Second RECIPE is with South Indian Adhirasam Rice, Nattu Sarkarai (Natural unrefined Sugar) and Refined Sunflower Oil Combo
3) Fluffy Super Soft Adhirasa using a secret ingredient which puffs any kind of rice and a very soft adhirasam is guaranteed.
4) Next recipe is using Palm Jaggery / Karupatti Adhirasam.
5) Millet Adhirasam with Nattu Sarkarai (unrefined brown sugar)
The Pictures shown in the display above and last one are made of Raw Rice, Kolhapuri Jaggery and Canola Oil.
How to Choose Jaggery For Adhirasam
Choose a dark brown color jaggery,  I often make Athirasam in USA. If you get nattu sarkarai or good south Indian vellam/jaggery then go ahead otherwise prefer Kolhapuri Jaggery which is good when compared to other jaggery varieties.
The first image shows three different jaggery(Pic 1) and please don't select light color jaggery, go for the dark brown variety.
In Picture 2 i have shown the dark Kolhapuri Jaggery, choose that.
If your jaggery has less sweet then while making syrup add less water and prepare the syrup, that will give nice color and taste to your athirasam, check this RECIPE.
Use stainless steel vessels to store the athirasam batter for fermentation, that gives good result.
Coming to rice nowadays adhirasam rice / pachai arisi is available in and around Salem and Coimbatore grocery stores in the name of Maavu Arisi (Picture Below), if not go for Raw Rice/any Pachai Arisi otherwise the last option is Sona Masoori Rice. Most of the time i use Sona Massori and got good results so far.
Try to use Peanut Oil/Sunflower oil/Cholestrol to deep fry it, the vegetable or canola oil also works but it turns little crisp when you flatten the athirasam thin.
So always flatten the athirasam little bit thick as shown in picture 3 to get soft athirasam.
Deep fry in medium flame, too hot oil temperature makes uncooked athirasam in the center.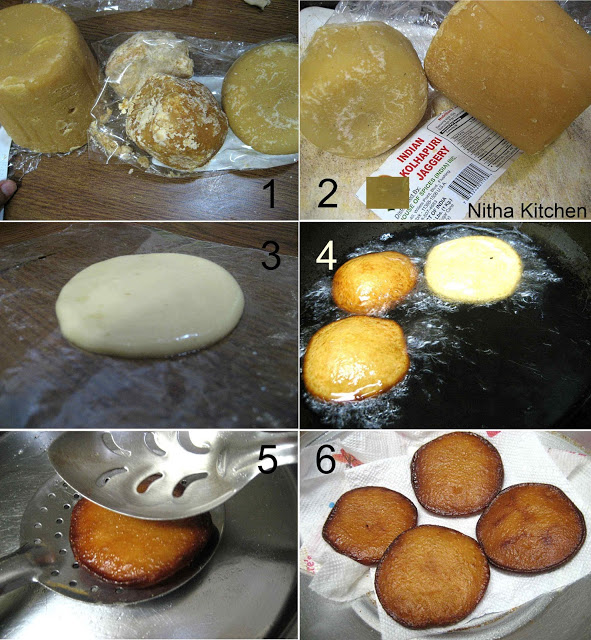 Too low temperature turns the athirasam hard and crisp.
So perfect athirasam pops up like poori while frying in oil (Pic 4).
Once they turned golden brown, use two laddle and press it gently to remove excess oil (Pic 5), this step is optional.
Wipe the excess oil using kitchen towel (Pic 6) and once cooled down completely store it in air tight container for more than 1 week.
If there is light crispiness, they may turn soft in another 2 days.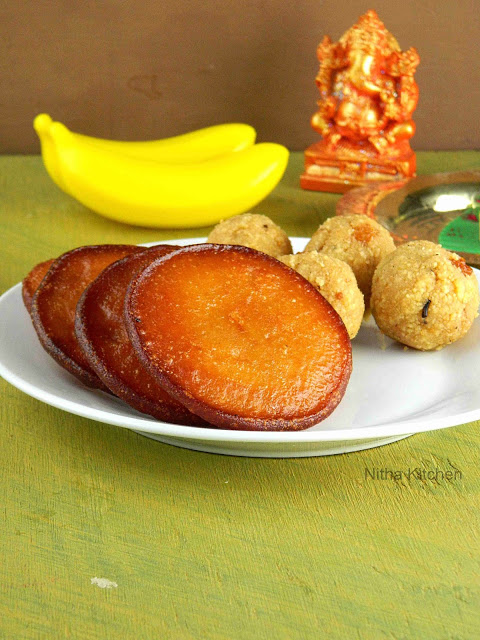 If you like to know the recipe for boondi ladoos shown in above picture then check the recipe
HERE
.
Will Update more tips in future…