This month for Swathi's baking partners challenge we are celebrating fresh berries!!!  This month challenge was suggested by Reeni of Cinnamon nice and everything nice. There's no better way to showcase them then with fresh whipped cream and classic shortcakes. These Blueberry Shortcakes are like biscuits and instead of butter they use heavy cream.
Yields -10 Berry Shortcakes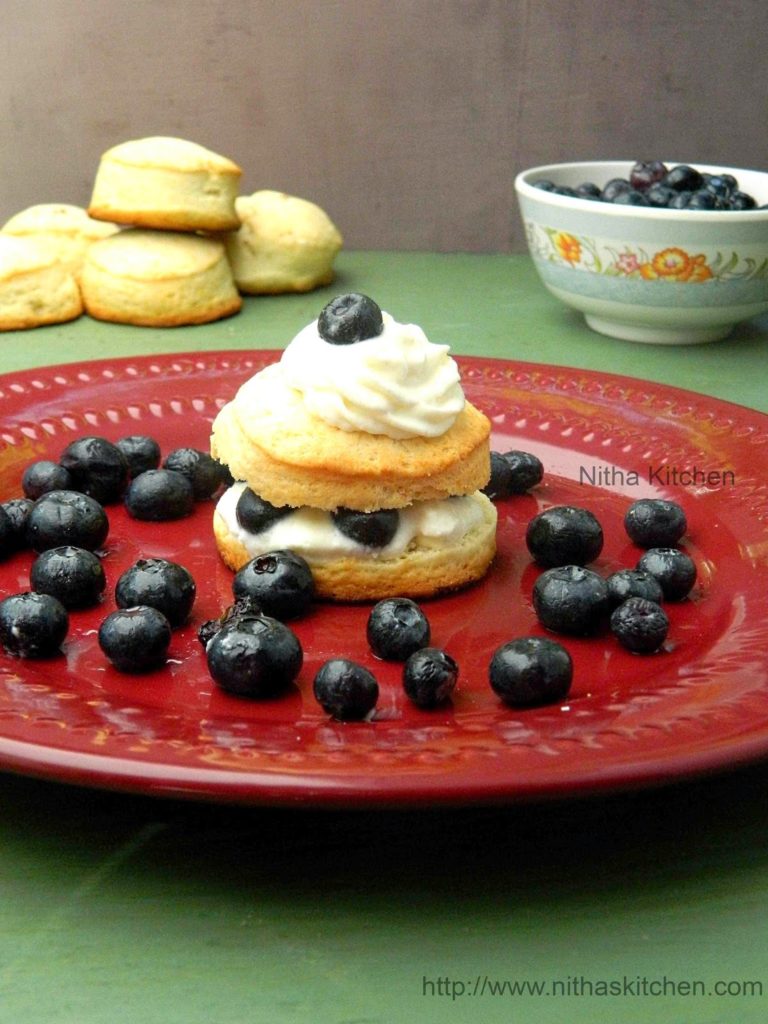 Recipe Source :- Adapted from King Arthur Flour
Ingredients
Blueberries or Raspberries or a Quart of Strawberries (hulled and sliced) (or a mix of all three!) – 2 pints
Sugar – 4 teaspoons + 2 tablespoons, divided
Pastry flour – 2 Cups (8 ounces) or
1 + 3/4 cups (7.5 ounces) Unbleached APF + 1/4 cup (1 oz Cornstarch)
Salt – 3/4 tsp
Baking Powder – 1 Tbsp
Heavy Cream – 1 to 1 and 1/4 cups (8 – 10 ounces)
Melted Butter – 1 to 2 Tbsp
Coarse or Sanding sugar, optional, for decorating the tops
Heavy Whipping Cream – As needed to sandwich and top the cakes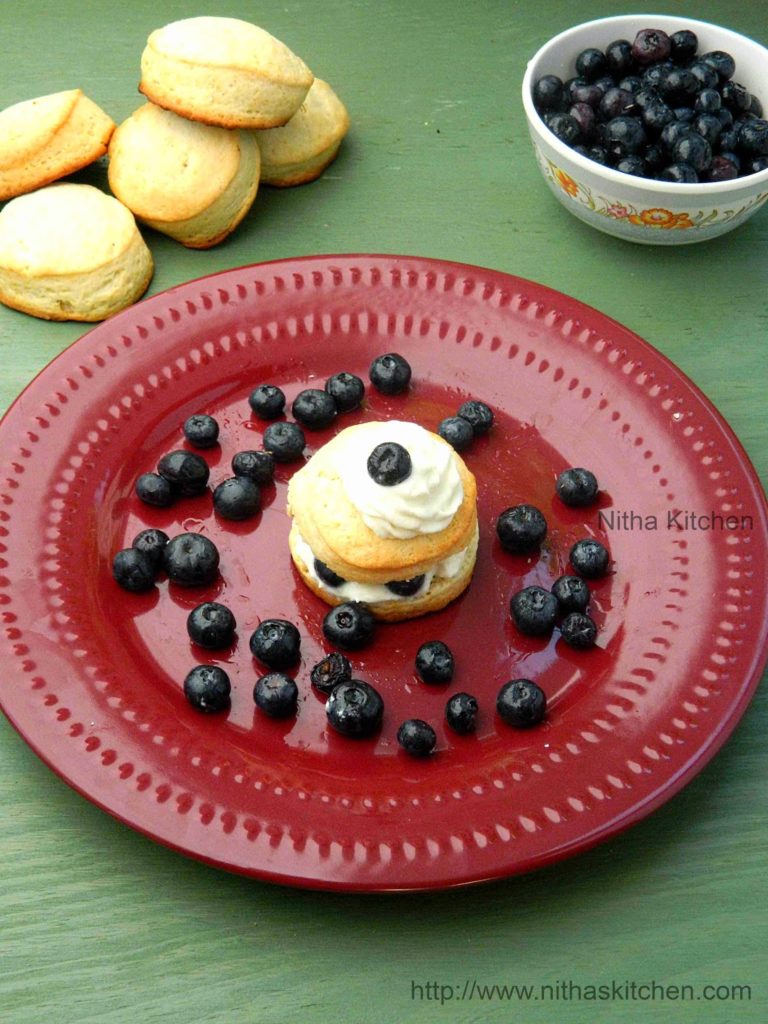 Blueberry Shortcakes Preparation
In a large bowl toss the berries with 2 tablespoons of sugar to let some of the juices come out. Cover and refrigerate.
Into a medium mixing bowl sift together the flour, salt, baking powder, and 2 teaspoons sugar.
Stir in enough heavy cream to moisten the dough thoroughly.
When you squeeze the dough it should stay together without any dry pieces falling off.
Preheat the oven to 425° F. Fit a large baking sheet with a silpat mat or parchment paper.
Turn the dough out onto a lightly floured work surface and very gently pat it or roll it into an 8″ circle about 3/4″ thick.
Use a sharp biscuit cutter (2 – 2 + 1/3-inch) to cut into rounds (Pic 1). Combine the scraps and roll out again until you get 10 rounds.
Dip the rounds into melted butter, and place them on the prepared baking sheet (Pic 3). Sprinkle them generously with coarse sugar.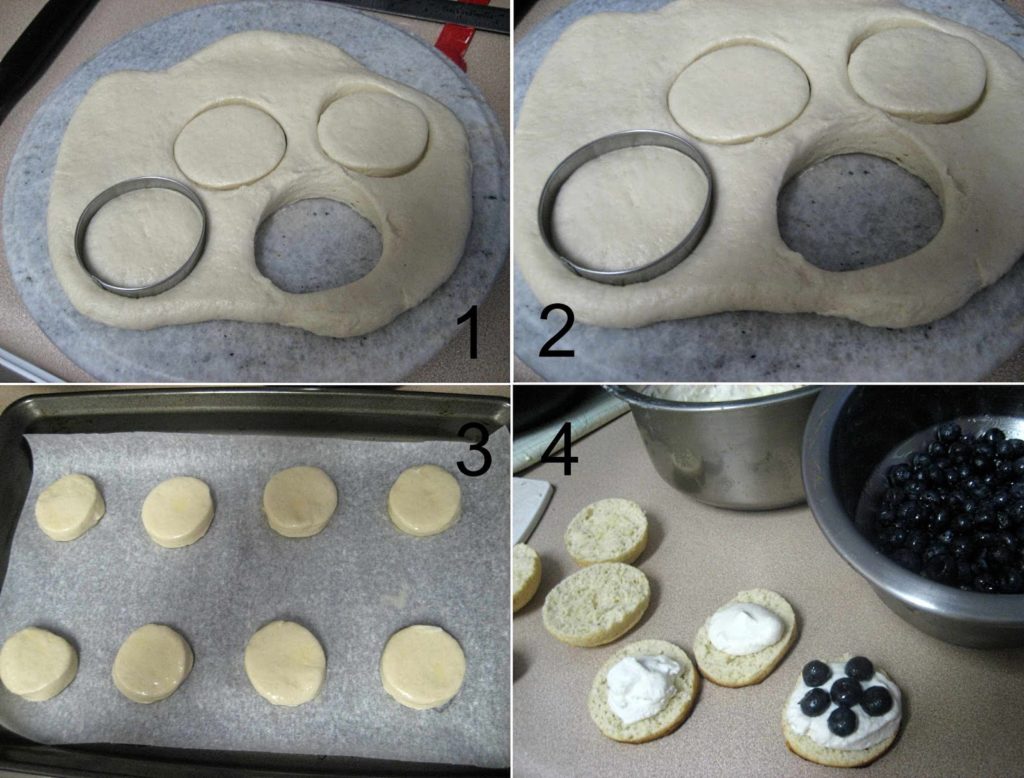 Bake the biscuits for 15 to 18 minutes until they're golden brown and puffy.
Meanwhile make the whipped cream. In the bowl of a stand mixer or in a large mixing bowl beat the whipping cream with 2 teaspoons sugar on medium-high speed until thick and stiff.
When you lift the beater the cream should stick to it without falling off.
Freeze the whipped cream for a while that makes easy and perfect to pipe over the cakes.
To serve split the shortcakes in half, top with whipped cream, a few spoons of the berries and the juice, more cream, the top biscuit, more whip cream and a few more berries (Pic 4).