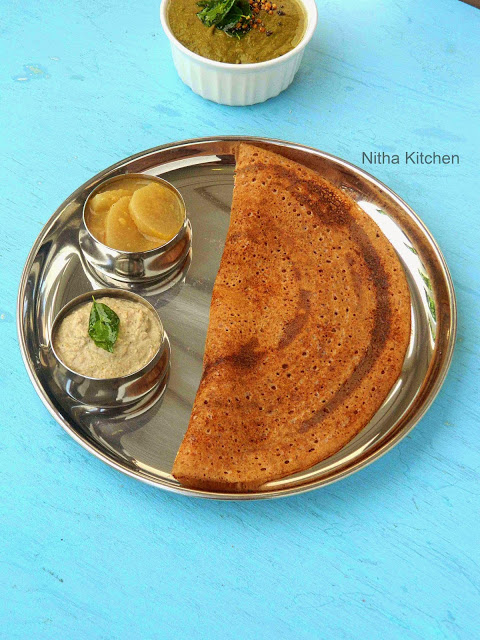 Tiffin aka Dosa is a daily supplement like sugar and salt intake in South Indian Kitchen hence, instead of regular I mean basic Idli Dosa Batter this Ragi Brown Rice Dosa Batter is very healthy and nutritious with addition of Ragi /Finger Millet and Brown Rice. It's time to pack up things for 2 months vacation in homeland. I am very much excited to see Parents, Family and Friends after 2 years…I drafted few posts since we booked ticket, So I have scheduled few of them and you can expect delay in replying to your queries; Thanks for understanding the same. I will come up with some interesting recipes in near future. Coming to today's recipe note this batter is good only for Dosa and not for idlis. I am damn sure that kids like this crispy dosa and unless you tell they never know that it has millet in it 🙂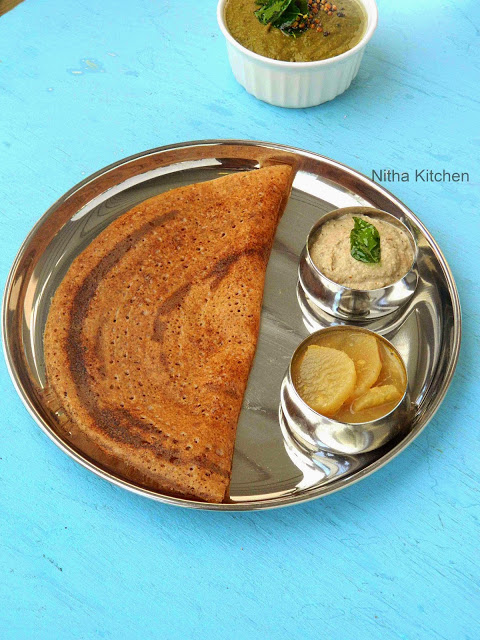 Ingredients
Brown Rice or Kerala Matta Rice -2 Cups
Idli Rice – 2 Cups ( Replace with Millets)
Whole Ragi/Finger Millet – 1.5 Cups (You can use Ragi Flour refer the method section for more details)
Urad Dal – 1 Cup (Good Quality) or 1.25 Cups
Fenugreek – 1 Tbsp
Salt – As Needed
* The above proportion works only for Crispy Dosa and don't try idlis with it…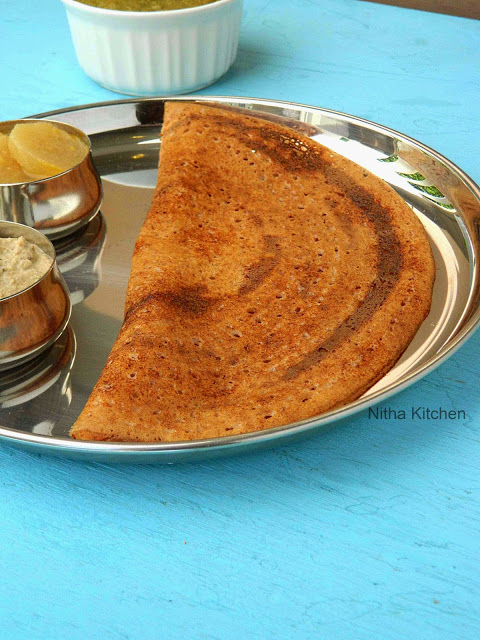 Method
Wash two kinds(Pic 1) of rice and soak overnight or 8 hours atleast.
Check Ragi for small stones, remove if any(Pic 2), wash and soak along with rices.
So allow them to soak well for overnight or 8 hours at least.
3 hours prior to grinding soak urad dal and fenugreek seeds (Pic 3).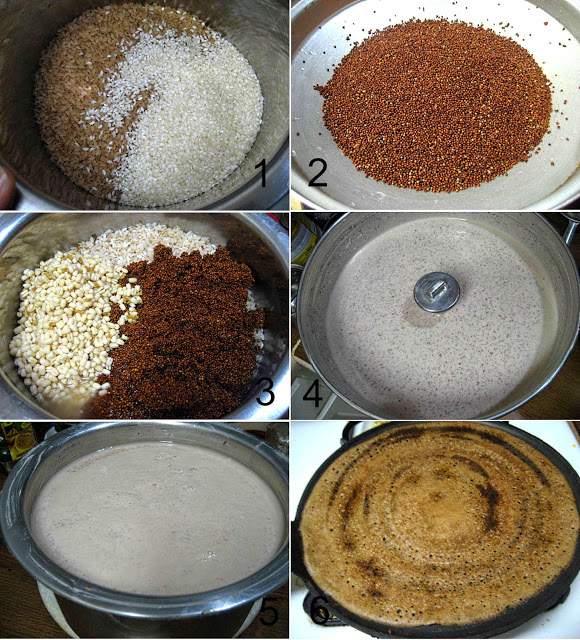 Grind dal in the first batch to smooth and fluffy consistency.
In grinder the urad dal proportion is 5:1 or 6:1 for very good quality urid dal.
In Mixie / Food processor 4:1 ( for good quality) or 3:1 works.
Grind rice separately to slightly coarse consistency (Pic 4).
Add salt and allow the batter to ferment at least 4-5 hours (Pic 5).
Later make soft or crispy dosas as you prefer (Pic 6)…
Serve them with any tangy spicy chutneys , here i have served with Coriander Chutney, Radish Sambar and Coconut chutney.
If using Instant Ragi Flour grind the rice and urad dal, then add ragi flour and salt to it mix well and allow 6-8 hours fermentation.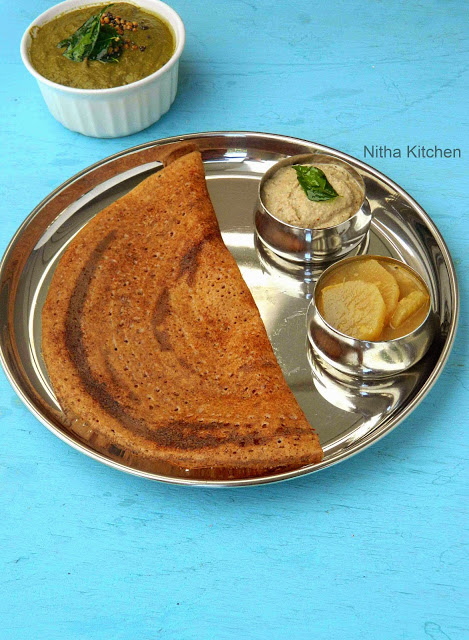 Notes
I use whole Ragi/Finger Millets brought from India and sometimes I buy from near by Indian stores in US.
For more Millet Recipes check HERE.