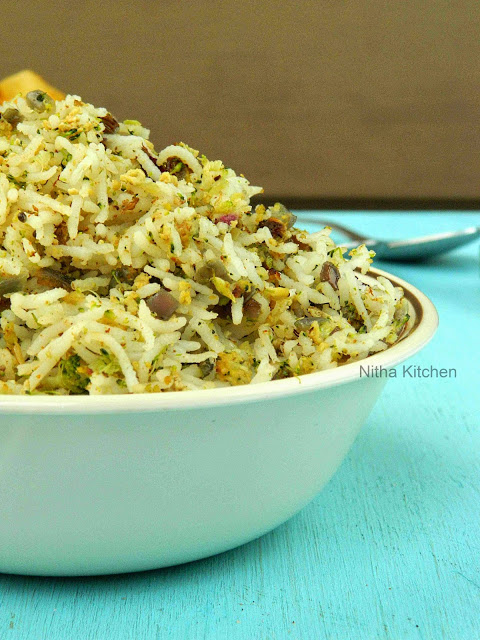 One easy and healthy one pot meal using broccoli is our today's recipe. You may think why i am using basmati rice often for this kind off rice varieties… My lil one prefers basmati hence i use frequently but you can use any type of cooked rice for this recipe.
Ingredients
Boiled Rice – 1 and 1/2 Cups
Shredded Broccoli – 3/4th Cup
Egg – 1-2 Numbers (Optional)
Red Chili Powder- 1tsp or As Needed
Pepper Powder – 1/2tsp
Chana Dal – 1 Tbsp
Onion – 1 Medium
Garam Masala Powder -1tsp
Cumin Seeds – 1/2tsp
Mustard Seeds – 1/2tsp
Salt and Oil – As Needed
Method
Soak and cook the basmati rice as per instruction on the package.
Otherwise soak the basmati rice 40 minutes with 1:1.75 cups ratio of Rice and Water cook the basmati in pressure cooker for 2 hisses or in stove top.
Meanwhile shred the broccoli and make the other ingredients ready.
In a pan add a tsp oil grease well and stir fry the eggs (if using) with pepper powder and 1/2tsp salt, transfer it to another bowl and keep aside.
In the same pan add necessary oil or butter or ghee.
Temper mustard seeds and cumin seeds when oil is hot.
Now add chana dal and saute till dal turns golden brown.
Add the chopped onion saute for 3-4 minutes in medium flame till it turns golden brown (Pic 1).
Now add red chili powder, garam masala powder saute for 30 seconds and add shred broccoli.
Saute the broccoli till raw smell disappears, approx 4-5 minutes (Pic 2).
Now add fried egg mixture saute for a minute (Pic 2)
Finally add cooked rice (Pic 3) and mix all together.
Adjust salt and red chili powder at this point, now the Broccoli rice is ready in minutes…
Serve it plain or with any raita…