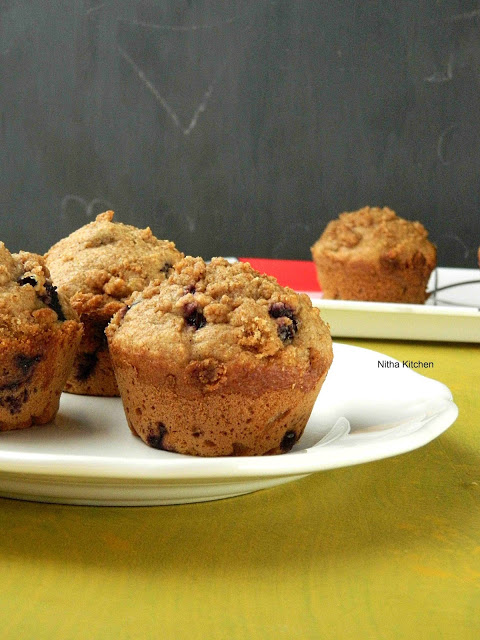 Muffins are always my choice when I think about healthier breakfast or school snack for kids. Since my kids are picky in eating raw fruits I prefer fruits added muffins like today's Blueberry Oats Muffins as the best choice
for them. I have few blueberry muffin recipes and this is the one I experimented with powdered oats few months ago and it came out really well with the first attempt itself. They are so soft and fluffy in texture with minimal sugar. Also along with oats I use wheat flour (not the atta/chapatti flour) and I assure you that it's well textured muffins with great taste. I have followed this same recipe several times before sharing it with you all. Instead of Dark brown sugar you can use organic cane sugar or Indian Jaggery/Natural Unrefined Sugar(Nattu Sarkarai in Tamil)…It worked well for me.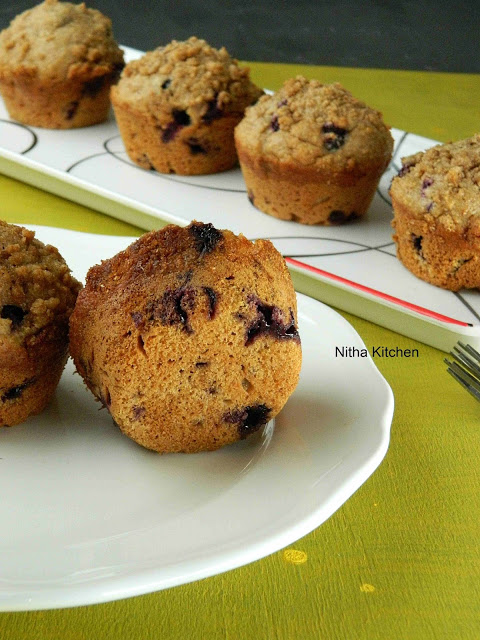 Yields – 12 Muffins
Ingredients
APF/Wheat Flour – 1.5 Cups
Oats – 3/4 Cup
Milk – 1/2 Cup
Blueberries – 1 Cup
Dark Brown Sugar – 1/2 Cup (You can increase another 1/4 cup with brown or regular sugar)
Butter – 4 Tbsp
Yogurt – 3/4 Cup
Vanilla Extract – 1 tsp
Cinnamon Powder – 1 tsp
Baking Powder – 2 tsp
Baking Soda – 1/2 tsp
Salt – 1/2 tsp
Bake at 375 F
For Topping (Optional)
Butter – 2 Tbsp
Flour – 3 Tbsp
Brown Sugar – 3 Tbsp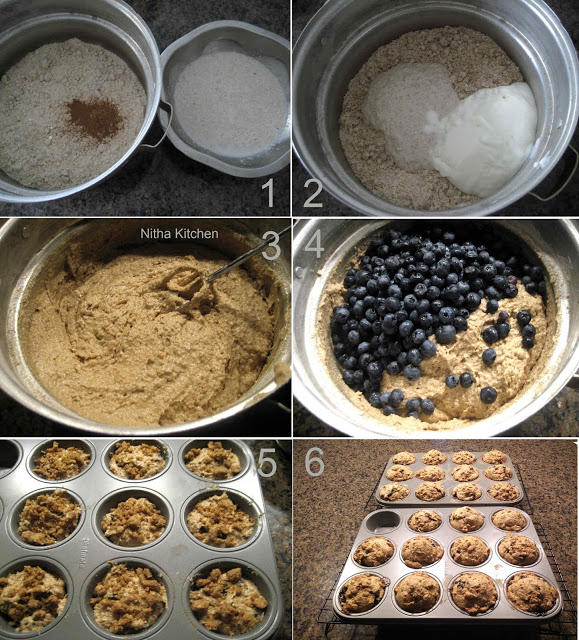 Topping Preparation
If you would like to add topping then prepare it first and refrigerate till use.
For that break the cold butter with fork along with flour and brown sugar mixture.
When the mixture looks crumble thats it refrigerate till you top over muffins.
Eggless Blueberry Oats Muffins Preparation
Grease the muffin pans with oil and keep aside.
Powder the oats in food processor and soak in the milk for 30 minutes at least (Pic 1).
Mix the flour, brown sugar, cinnamon powder, baking powder, salt and baking soda.
To it add the melted butter it looks crumbly after adding butter (Pic 1).
Then add soaked oats, vanilla essence and curd, mix all together (Pic 2).
Now the mixture should be thick as shown in Picture 3.
You may need few teaspoons of milk or curd to bring to right consistency.
Finally add cleaned and water wiped fresh blue berries (Pic 4) and gently fold in the mixture.
Add even quantity mixture in each muffin. I use 1/3 measuring cup to fill those.
Top them with already prepared crumble mixture as shown in Pic 5.
In preheated oven bake at 375 F for 12- 15 minutes or sides turn brown.
Cool in the wire rack for 10 minutes (Pic 6) and remove each muffin gently from the muffin pan.
Healthy Muffin Recipe Collections