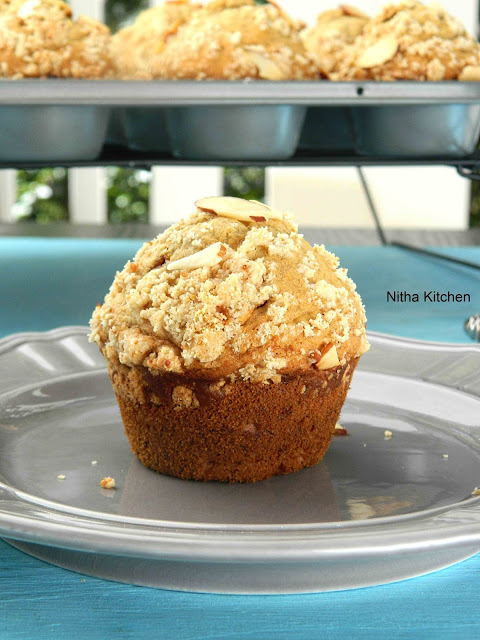 Here comes a healthy snack with the goodness of bananas, wheat flour, homemade ground fresh cinnamon powder (recipe follows) and nuts. You heard it right yes todays post is none other than eggless Banana Wheat Muffins :-). I filled each depression with 2/3 of muffin batter so I really got large size muffins but to attain medium size muffins fill ½ with muffin batter and top up as mentioned in the recipe below.

Homemade Cinnamon Powder
Whole Cinnamon – 5-6 rolled variety
Split the cinnamon as shown in Picture 1.
In low flame saute them till they turn warm.
Remove from heat and once cooled down, powder it in food processor/mixie (Pic 2).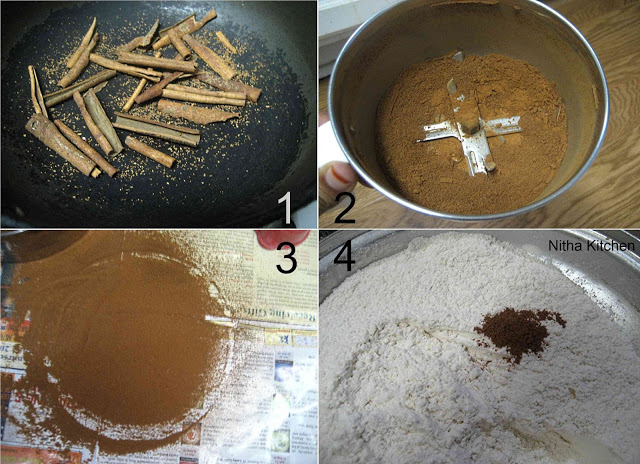 Once done sieve it (Pic 3), the coarse stuff can again be grind, finally store the fine powder in an air tight container.
Whenever you need in baking add it to the dry flour mixture and proceed (Pic 4).
Eggless Banana Wheat Muffins Ingredients
Yields – 15 Large Muffins as shown in pictures
Unbleached AP Flour – 3 Cups (Replace 1 Cup or 1.5 Cups with Whole Wheat Flour as shown in stepwise picture 1 below)
Banana – 6 Numbers (Large Size)
Butter – 1 Stick (8 Tbsp melted)
Yogurt – 3 Tbsp or More for Muffin consistency
White Sugar – 1 and 1/2 Cups
Brown Sugar – 2/3 Cup
Cinnamon Powder – 1tsp
Baking Soda – 1.5 tsp
Baking Powder – 2 tsp (i use double acting)
Salt – 3/4 tsp
Vanilla Extract – 2 tsp
Any Chopped Nuts – 1/2 Cup (Optional, if you add you will get more than 18 muffins)
For Crumb Topping (Optional)
APF – 4 Tbsp
Cinnamon Powder – 1/2 tsp
Butter – 2 Tbsp
Prepare the crumb coating and refrigerate till use. For that add flour, sugar, cinnamon powder then gently rub the chill butter with fork, keep it in the refrigerator till you use in the recipe.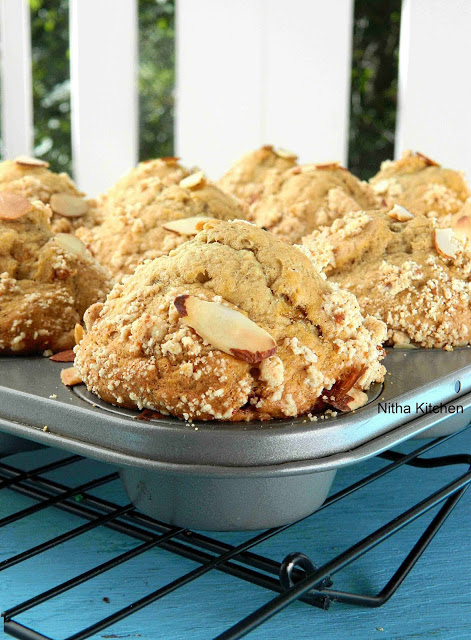 Eggless Banana Wheat Muffins Preparation
In a bowl add flour (Pic 1), baking powder, baking soda, cinnamon powder, salt, mix all together.
Melt the butter in microwave or stove top, when half has done, remove from heat.
Keep stirring with brown sugar (Pic 2) so that all the butter and crystal brown sugar melts and turn good as shown in picture 5.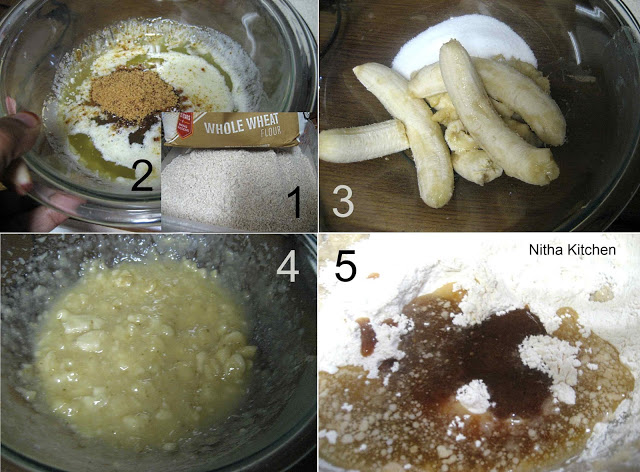 In a mixing bowl/stand mixer add the banana and white sugar, whisk it till banana looks coarse paste (Pic 4).
Add flour in batches, in first batch whisk the flour with mashed bananas.
With the second batch of flour add melted butter/brown sugar mixture (Pic 5) and whisk well.
Finally add the remaining flour, yogurt (Pic 6) and vanilla extract, scrap the sides and whisk well to fluffy muffin consistency (Pic 7).
Its optional to add chopped nuts and fold it well with the batter.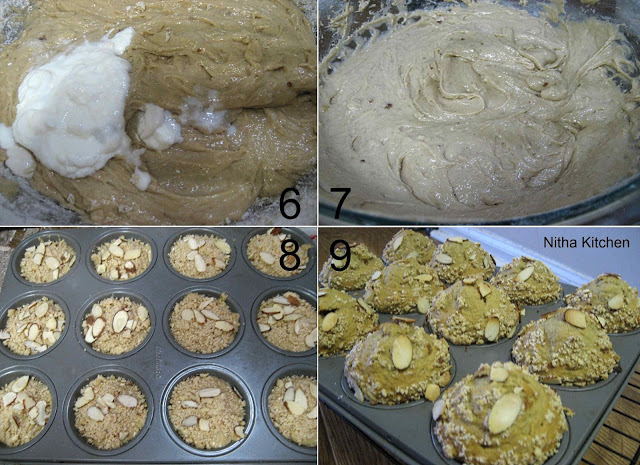 Allow to cool in the pan for 10-15 minutes then take it off.
Now in oil greased muffin pan, drop the batter in each depression.
Sprinkle the crumb mixture (Pic 8) and some nuts (Pic 8, optional).
Tap the pan, bake it in the pre heated oven at 375 F for 12- 15 minutes or toothpick inserted at center comes out clean (Pic 9).
Healthy Muffin Recipe Collections