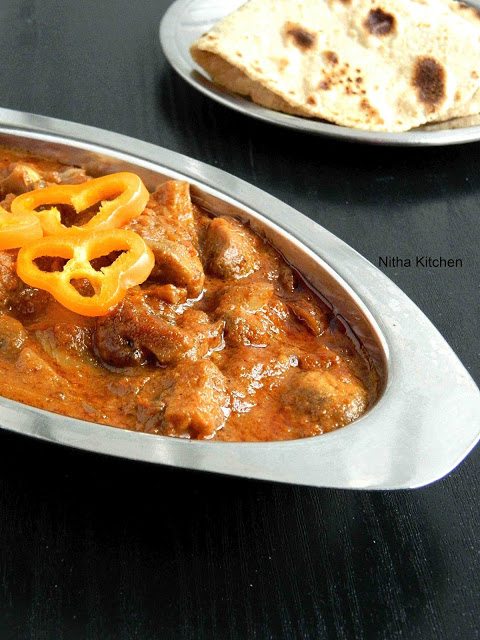 Mushroom Tikka Masala –> Mushrooms are marinated with Indian masala powders and yogurt mixture. Later skewered and grilled in oven or fried in stove top (i did so) then finally added in simmering tomato sauce+ onion paste + Indian spice mixture. Here I have added generous red chili powder and made a thick curry, you can make the masala little bit thin by adding water or thin coconut milk.
Ingredients for Masala
Onion – 2 Medium
3 Chopped Shallots or 1/4 Cup finely Chopped Onion
Tomato – 3 Medium
Ginger Garlic Paste – 2tsp
Red Chili Powder – 1/2 Tbsp (you can reduce a bit)
Garam Masala Powder – 2tsp
Coriander Powder – 1 Tbsp
* Cashew Paste – 2 Tbsp (Soak 10 whole cashews in warm water for 15 minutes at least then grind it to make a paste)
* Instead of cashew you can use heavy cream or half and half to make the gravy thick.
Ingredients for Marination
Thick Yogurt/Greek Yogurt – 3 Tbsp
Mushroom – 250 grams
Red Chili Powder – 1/2 Tbsp
Garam Masala Powder – 1tsp
Salt – 1tsp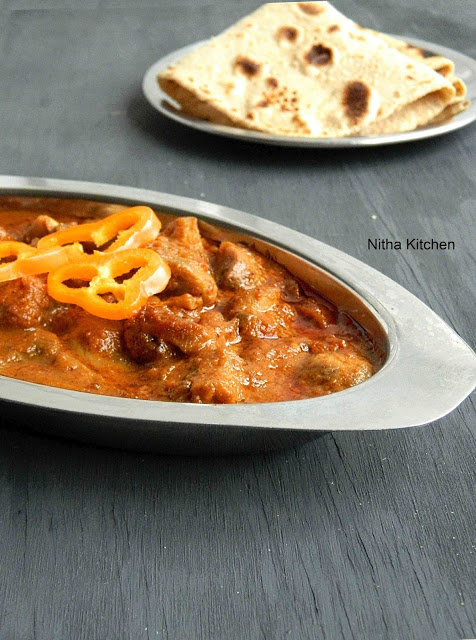 How to Marinate Mushrooms
Wash the mushrooms in running water.
Wipe the excess water/moisture.
Cut each button mushrooms in to four pieces.
Marinate them with red chili powder, salt and yogurt (Pic 1 & 2).
Meanwhile prepare the ingredients for the curry.
You can grill it in the oven and keep aside, but i am going to fry them in a pan, do follow the recipe.
Method
In a well boiling water add the tomatoes, switch off after 5 minutes peel the skin and make fine puree in mixie/food processor.
In a tbsp of oil saute roughly chopped 2 onions and when it's cool down, grind it to fine paste.
In the same wok/kadai add 2 tbsp oil, saute the marinated mushrooms(you can add few chopped onion or capsicum along with it) till it shrinks in size (Pic 3) and reaches golden color, keep aside.
In the same pan pour 2 tbsp oil add 2 Cloves, 2 bay leaves and 1 lengthy Cinnamon.
Add 1/4 cup chopped onions, when fried well add ginger garlic (GG) paste.
Add tomato puree (Pic 4) and thickens a bit (Pic 5) add onion paste and all masala powders (Pic 5).
Close the lid and let the gravy simmers in low flame till oil floats on top (Pic 6).
Now add fried/grilled mushrooms (Pic 6), cashew paste and if needed add water and let this mixture cooks in medium flame (Pic 7) for few more minutes say 5-8 minutes.
If you want a very thick masala don't add water and allow them to simmer in kadai for more minutes.
I have served here with the most frequently make diet and oil free chapati.