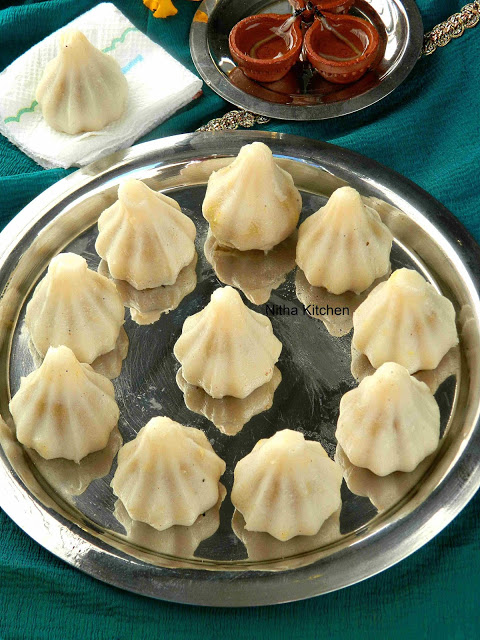 Last week I made this Coconut Jaggery Filled Modaks /Thengaai Poorana Kozhukattai for Ganesh Chaturthi. Later I uploaded a picture in my whats app profile and got lots of appreciation for this modaks. Coming to the recipe I have added generous amount of cardamom powder in the outer layer itself so you can't expect pure white modaks instead you can see tiny bits of cardamom all over the outer layer. Also I have explained another easy way of using modaks, in this method you can make the outer layer thin and load more stuffing. Since this method use thin outer layer and more filling you can get/ recipe yields 16 modaks Approx


Ingredients for Pooranam/Stuffing
Shredded Coconut – 1.5 Cups
Jaggery or Nattu Sarkarai (Brown Sugar) – 1.5 Cups (you can reduce to 1 cup)
Sesame Seeds – 2 Tbsp (Optional)
Cardamom Powder – 2tsp
Ghee – 1 Tbsp
Method
Dry roast the sesame seeds and keep aside.
In the same pan add ghee, shredded coconut, jaggery and cardamom powder (Pic 1).
Saute till jaggery melts and stick with coconut well.
Finally add sesame seeds (Pic 2) and keep aside to cool completely.
The next two pictures are final shaped modaks before and after steam cook.
Ingredients for outer Layer
Rice Flour – 1 Cup
Cardamom Powder – 1tsp
Salt – 1/4tsp
Ghee – 1.5tsp
Below is the picture of thin outer layer kozhukattai prepared recently….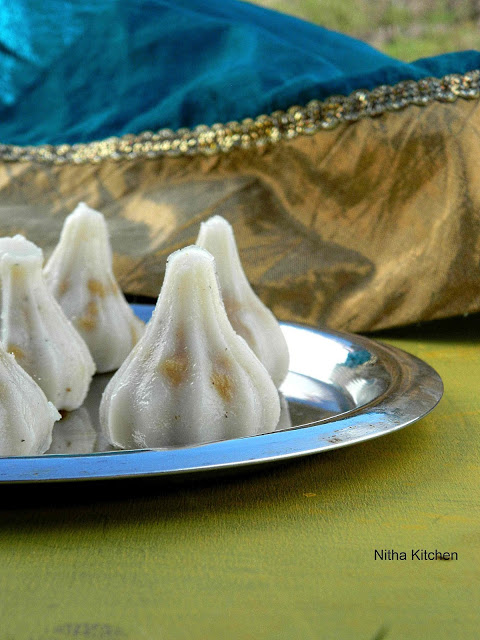 Outer Layer Preparation
Take rice flour,ghee,cardamom powder and salt in a wide/mixing bowl (Pic 1).
Boil 1.5 cup water and when bubbles appear, do add it to the rice flour in batches (Pic 2).
You may not need all the water so keep an eye on it.
When you add too much water then the dough becomes too sticky.
When the dough is gooey you can immediately stir in medium flame for the moisture to evaporate, that will fix the problem.
At the same time too little water makes the modaks to break/crack and you have to sprinkle bit water to make the dough perfect.
Once done keep stirring for the steam to evaporate (pic 4), once the dough attained hand bearable temperature keep kneading with your hands (pic 5), at one stage it should be soft and crack free non sticky dough (Pic 5).
You can make lemon size balls (Pic 6) but its optional, Keep aside.
How to make coconut jaggery stuffed modaks
Grease the mould with little oil, hold the lock with one hand.
Pinch small white dough, press it tight all over the inner sides of the mould as shown in Picture 1 & 2.
Now take a oval shape of coconut jaggery mixture, insert it in to the mould (Pic 3), do hold the lock all the time.
The sweet stuffing should be inserted well and need a little space at the bottom as shown in Picture 3 that space is going to be filled with white layer again.
Take small white outer layer flat it (Pic 3) and press it at the bottom as shown in Picture 4.
Press well so that it seals and merges with the previous layers, remove excess (Pic 5)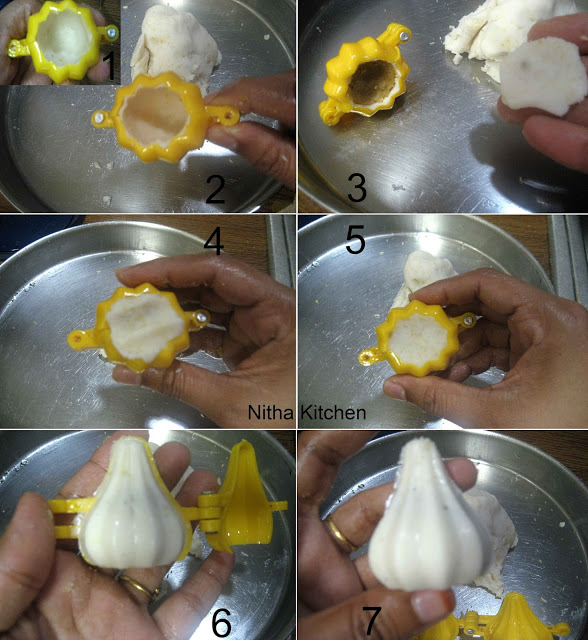 Now release the lock (Pic 6), gently lift it from the bottom (Pic 7) and place it in a plate.
Do repeat the same for remaining dough.
Grease the steamer plates with oil, arrange the shaped/stuffed modaks all over it.
In well boiled idli pan place the plates and steam cook for 4-5 minutes approx, refer stepwise pictures 3 & 4 in Pooranam/Stuffing Preparation part.
They look shiny n glossy when it well cooked.
Remove from the pan and allow to cool for a while say 2 minutes.
Now gently remove the modaks and serve it.