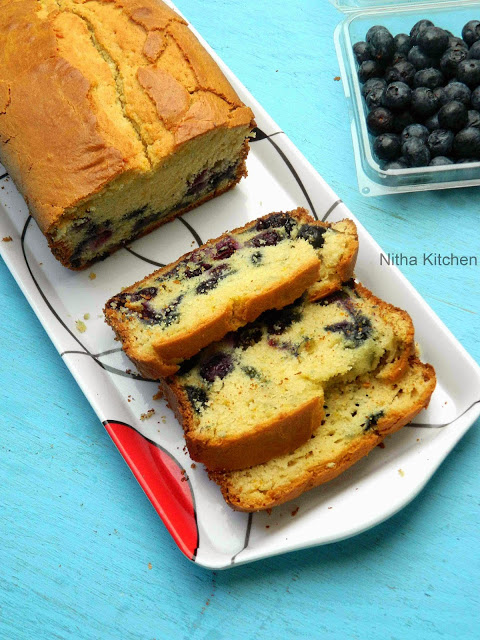 Again posting a baking recipe in sequence to the blog. This recipe is off to Swathi's baking partners challenge. She suggested a pound cake with flavor of our choice. I went for blueberry yogurt pound cake. I adapted the recipe
like instead of heavy cream I went for yogurt and some leavening/raising agents. This yogurt based pound cake is very soft , pillow like texture and fully loaded with healthy blueberries. Definitely this is among kids friendly recipe and I have to make it again for kids probably this week!!!
Recipe Source :- Adapted From Here
Ingredients
All-Purpose Flour/Maida – 2 and 1/2 Cups
Fresh Blueberries – 1 Cup
Unsalted Butter – 3/4 Cup (1.5 Stick)
Eggs – 3 Large
Thick Yogurt (Strained Yogurt or Greek yogurt works here) 3/4-1 Cup
Baking Powder – 1and1/2 tsp
Baking Soda – 1tsp
Granulated Sugar – 1 Cup
Lemon Juice – 1tsp
Salt -1/4tsp
Vanilla Extract – 1and1/2tsp
Grated zest of 1/2 large lemon or Orange
I have used 1 9 inch and 2 inch loaf pans(shown below) you can use 1-10 inch tube or bundt pan to make it.
Blueberry Yogurt Pound Cake Preparation
Wash the berries and keep aside and make the other stuffs ready.
Put oven rack in middle position, but do not preheat oven.
Generously grease the pan with butter and dust with flour, knocking out excess flour, keep aside.
Sift together sifted flour, baking powder and soda and salt into a bowl.
Beat together butter and sugar in a large bowl with an electric mixer at medium-high speed until pale and fluffy, about 5 minutes in a stand mixer fitted with paddle attachment or 6 to 8 minutes with a handheld mixer.
Add eggs 1 at a time, beating well after each addition, then beat in vanilla.
Reduce speed to low and add half of flour, then all of yogurt, then remaining flour, mixing well after each addition.
Scrape down side of bowl, then beat at medium-high speed 5 minutes by this time batter will become creamier and satiny.
Gently fold the water strained blueberries and lemon or orange zest (Stepwise Pic 1).
Spoon batter into pan and rap pan against work surface once or twice to eliminate air bubbles (Pic 2).
Place pan in (cold) oven and turn oven temperature to 350°F.
Bake until golden and a wooden pick or skewer inserted in middle of cake comes out with a few crumbs adhering, 50 minutes – 1 hour approx (Pic 3).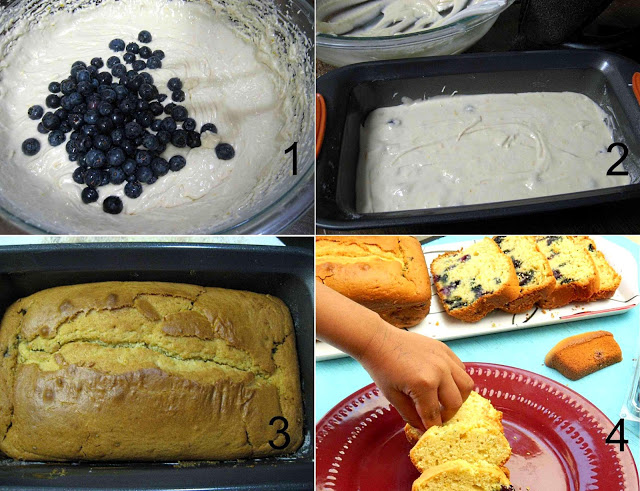 Cool cake in pan on a rack for 30 minutes.
Run a thin knife around inner and outer edges of cake, then invert rack over pan and invert cake onto rack to cool completely, approx an hour.
Slice and serve it 🙂 (Pic 4)
Note
Cake keeps, covered well with plastic wrap or in an airtight container, at room temperature 5 days.