I had never tasted the Iyengar bakery khara buns, but when it was challenged in Home Bakers Challenge (Monthly challenge) by Priya sis with few more options, I just fixed my mind to make these savory bakery buns. It tasted awesome and it was so soft, even without eggs… If you are a garlic eater then you can add some garlic powder to it, to get a nice flavor along with onions and green chilis.
Recipe Source: Here
Ingredients
All Purpose Flour/Maida/Bread Flour – 2 Cups + More for kneading (you may need 1/4 cup more later)
Active Dried Yeast – 1and1/2tsp (OR 1&1/8tsp instant yeast)
Milk – 1/4 Cup+1 Tbsp
*Water – 1/3 Cup (make sure you add less water later when we add onions the dough turns gooey and needs more flour to bring the dough to right consistency)
Butter – 3 Tbsp
Sugar – 1and1/2 tsp
Salt – 1tsp
Onion – 3/4 Cup finely chopped
Thai green chilies – 5-6 Numbers, minced (Replace with 3 Serrano peppers)
Cilantro Leaves – 1/3 Cup, finely chopped
Cumin Seeds – 1tsp
Oil – 2tsp
*If using 2% or 1% reduced fat milk then reduce 1/4 cup water and take milk instead.
Iyengar Bakery Khara Buns Preparation
Microwave water and milk in a coffee mug for 30 seconds, it should be warm to touch and not hot. This step is very important for active dry yeast to proof well.
Add sugar and yeast and mix well. Let it sit for 15 minutes. The yeast mixture should be frothy at the end of 15 minutes (Pic 1). If not, start the process again.
In the meantime, add oil in a pan and when its hot add cumin seeds, let it crackle.
Add finely chopped onions, green chilies and a pinch of salt , cook till onions turn soft. Turn off heat, add cilantro leaves, mix well and keep aside (Pic 1)
Cooling onion mixture is very important to not kill the yeast.
To the yeast mixture add tsp salt and give a nice stir.
In a wide mixing bowl add the yeast mixture and add flour, one cup at a time to it and knead until you get a stiff dough.
Add 2 tbsp melted butter while kneading (Pic 2), remaining 1 tbsp butter for brushing the buns after they are out from oven.
Transfer the dough to a floured surface and knead it into a non-sticky dough for at least 5 mins (Pic 3).
Flatten the kneaded dough with your hands and place the onion-chili stuffing in the center (Pic 4). Fold the corners and seal it well.
Knead again for 15 minutes, till the stuffing is well incorporated in the dough. The dough might turn sticky due to the onions, so add more flour like 1/4 cup and knead well.
Grease a big bowl with little oil and place the kneaded dough in the bowl (Pic 5).
Cover with a clean kitchen towel and keep in a warm place till the dough almost doubles (Pic 6).
It may take 45mins – 1hour, after the first rise, knead again for 3 minutes to remove any air bubbles in the dough.
Divide the dough into 8 equal portions and shape into buns. Place them on a parchment sheet lined baking tray (Pic 7).
Cover and place the baking tray in a warm place for about 30-40 minutes (Pic 8), by this time the rolled buns increase in size.
At the end of 40 minutes, preheat oven to 425° F.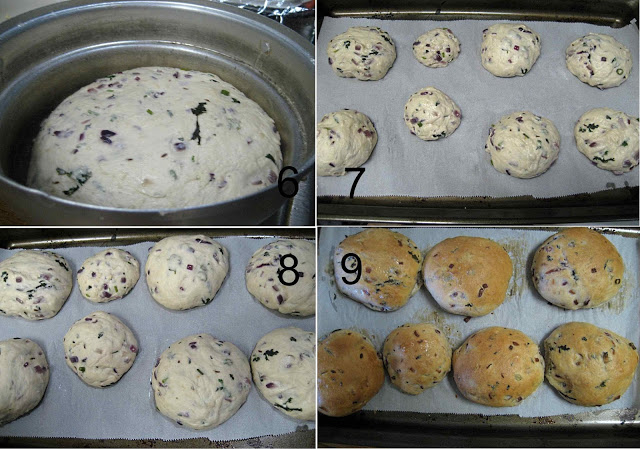 Brush tops of well risen dough with milk and place them in the preheated oven.
Reduce oven temperature to 350°F and bake for 20-25 minutes until the top is slightly brown (Pic 8) and the buns sound hollow when tapped on top (Pic 8).
Melt 1 tablespoon of butter and brush tops of baked buns when its immd out from oven for a nice shine.