Ammini Kozhukattai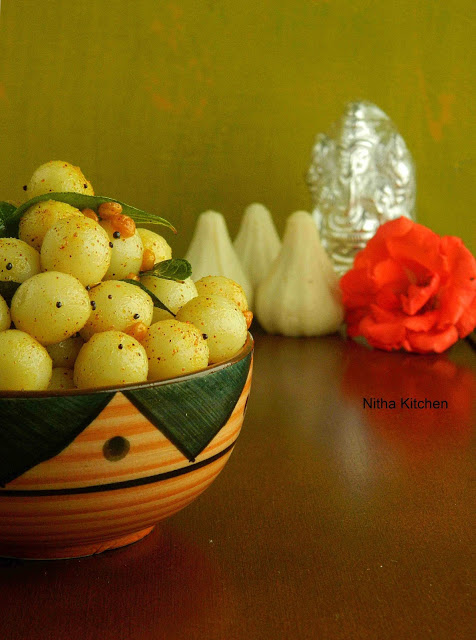 Ammini Kozhukattai : Here comes another easy to make recipe for Ganesh Chaturti festival.  Kozhukattais are very famous in south India, especially we make it during Vinayagar/Ganesh Chaturthi Festival. I have lot of sweet and savory kozhukattai recipes in my blog, also today I am sharing a savory mini or ammini kozhukattai recipe. Even beginners can try this recipe without hesitation. Don't forget to check the stepwise pictures to make the right consistency dough…To check all the ganesh chaturthi recipes do click it HERE.

Ingredients
Rice Flour – 1/2 Cup
Water – As Needed
Sesame Oil or Ghee – 1 tsp
Salt – 1/4tsp

For tempering/Seasoning
Mustard – 1/4tsp
Oil – 2tsp
Curry Leaves – Few
Chana Dal – 2tsp
Whole Red Chilis – 2 or Red Chili Powder -1/2tsp
Turmeric Powder – 1/8tsp
Optional Salt
Yields 60-65 Mini Kozhukattais as shown here in the pictures.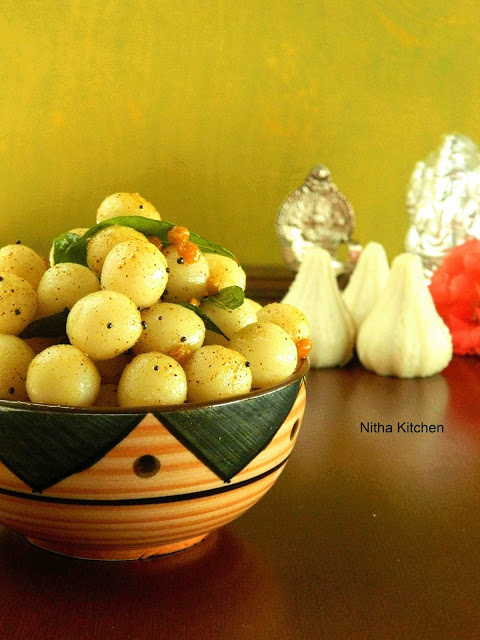 Ammini Kozhukattai Preparation
Boil water in a sauce pan.
Keep the rice flour mixed with 1/4tsp salt ready in a pan (since it is savory i have added more salt in the dough itself).
When water is well boiled, add batches of hot water to the rice flour (Pic 1).
At one stage they roll together like shown in Picture 2. So stop adding water after this point.
Add a tsp of ghee or gingely oil (Pic 3) and stir with laddle or if it is hand bearable knead it to soft and non sticky dough using hands.
Rest it for a while, say 3-4 minutes. When they are still warm grease your palms with oil or ghee and make small rounds as shown in Picture 4.
Boil water in idli pan, grease the plates with oil and steam the mini kozhukattais for about 5-8 minutes.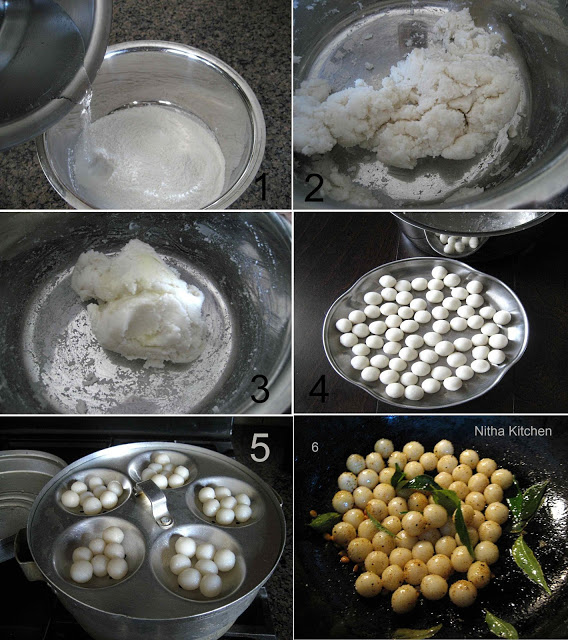 Mine has lot of holes in the idli plate for the steam to come up so they cooked very quickly.
Cooking time varies depends on the idli pan you have.
Once done let them cool for a while (Pic 5).
Meanwhile heat a tsp of oil in a pan/wok.
Add all the tempering ingredients one by one.
Finally add the steamed ammini kozhukattais and stir gently (Pic 6).
Serve as it is…