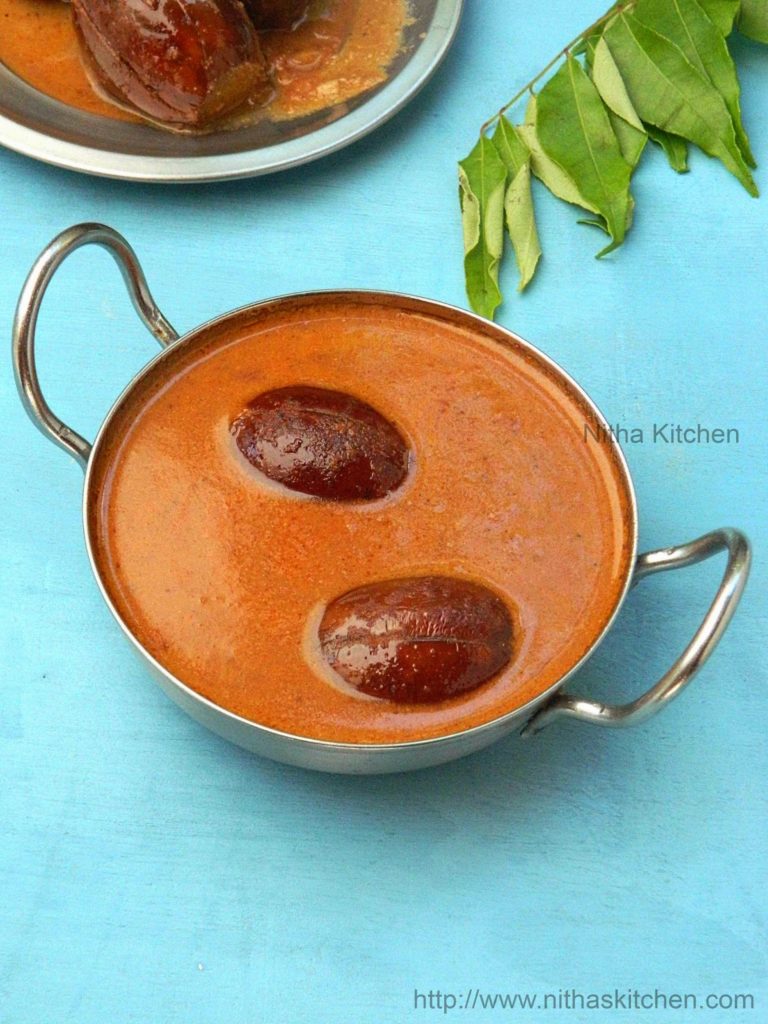 Whenever amma makes puli kuzhambu using brinjals she stuffs the brinjals this way and cook it in less oil. I quit buying brinjals for some reason and recently I came to know via an article that it is very good for our liver and so many organs!!! Only Ulcerates has to be careful and limit taking brinjals…So last week I asked my H to buy veggies on his way home from office, though this kulambu needs small brinjals he bought bigger
ones nevertheless how big or small let dig in to the recipe. When comes to chettinad style ennai kathirikaai kuzhambu, brinjals are mostly deep fried in oil and then cooked with tamarind based curry, finally the left over oil is totally used in the kuzhambu they make so they floats in it!!! But here I shallow fried the brinjals in olive oil and used less oil for the curry so this is something healthier version i would say!!!
Recipe Source :- Own
Ingredients
To Grind
Onion – 1 (Medium or 8 Shallots aprrox)
Garlic – 5 Numbers
Coconut Shredded – 1/3 Cup
Coriander Powder – 2 Tbsp
For Marinating
Pepper Corns- 3/4tsp
Cumin Seeds – 1tsp
Coriander Powder – 3/4 Tbsp
Red Chili Powder – 1n1/2tsp
Salt – 1/2tsp
Other Ingredients
Brinjal – 8-10 Numbers (Small)
Tamarind – 1 Lemon Size Ball
Onion – 1 Large
Tomato – 1 Large/Jumbo Size
Turmeric Powder – 1/2tsp
Red chili Powder – 2tsp or More
Curry Leaves – Few
Oil & Water – As Needed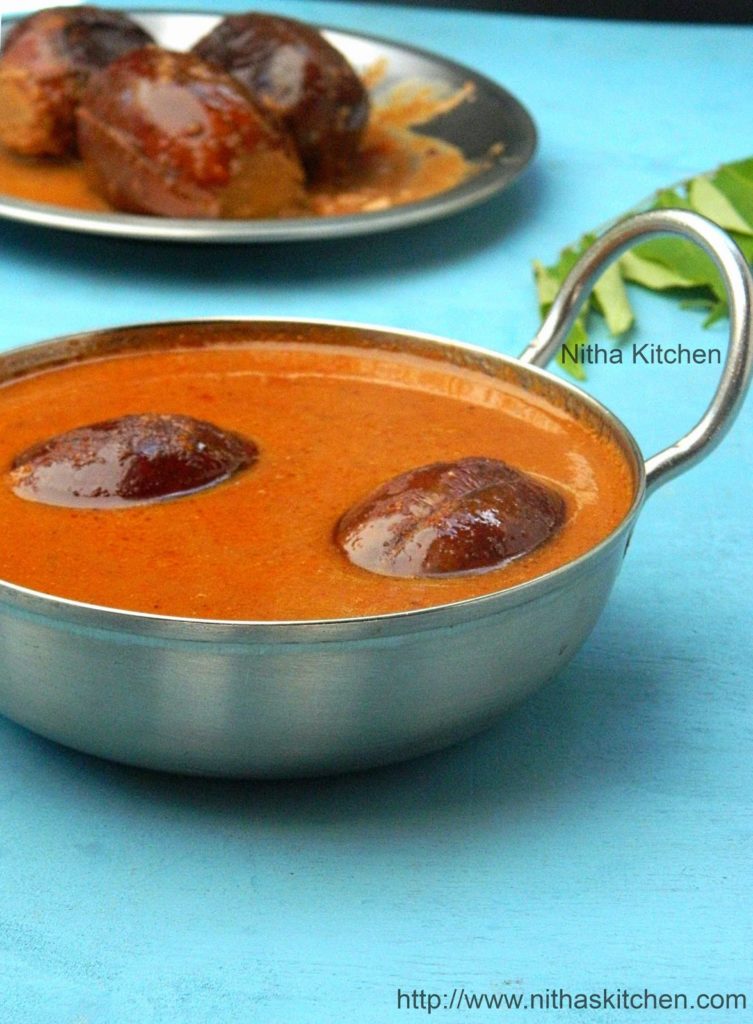 Method
Clean the brinjals, remove the stems (Optional) and slit all over it.
Grind all the ingredients given under "for marinating" (Pic 1) with little water and make a thick paste.
Coat the brinjals with thick paste as much inside the slits (Pic 2).
Leave it as it is for 20-30 minutes at least.
Meanwhile saute the ingredients given under "to grind".
Heat oil in a wide pan then add roughly chopped onion and sliced garlics.
When onion changes translucent and brown, remove form heat.
Add coriander powder and shredded coconut to it (Pic 3) and make a fine paste out of it.
In the same pan add more oil , shallow fry the masala coated brinjals in medium flame till it shrinks in size (Pic 4).
Gently flip at regular intervals and cook the brinjals.
Remove them aside and add few tbsps of oil to the same pan.
Temper with mustard or fenugreek seeds.
Add chopped onion followed by tomato, curry leaves and turmeric powder.
Saute till tomato mashes well then add red chili powder, tamarind juice and ground paste (Pic 5).
Add enough water and bring it to boil.
When boils well, add the sautéed brinjals and reduce the flame to low(Pic 6), cook it for 5-7 minutes or till brinjal cooks well n oil floats(Pic 7).
Adjust red chili powder and salt before removing from heat.
Optional to garnish with coriander leaves.
Make sure brinjals cooked well before removing from heat.