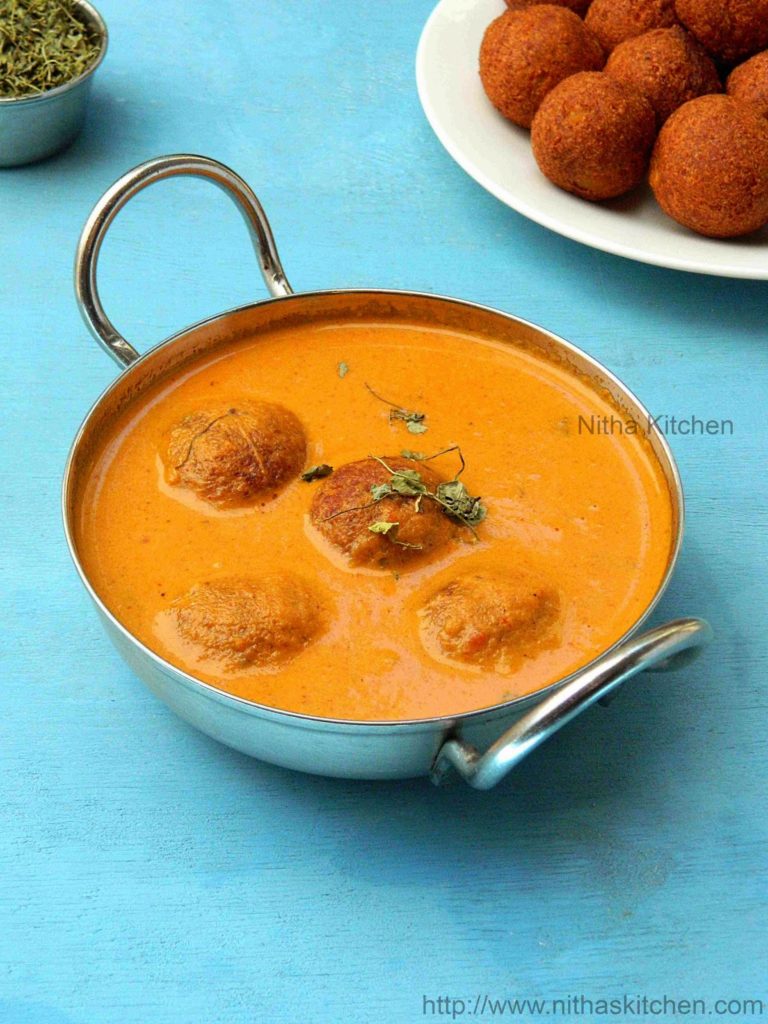 Kofta curry was in my to do list for a long time. When Nupur challenged this malai kofta curry for Divya's SNC this month, I have not waited long to try this curry…You can either deep fry or pan/shallow fry the koftas with less oil, here in stepwise pictures I have shown the pan fried koftas, by this way you can reduce few calories. This curry goes well with naan and flavored basmathi rice, Pulav etc. Tonight I am making naan to taste this curry. The main thing you have to take care here is malai kofta/dumplings are very soft so add while serving the curry, for stepwise picture sake I added the koftas in hot curry and immd took it out, otherwise they dissolve in the curry…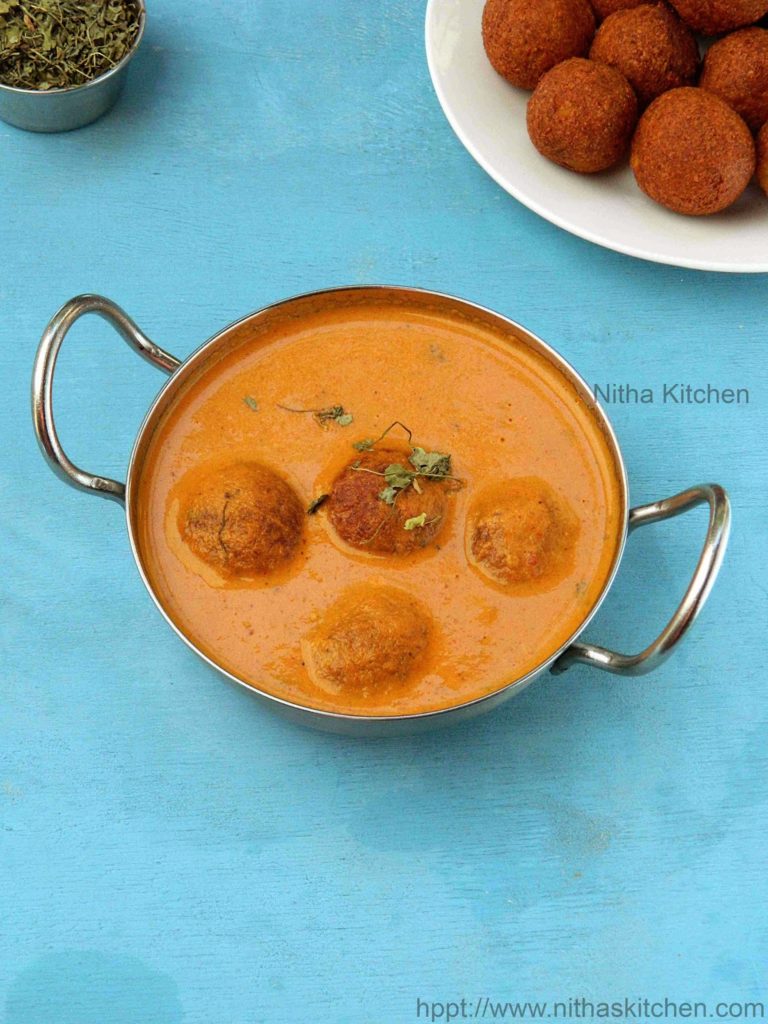 Ingredients
For the koftas
Shredded/Grated Paneer/Cottage cheese – 3/4th Cup (I used Homemade Paneer)
Boiled, Peeled and Mashed Potatoes – 2 Numbers (Medium size)
Red Chili powder – 1/2tsp
Garam Masala Powder – 1/2tsp
Bread Crumbs – 1 Tbsp
Salt – As required
Oil – 1 Tbsp to pan fry the koftas
For the gravy
Tomato Puree – 2 Cup (I used homemade puree)
Cashew paste – 1/4 Cup (Optional)
Red chili powder – 1tsp or more as needed
Garam Masala Powder – 2tsp
Fresh cream or Heavy Cream – 3/4th Cup (Alternate with 1 cup thick milk/full cream milk)
Kasuri methi/dry fenugreek leaves – 1tsp
Salt and Water – As required
To Saute and Grind
Onions – 2 Medium sized
Ginger Piece – ½ inch (Chopped)
Garlic cloves – 4-5 (Chopped roughly)
Bay leaf – 1 Number
Cinnamon – 1 inch
Cloves – 2-3
Black and Green Cardamom – 2 Each
Mace – A pinch
For garnish
Grated paneer (Optional) – 1 Tbsp
Fresh Cream – 1 or 2 Tbsp
Chopped Coriander leaves – 1/2 Cup (I skipped it)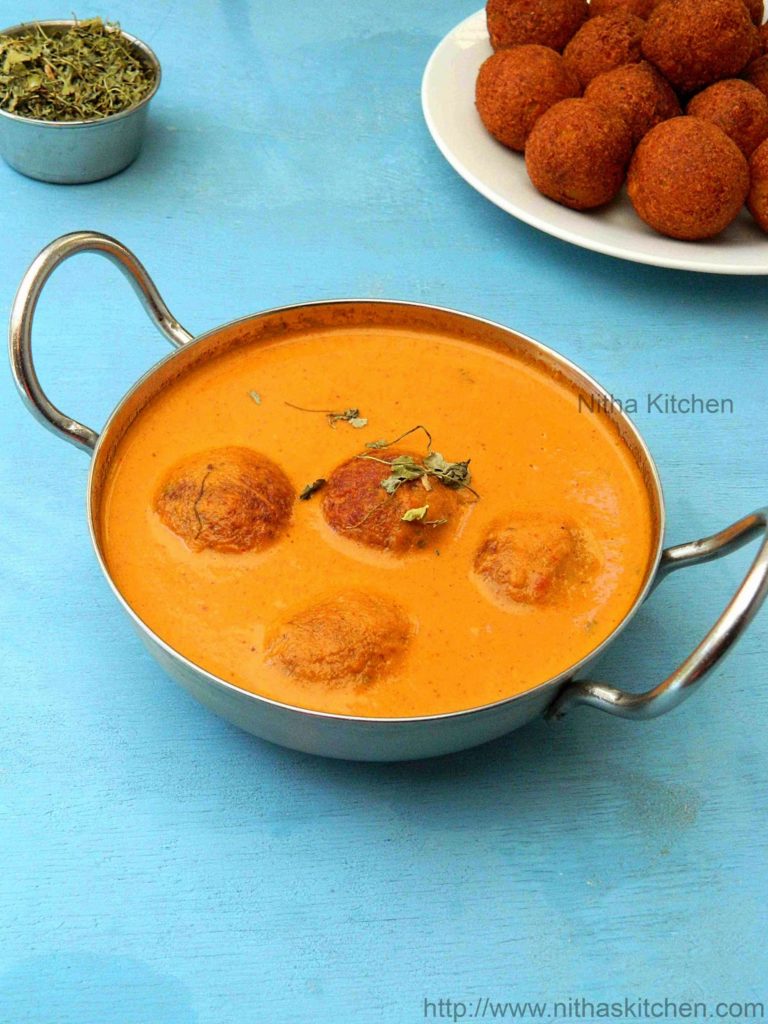 How to make Kofta in Appe Pan
Mix all the ingredients mentioned under kofta list, in a wide mixing bowl (Pic 1).
Use your hands gently to make 9-11 medium sized balls and keep them aside.
Heat the paniyaram pan with 2 drops of oil in each dint/kuzhi and add the kofta balls in it.
In medium flame by flipping on and off cook for 8-10 minutes or till golden brown(Pic 2), keep it aside.
How to make Kofta Curry
Now, heat oil in a pan, add all the whole spices and fry till the oil becomes fragrant.
Then add garlic and ginger pieces and fry them for half a minute.
Add in chopped onion and fry till it gets light brown.
Turn off the flame and let it cool.
Meanwhile prepare the tomato puree if you are making it at home.
Add the cooled onion mixture into a blender and pulse it for a fine paste, and pour this back into the wok (Pic 3).
Turn on the flame, add the tomato puree to onion paste(Pic 3) and cook for 4-5 minutes.
Add all the remaining spices like turmeric powder, red chili powder, garam masala powder and mix well.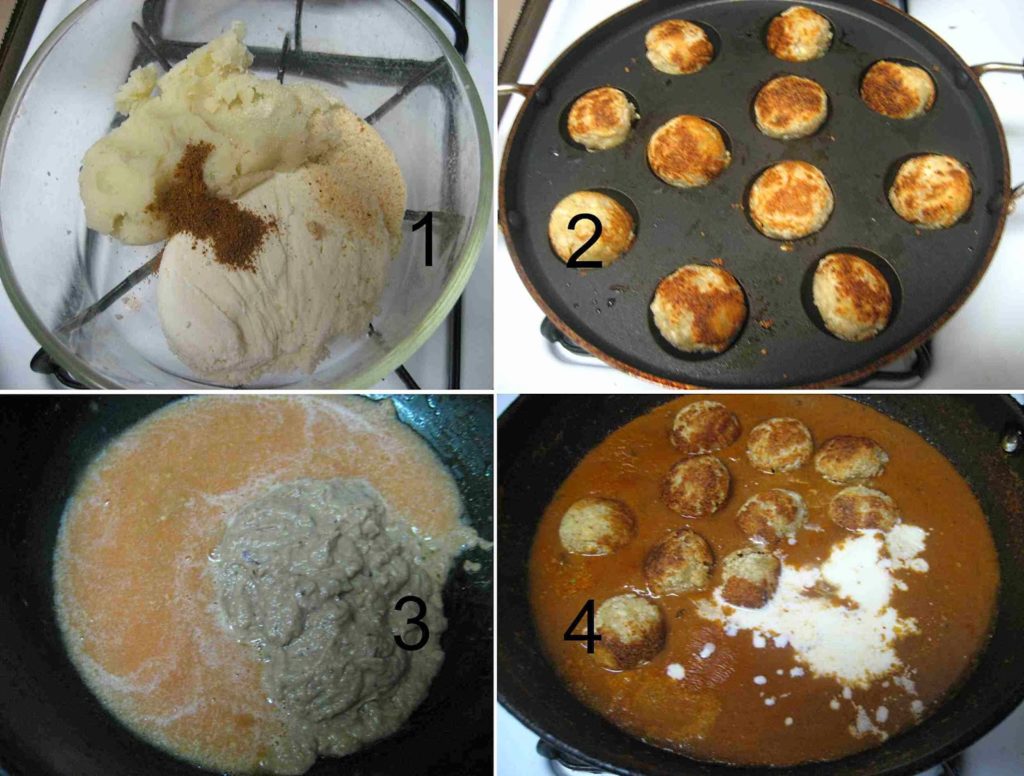 Cook this mixture covered for 7-10 minutes on medium flame, and then uncovered for 3-4 minutes more till the oil starts to leave the sides of the masala paste.
Add cashew paste and water and bring it to boil, then simmer till the gravy begins to thicken, takes approx. 11-12 minutes on a low flame.
Now, turn the flame to low and add cream/milk gradually stirring the gravy.
This step will ensure cream doesn't curdle when added to the gravy, simmer for next 4-5 minutes.
Towards the end add crushed kasuri methi leaves and salt.
You may also add sugar if you like mildly sweet taste in your curries.
Mix and simmer for a minute more. Turn off the flame, gravy is ready.
As I added heavy cream (Pic 4) i have not boiled much and after adding koftas i took it off immdly…
While serving arrange the koftas in gravy and top it with finely chopped coriander leaves, grated paneer and some cream if you like.
Malai Kofta tastes best when served with any Indian flat bread (Naan) or flavoured rice like Saffron rice or Jeera Rice with slices of Onion and lemon wedges.
Variations
You can add grated carrots for making koftas as well.
You can use melon seeds instead of cashew nuts. It gives a subtle nutty flavour to the dish.
Milk/ cream should be at room temperature while adding otherwise the gravy might curdle.
If you wish, you may use red food color to get restaurant style gravy.
Adjust red chili powder and garam masala according to your taste…
Instead of pan fry you can opt for deep fry in that case roll the raw kofta balls in corn flour before frying in oil…
Old Picture
Recently Updated the pictures with deep fried koftas