Mung Bean Sprout Salad: I have changed the food style from last December and the occasional salad has turned to mandatory for our dinner nowadays…Today I am here with a very healthy and filling sprouted mung bean salad which has raw moong bean sprouts and veggies mixed in it. Though the salad leafs/lettuces are not available in most of the places, this salad can be done with easy available ingredients. This is the recipe/salad was asked by many of my friends and relatives…Actually this salad helps for weight loss, slow digestion of this food reduces/controls blood sugar, on the whole diet and diabetic friendly…My H requested to add calorie and nutritional facts per serving in the recipe, will come up like that in future for such healthy posts 🙂
Ingredients for Mung Bean Sprout Salad
Whole Moong Bean – 3/4th Cup
Chopped Raw Vegetables – Carrot/Cucumber or Zucchini/Avocado – 1 Cup
Pomegranate seeds – 1/4 Cup (Optional)
Grape Tomatoes – Optional
Sliced Onion/Tomato/Capsicum – 1/4 Cup
Pepper and Salt -As Needed
Lemon Juice – 1 Tbsp
Chat Masala – 1/2tsp (Optional)
How to sprout moong beans
Wash (Pic 1) and Soak the moong dhal/beans overnight or for 12 hours atleast.
Drain the excess water from the soaked beans (Pic 2).
Tie the soaked beans in muslin/damp(wet) cloth for another 8-16 hours.
If using cloth, pierce with needle all over and here is the picture after 8 hours (Pic 3).
Also wet the cloth on and off (At least once in 5 hours) so the beans won't dry out.
If the whole beans sprouted well like shown in Picture above, mix it with chopped raw vegetables of your choice.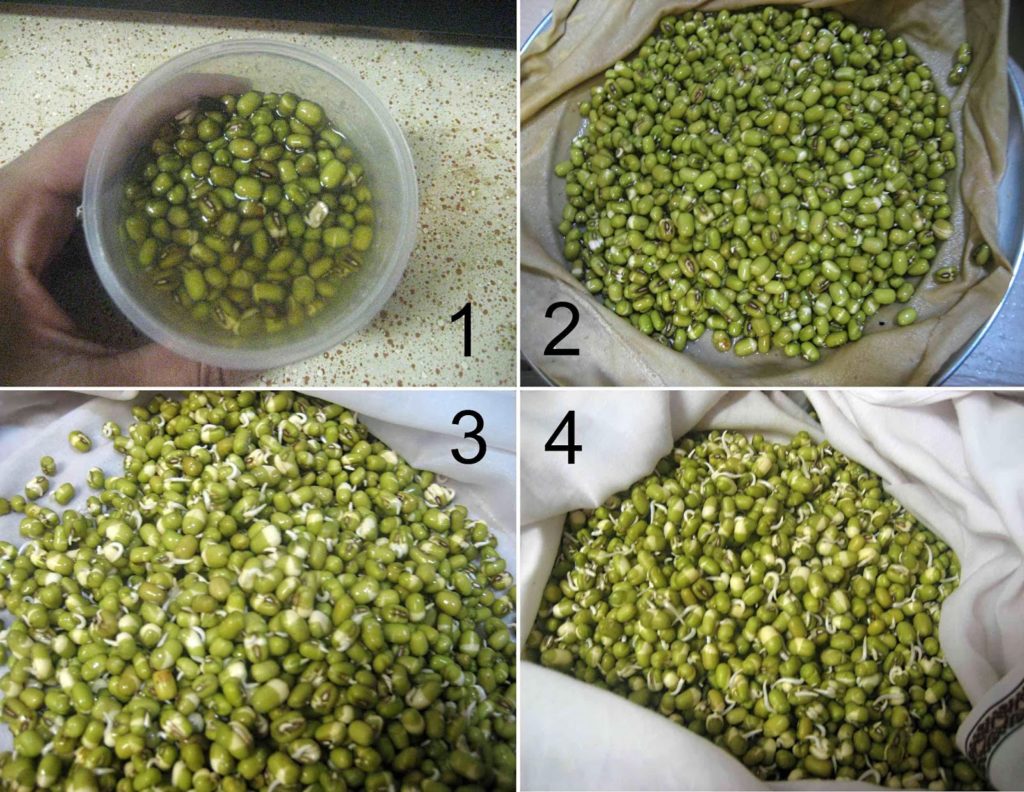 For that take sprouts in a wide bowl.
Add chopped raw veggies like onion, tomato, zucchini or cucumber, chopped carrots, grape tomatoes to it and mix well.
Also add pomegranate seeds then finally toss it with lemon juice, pepper powder , chat masala and salt.
Can have this for lunch or dinner.
Variations
You can mix cabbage/lettuce along with this.
You can add sliced onions if you like or skip otherwise.
In the hot/sunny temperature they sprout well and quick in 8 hours.
I have few recipes with this sprouted beans, here are they…
For more Sprouts based recipes do check HERE .
Related Video