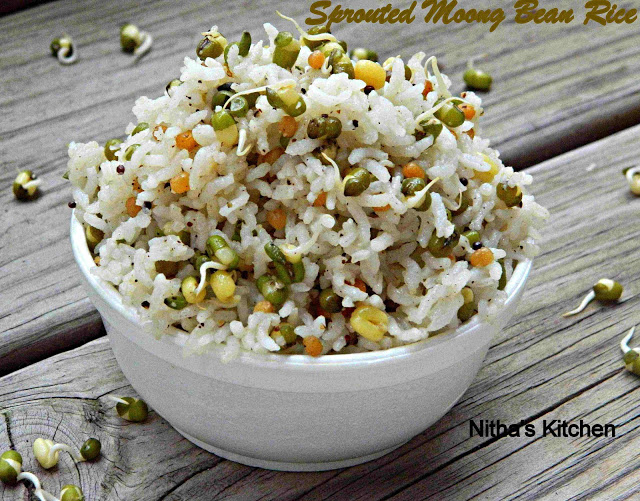 Today's post is delicious and healthy raw sprouted moong bean pepper rice. The sprouted moong dhal can be eaten raw as salad or sundal. This rice version can be done with very less ingredients and quick when you have the sprouted beans handy. You never get the feel of raw beans by tempering and mixing the cooked rice with pepper powder. Also I have explained how to make sprouted beans at home, bit time consuming process but worth making it. Let's move on to the recipe in detail…
Ingredients
Whole Green Moong Dal – 3/4th Cup
Cooked Rice – 2 Cups
Pepper Powder – 1/2 Tbsp (I used coarsely powdered whole pepper corns)
To temper
Urad Dal – 2tsp
Chana dal – 2tsp
Mustard – 1tsp
Salt n Oil
Method
Soak the moong dhal/beans overnight or atleast 8hrs Pic 1.
Tie the soaked dal in muslin/damp(wet) cloth for another 8-16hrs Pic 2.
If using cloth, pierce with needle all over.
Also wet the cloth on and off (At least once in 5hrs) so the dal won't dry out Pic 2.
If the dals sprouted well Pic 3, Heat oil n do the tempering.
Now add Pepper powder, sprouted beans and saute gently for couple of minutes (3-5mins in medium flame) Pic 4.
Now add the cooked rice and mix evenly Pic 5.
This rice is a perfect healthy one pot meal which doesn't need any side dish Pic 6.
Optional to have it with Raita/gravies.
Note:
You can increase pepper powder with 1tsp.