Tangzhong is popular in Chinese baking. In Japanese tangzhong means something liquid and starchy, ie flour based paste. This method gives a very soft bread. For this month baking partners challenge Swathi has given 3 recipes to choose for our convenience. The first option is White bread in Asian Tangzhong method with filling. As I already have Thengai/Coconut Bun/Dilkush/Dilpasand in my space, I went for second one. The last option is Scandinavian method of Scald flour, will try it later. While clicking few pictures I got my neighbor friend, so I couldn't take better pics as I shared the bread with them :-).
Next day I made the bread again. I prepared Tangzhong after that I realized I had only 1 tsp of yeast where the recipe calls for 2 tsp, so for the remaining 1 tsp of Yeast I added 1/2tsp of lemon juice + 1/2 Baking soda and did the same process. This reduced yeast version also turns out good with lemon flavor and amazing color. My daughter enjoyed it thoroughly….This was my first bread/loaf baking experience with yeast, apart from  Banana Wheat bread in my space. Thanks Swathi for this wonderful challenge. Will move on to the recipe 🙂
Recipe Source
Adapted from Christine's Recipes of Whole wheat bread with Tangzhong method
Yield: 1 loaf(one loaf tin sized 20.5cmx10.5cmx9.5cm)
Ingredients
Bread flour/APF/Maida – 1.5 Cup + 2 Tbsp (200 gm )
Whole Wheat flour/Rye Flour/All Purpose Flour – 1 and 1/4 Cup (I used Rye)
active dry yeast – 2tsp (6 gm)
Unsalted butter – 3 Tbsp (40 gm Softened at room temperature)
Milk – 1/2 Cup (110 gm)
Egg –  1 (45 gm)
Tangzhong  –  100 gm (Recipe follows)
Light Brown Sugar – 55gms (I have used 2 Tbsp Dark Brown sugar + 2 Tbsp of White sugar)
Salt – 1tsp (5gm)
This bread is handmade, if using stand mixer follow the same process)
Tangzhong Preparation
Flour – 30gms (1/3 Cup – 5.33 Tbsp)
Water – 150gms (1 Cup)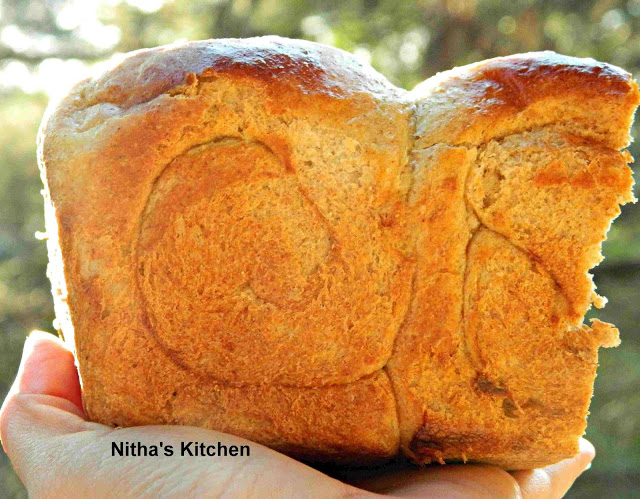 Method
Mix the water and flour, make it lump free and start cooking in medium flame for about 5-7mins.
By this time the mixer turns shiny and thick gel consistency Pic 1 below
Allow to cool by covering the top with cling flim in room temperature till you incorparate with bread dough.
Bread Preparation
Whisk the dry ingredients in the bowl of a stand mixer Pic 2.
Add the milk, egg (whisk the egg and add but i didn't do so), and the tangzhong Pic 3.
Mix until the ingredients come together, and then knead until it forms dough with few traces of dry flours(Pic 4).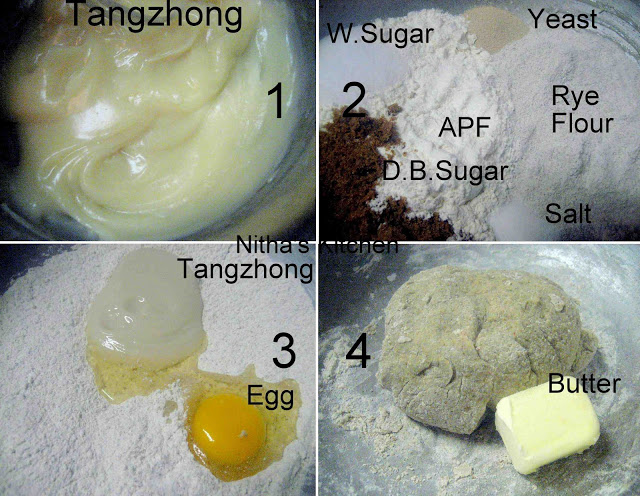 Add the butter and continue to knead till the dough becomes smooth and elastic and no longer sticky.
I kneaded for almost 20mins
For the right dough consistency when you pull it should form a sort of a thin membrane/layer Pic 5 below.
If like to watch a demo then check this video.
Place the dough into an oil greased bowl n also in warm place covered with cling wrap.
Let it rise until doubled, it may take 1-2 hours Pic 6 .
On a floured surface, punch down and release most of the air from the dough.
Now divide the dough into three equal parts and form equal balls.
Can weigh the dough for equal measurement.
Cover with plastic wrap and allow it rest for 15 minutes.
Bread Rolling Process
Take each ball and using a rolling pin, roll out into an long oval shape Pic 7 -1.
Now fold the shorter sides of each oval over like an letter fold/envelope Pic 7-2, into sort of a square Pic 7-3.
Flip the squares over, and roll out into an oval again Pic 8-4.
Flip them back over, and roll each oval into a roll/cylinder Pic 8-5, from one end to the other Pic 8-6.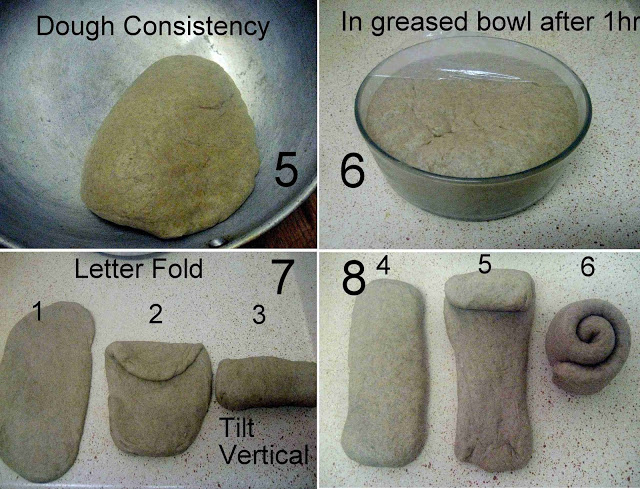 Repeat for other dough balls (Pic 9).
Arrange the rolls in an oiled one-pound bread pan, cover with plastic wrap Pic 10.
Allow to rise to about ¾ of the height of the bread pan.
It almost took 45minutes (Pic 11), this is called second proofing.
Brush the loaf with the egg wash (Pic 11) and bake in a pre-heated oven at 350° F for 30 to 35 minutes.
If the top gets too brown, cover the top of loaf with foil after first 20mins of baking Pic 12.
Remove the loaf from the pan and cool on a wire rack.
Let it cool completely before slicing (40mins) otherwise the slices won't be thin n perfect.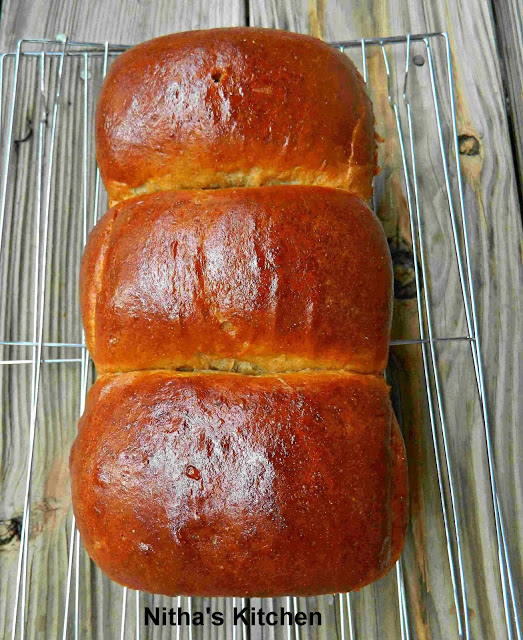 Notes
Reserve 1-2 Tbsp Tangzhong and Milk too…If needed add if finally this precaution is just not to go wrong with sticky dough.
If you get sticky dough even after 15mins of kneading, add more dry flour and bring to right consistency.
I have rounded the gms to cups so few ingredients may be approx measurement with a tsp variance.
Instead of Rye flour you can substitute any whole grain flour.