Today's eggless pinwheel cookies recipe post is yet another easy recipe for this holiday with detailed description, so you can try it by looking in to the stepwise pictorial. Here I have used vanilla and chocolate flavors and the choice is yours, you can skip chocolate and add any food color for attractive pinwheel cookies. I have mentioned one egg yolk for bonding purpose but you can skip it and add milk if necessary. I have made two times in the past 1 week for sharing Christmas treats, so I made this same recipe in bulk (as shown below)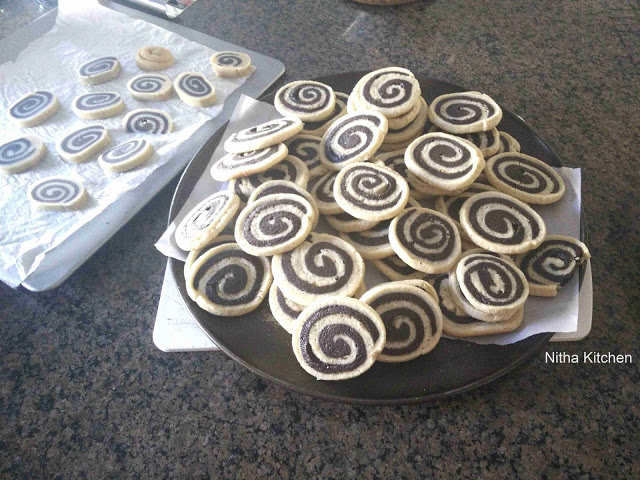 but the mentioned measurement will yield 36 cookies…
Yields :- 36 Cookies
Ingredients for Eggless Pinwheel Cookies
All Purpose Flour/Maida – 3 Cups
Unsalted Butter – 1 Cup (2 Sticks)
Regular Sugar – 1 Cup
Milk – 2 Tbsp or 1 Tbsp more for cookie dough consistency
Baking Powder – 2tsp
Vanilla Extract – 3tsp
Variation in Recipe
Egg Yolk – 1 Number and reduce milk
For Chocolate Pinwheels
Unsweetened Cocoa Powder – 3 Tbsp
Chocolate Chips – 3 Tbsp (or replace with cocoa powder)
Butter or Veg Shrotening – 2 Tbsp
Recently I did an update with more chocolate dough that's on outer and vanilla flavored dough on the inner side. Here are those pictures. For that add 2 more Tbsp of cocoa powder to the (1:1) of chocolate and vanilla dough ie I have used equal measurements of Chocolate and vanilla flavored dough.
Eggless Pinwheel Cookies Preparation
Melt butter or shortening along with chocolate chips(if using) in microwave till chips melts and turn shiny texture, keep the bowl aside, once cooled a bit add cocoa powder to it.
Sift the flour and baking powder, keep aside this dry ingredient mix.
Beat room temperature butter and sugar in a mixing bowl until blended well and looks fluffy.
Add egg yolk if using and vanilla extract.
Add the flour in 3 batches and for last batch stop it looks too dry so stop using the blender and add milk the necessary milk.
Now over the kitchen counter mix gently and at this stage you should not see any dry flour anywhere (Pic 1).
Divide the cookie dough in to 2:1 portions( 2/3 from entire cookie dough for vanilla and 1/3 for choc dough)
In 1/3rd part add the cocoa mixture, if it looks too dry you can add milk here too.
But I didn't add any milk for this cocoa dough.
Once done, roll the vanilla cookie dough and chocolate cookie dough separately over parchment paper (Pic 2), so lengthwise it should be long and width not more than 8.5 Inches (Pic 2).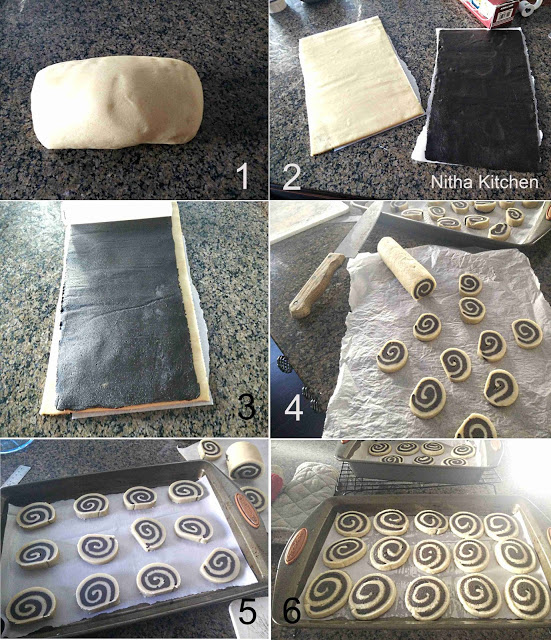 Keep the rolled chocolate dough over vanilla dough and now gently press the chocolate dough to sit over vanilla(Pic 3) and from left side, tightly roll both the doughs lengthwise. If the dough breaks while rolling freeze it for 3minutes or so for easy rolling.
Once rolled tightly wrap them using cling wrap and smooth it gently over the counter so it sits well without inner gaps.
Now freeze them for 45-50 minutes and later using sharp knife slice them to 1/3inch size slices (Pic 4).
Arrange the slices in parchment lined cookie sheet leave enough room between cookies (Pic 5) they will expand at the time of baking), also freeze them till you bake those slices.
Baking Process
In preheated oven at 325 F bake for 12-15 minutes or the bottom changes slight golden brown (pic 6).
At the time when cookies are out they looks soft and don't disturb them for 10 minutes.
Let them cool over wire rack, after 10 minutes, they will be easy to handle.
Bake the next batch of cookies and once cooled completely store in air tight container.