There are lots of Christmas events happening around us. This year I am baking more cookies for several reasons, one main reason is homemade cookie exchange among Teachers happening at my daughter class this week☺. So among few cookies that I have baked, the crinkle cookies is one among it. These cookies are so chocolaty and unlike other baking these has to be out from the oven when the center looks little raw and soft. That's how it will become soft and not dried so much when it cooled completely. So I have followed the baking time as mentioned in the recipe but if your dough size varies then your baking time will vary so…I have adapted the recipe from cooks illustrated book.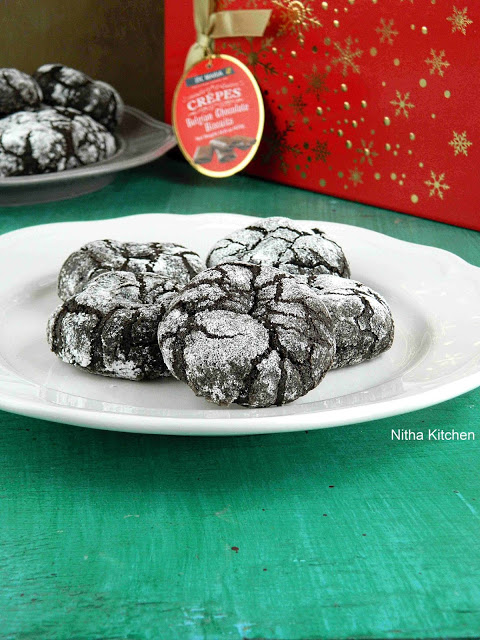 Yields :- 30 Cookies
Ingredients For Chocolate Crinkle Cookies
APF – 1.5 Cup (1 and 1/2 Cup)
Unsweetened Cocoa – 1/2 Cup + 2 Tbsp
Butter – 6 Tbsp
Baking Powder- 1.5tsp
Baking Soda – 1/2tsp
Salt – 1/2tsp
Brown Sugar – 1and1/2 Cups
Eggs – 4 Number (Large)
Coffee Expresso Powder – 4tsp (Optional)
Unsweetened Chocolate – 6oz
Vanilla Extract – 1.5tsp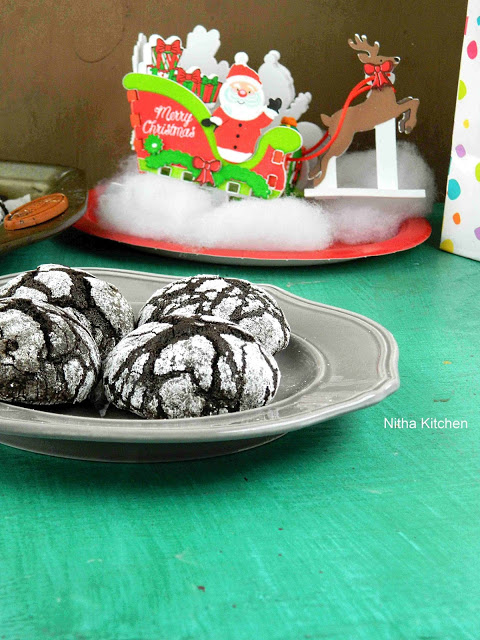 For Rolling Cookies
Sugar – 1/2 Cup
Confectionery Sugar – 1/2 Cup
Chocolate Crinkle Cookies Preparation
Keep all the ingredients ready (Pic 1).
Mix Flour, Cocoa Powder, Coffee powder (if using), Baking Powder, Baking Soda and Salt in a mixing bowl and keep aside.
Add Vanilla extract to the egg, whisk it well and keep aside.
Melt the butter in microwave and to it add the chocolate bar.
Stir it well so that the chocolate melts with butter and the mixture looks shiny.
If there are any un-melted chocolate residues you can warm the mixture little bit in microwave.
To this warm mixture add the brown sugar (Pic 2) and stir well.
Add the egg vanilla mixture in batches, whisk them well after each addition (Pic 3).
I have done the entire procedure using hand whisk itself.
Now add dry ingredients/flour mixture in batches.
After 1 or 2 batches of flour addition the mixture becomes tight so from this point use spatula to handle the mixing.
It looks little gooey right now but after 10 minutes the dough hardens and easy to proceed.
Let rest the cookie dough at room temperature for 10 minutes or so till it turns hard Pic 4).
You can chill in refrigerator too for 5-8 minutes for quick the process.
Once the dough turns non sticky, using measuring spoon take 2 tbsp of dough and roll it in granulated sugar first and then on confectinory sugar (Pic 5).
Place the rolled dough in parchment greased cookie sheet, either you can flatten the dough or bake it round like in Picture 6.
Bake at 325 F for 12 mins and 11 cookies per sheet rotate halfway through say after 6 minutes of baking.
I baked exactly 12 mins, so the center looked soft and raw when it was out from oven but it's the right indication to take it out.
Bake only one batch at a time, baked cookies in the back view of Pic 6.
Once done bake the remaining cookie dough.
Allow them to cool in wire rack(Pic 6) and store in air tight container for future use.