Kongunadu Uppu Paruppu is a must at home at least once in a week. If you check my instagram account most of my veg thali has this uppu paruppu without fail :-). In Tamil Uppu means salt, so this dish generally has dal and salt with some minimal ingredients. If i give daily this dal with ghee my kids have it happily. This dal is no onion and no tomato recipe, some wonders how come a dal without tomato when i make it for friends gathering. So the final tempering and all the ingredients specified here are must to get the same good kongu flavor 🙂 Also grandma and amma use toor dal (thuvaram paruppu) typically for this recipe but after making it with masoor dal I felt this is better compared to toor or moong dal.
You can replace chilis as you like. Green chili's are more tasty compared to red ones for this dal.
Ingredients For Kongunadu Uppu Paruppu 
Toor Dhal/Split Yellow Moong dhal/Pink Masoor dhal – 3/4 Cup
Cumin Seeds – 1tsp
Whole Black Pepper – 3/4tsp
Whole Green/Red Chili – 1-2 Number
Garlic – 4 Number
Shallot – 2 Number (or) Onion small slice (Optional)
Curry Leaves – 10 Leaves
Turmeric Powder,Salt,Water – As Required
Oil or Ghee – 2tsp
Mustard Seeds – 1/2tsp
Vengaya vadakam (Optional)
Old Picture Updated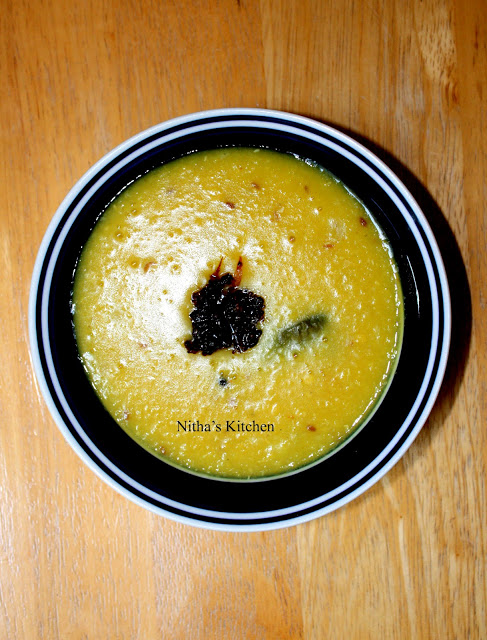 How to make Kongunadu Uppu Paruppu 
In a pressure cooker add the cleaned dhal, water & turmeric powder.
Heat oil add cumin & pepper when splutters add onion, chili,sliced garlic and curry leaves.
Mix it with dhal in the pressure cooker and allow 3 hisses (Toor Dhal needs 3 hisses other dhal require less than that).
Add salt and mash well, season with mustard seeds + curry leaves or vengaya vadakam which is optional.
Serve hot with Plain rice+Ghee and Appalam, also goes well for chapathi,roti varieties.
Served with