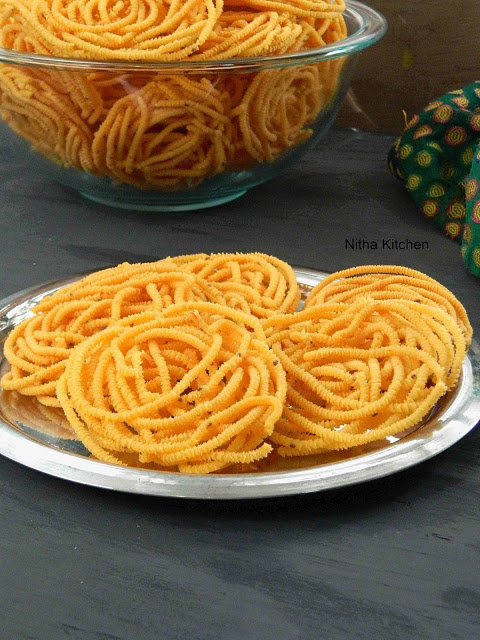 Today I am here with a recipe for Pottukadalai Murukku Dalia Chakli, the roasted gram chakali in traditional way that my mom and relatives practicing for long long years. I have mentioned this procedure few years back, that is my first murukku post in 2012 using instant rice flour to make Pottukadalai Murukku. Today I am here with the complete Murukku tutorial which is made by grinding the rice to smooth batter and mixing flour and other stuff to the dough.  I have postponed so many years to post this recipe, the one and only reason for it is I wanted to post this recipe in a traditional way i mean with 3 hole murukku achu (picture below). Unfortunately my murukku press doesn't have the 3 hole achu by default and this time when i went to hometown i showed the press and got this 3 hole achu separately that was custom made in a pathira kadai at Erode. Also while i posted Thenkuzhal Murukku few readers asked for rice batter consistency, how to incorporate dry flour in wet batter like queries, so today I have included a Video tutorial for the whole recipe do check it out. If you are unable to check the video you can refer step wise picture of traditional thenkuzhal murukku recipe HERE , its almost the same procedure…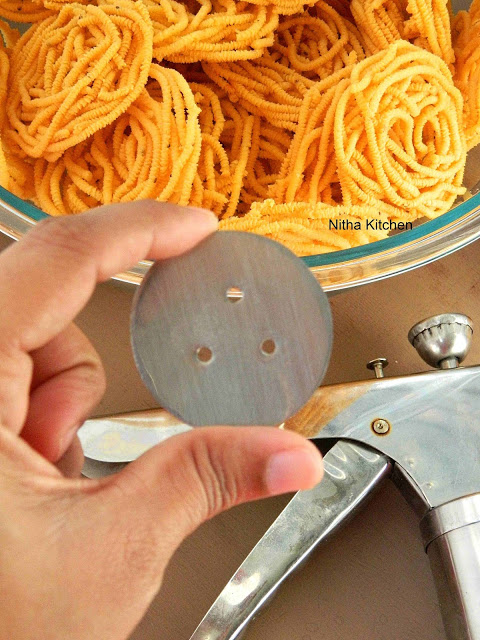 Ingredients for Pottukadalai Murukku Dalia Chakli
Idli Rice – 3 Cups
Whole Red Chili – 6-8 Numbers
Ajwain – 1 Tbsp
Butter – 3 Tbsp
Sesame Seeds – 1 Tbsp (Optional)
Pottukadalai/Roasted Gram/Dalia Flour – 1 Cup (at least 3/4 th cup for right consistency)
Salt and Oil – As Needed
Complete Tutorial/Murukku Video 
How to make Pottukadalai Murukku Dalia Chakli
Wash the rice and soak along with red chili's for 4 hours at least.
Meanwhile powder the roasted gram/dalia/pottukadalai in mixie/food processor and sieve it, keep aside.
The red chili should grind well otherwise it stuck and makes trouble while squeezing the dough in the press.
So initially grind the chili in grinder for 2 minutes then slowly add 1/2 cup rice.
Allow them to grind with few water for 5 minutes.
Gradually add the remaining rice and necessary water, this may take 30 minutes approximately to get smooth rice batter.
Don't add too much water batter should be thick in consistency (Refer Video).
Also this rice has the tendency to absorb water even after grinding it out, so don't get panic when the batter is little runny.
Meanwhile keep the butter at room temperature (say 15 minutes at least), add ajwain/omam, 3/4 cup roasted gram flour(remaining quantity we will add later if needed) in a wide wok (this helps to knead the dough well).
Now add salt, thick rice batter and knead while kneading add remaining 1/4 cup (tbsp at a time) pottukadalai/roasted gram flour.
Once the dough stand firm (it should hold the shape) and smooth like butter texture without sticking to your hands, take a portion and add it to the murukku press.
Frying Part
You can directly make swirl/designs over the hot oil. But I just followed my mom way, for that in circular motion swirl over back of an oil greased spatula.
Drop it over hot oil, make another 3-4 murukkus for a batch (do fast) in the same way.
Till you make you can reduce the flame, Once you done shaping increase the flame and cook till it turns golden brown and oil bubbles suppress well.
Drain the excess oil in kitchen paper towel, once they are well cooled store it in an air tight container.
Fresh and crispy murukkus can be stored in room temperature for a month by handling with clean hands.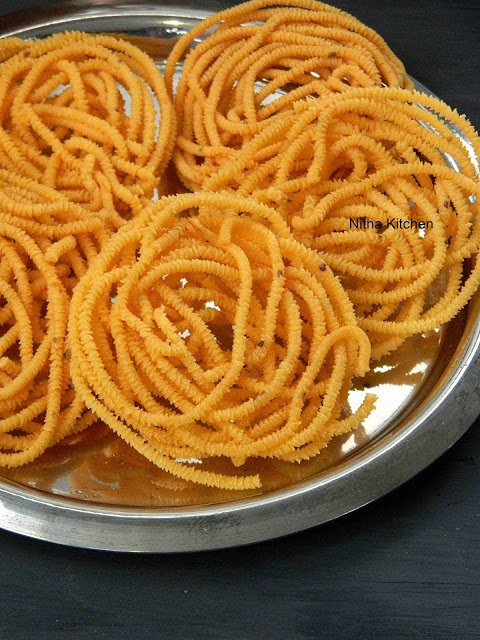 Tips to make perfect Pottukadalai Murukku Dalia Chakli
After adding all the ingredients if the murukku dough is too wet and runny, adjust by adding 4:1 ratio of rice flour and dalia/pottukadai flour, say if you add 2 Tbsp rice flour add 1/2 tbsp roasted gram flour.
If the dough is too thick and you are not using all measured pottukadalai/roasted gram flour (for 3 cups rice you have to use at least 3/4 cup of roasted gram flour), if not then add that flour, sprinkle some water and get it right.
This is quite large quantity, it will take 2 hours at least to complete making.
If the murukku dough breaks at any point then you have to sprinkle or wet your hands and knead the dough and continue making.
Usually my mom keeps a bowl of water mixed with water and they use it when the dough cracks/breaks.