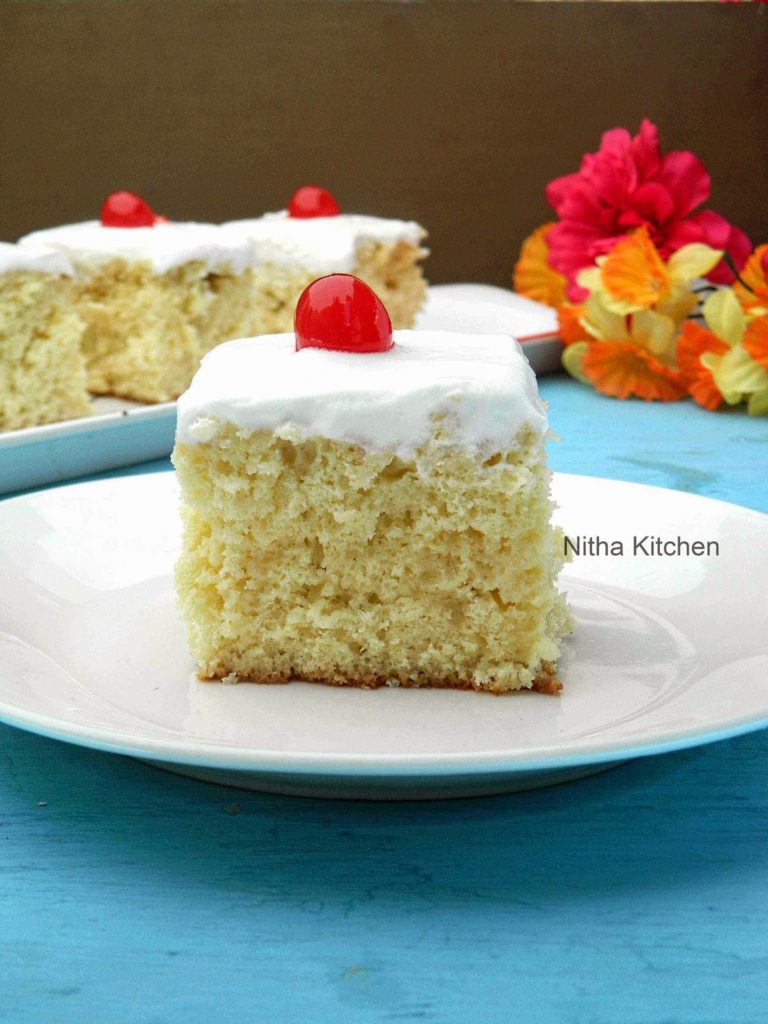 It's my long time to wish to bake a milk cake at home.
Evaporated milk was lying over my pantry for more than a month and recently utilized by baking
this yummilicious cake. In detail this Milk Cake/Tres Leches (In Spanish) is a
butter free sponge cake later soaked in three kinds of milk. Finally the soaked
cake is topped with whipped cream and optional fruits. This is a true delight for kids and you can make it in advance and refrigerate for birthday party or get together.
Recipe Source :- Foodnetwork
Yields – 12 Servings
I have used 9X13 Cake Pan
Ingredients
All Purpose Flour/Maida – 2 Cups
Eggs, separated – 6 Numbers (Large)
Granulated Sugar – 2 Cups (1 and 1/4 Cup only I used)
Baking Powder – 2tsp
Whole Milk – 1/2 Cup
Vanilla Extract – 1tsp
Cubed Fresh Fruits or Canned Fruits – Few To decorate
Cream Topping
Evaporated Milk – 1 – 14 ounce Can (or) 1and1/4 Cup (You can just boil 2 cups of whole milk for 8-10 minutes in low flame after it foams)
Sweetened condensed milk – 1 – 14 Ounce Can or 1and1/4 Cup
Heavy Cream – 1 Cup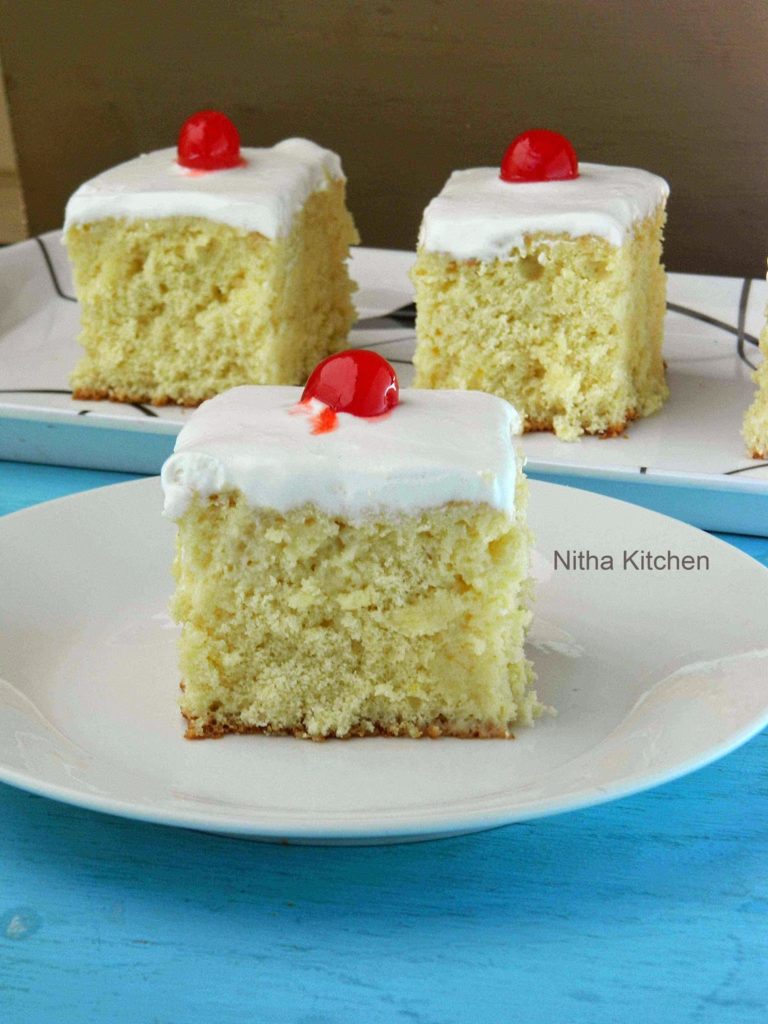 Method
To make the cake:
Preheat the oven to 350° F.
Lightly grease and flour a 9 by 13-inch baking dish or apply parchment paper and set aside.
Sift together the flour and baking powder and keep aside.
Separate the egg whites and yolks keep aside (Pic 1).
In a wide bowl add half of the sugar and egg yolks (Pic 1 and Pic 2) one at a time, beating well after the addition of each.
Add the flour to the egg mixture, alternating with the milk.
Finally add vanilla extract, blend well (Pic 3).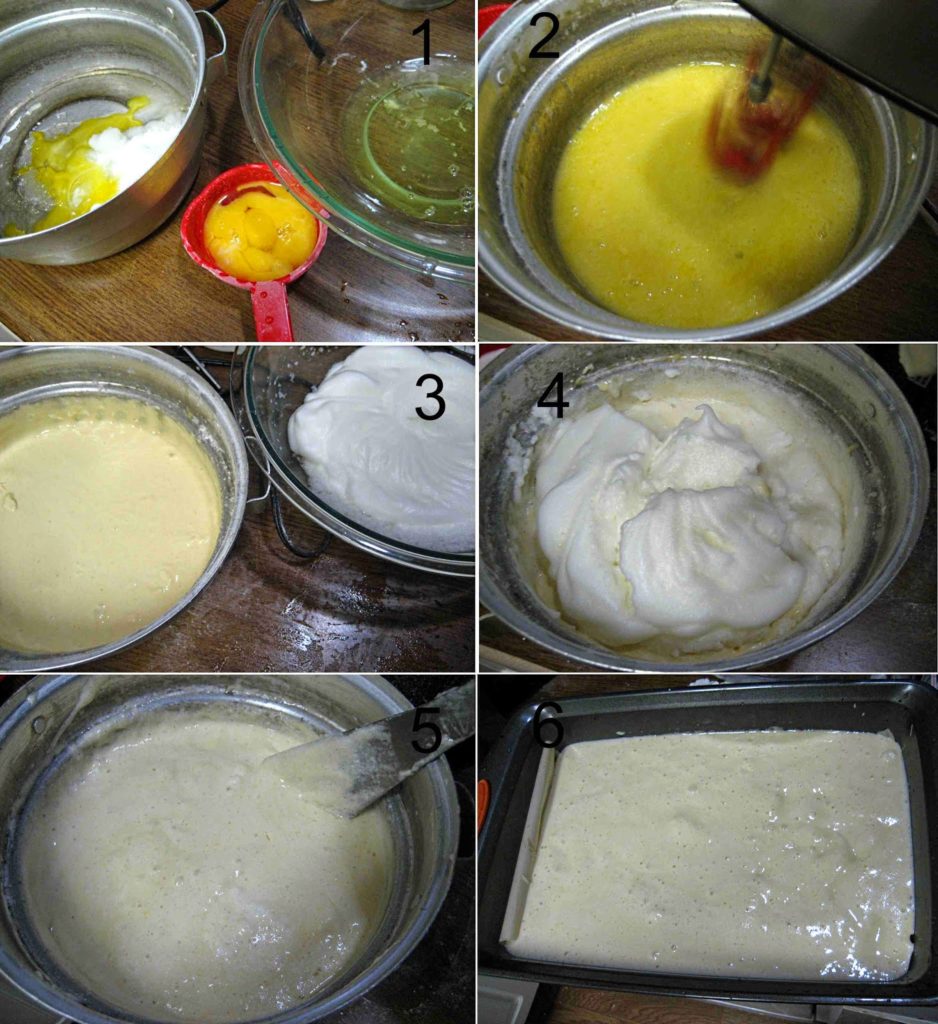 In the bowl of a mixer, beat the egg whites on low speed until soft peaks form.
Add the remaining sugar gradually with the mixer running and peak to stiff peaks (Pic 3).
Fold the egg whites to egg yolk mixture in two batches (Pic 4) and gently mix using spatula (Pic 5).
Drop the cake batter in the prepared pan(Pic 6), tap it and bake until golden, 20 minutes (Stepwsie Pic 2 below).
Note
For step wise instruction for beating egg white do check the link
Here
.
To make the cream topping:
In a blender, combine the evaporated milk, condensed milk, and heavy cream and blend on high speed for a minute or two not more than that.
Otherwise just mix all the three milks using spatula or hand whisk till incorporated well (Pic 1 below).
Remove the cake from the oven, remove the parchment paper if any by flipping the cake.
In the same cake pan transfer the cake and poke the cake all over using fork (Pic 3).
While cake is still warm, pour the cream mixture over it (Pic 3).
Let sit and cool to room temperature (Pic 4).
Cover and refrigerate until well chilled, at least 4 hours or overnight.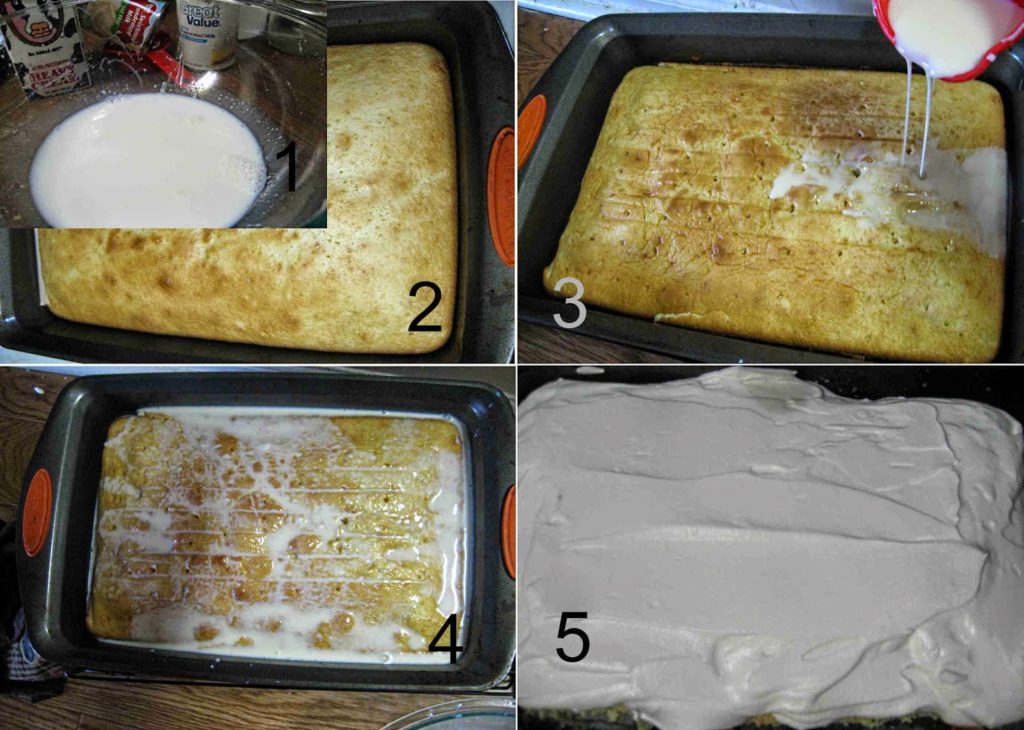 To make the Whipped Cream Icing:
Powdered/Icing Sugar – 1 Cup or More
Heavy Cream or Whipping Cream – 1 and 1/2 Cups
Vanilla Extract – 3/4 tsp
Cream of tartar – 1/2 tsp (optional)
For whipped cream topping you need above ingredients.
Beat the whipping cream to soft peaks then add sugar, vanilla extract and beat till it reaches stiff peaks.
Refrigerate till use.
Notes
To assemble: 
Remove the cake from the refrigerator and spread the icing evenly across the top (Pic 5 above).
Arrange the fruits over it and make slices and serve.
Serve chill since the cake has loads of milk don't keep it at room temperature for long time.