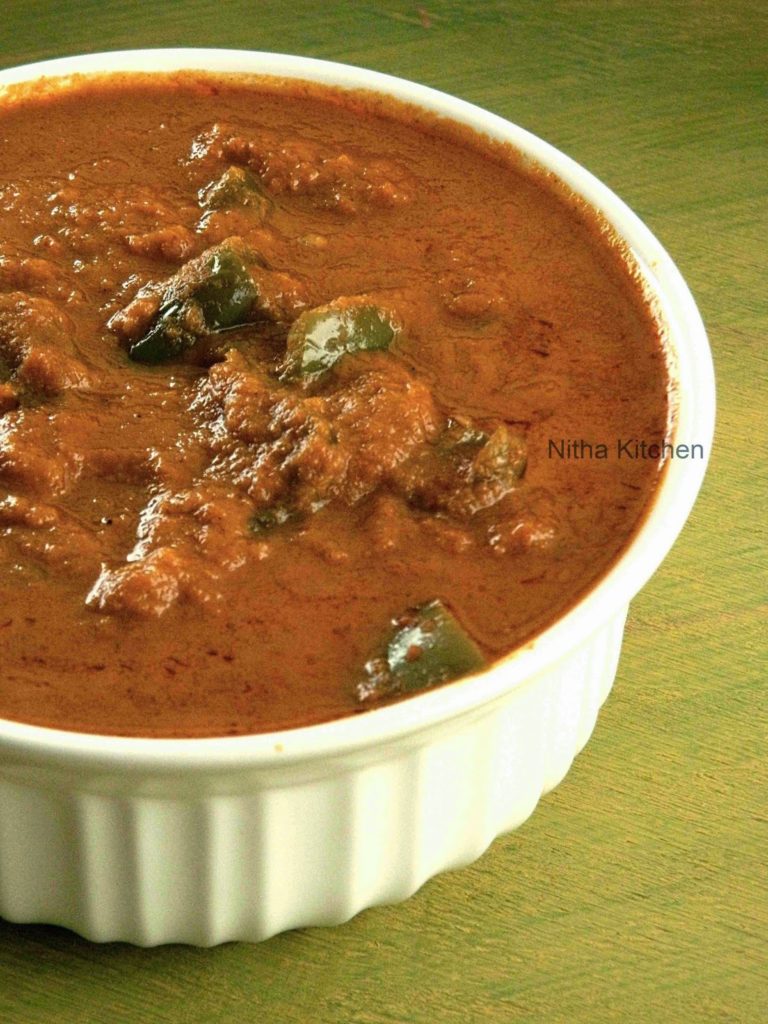 Mirchi Ka Salan is very popular dish in Hyderabad and they mostly use Bajji Chili/Banana Peppers for this curry. This spicy curry mostly accompanies with Hyderabadi biryani and it's a top dish in their wedding menu. 'Mirch' the Hindi word means 'Capsicum' in English. Also Shimla, the hill place in India produces 'Capsicum' called 'Shimla Mirch' is popular all over there. So today's recipe is the Hyderabad version of spicy curry using Capsicum called as Mirchi Ka Salan/Mirch Ka Salan/Spicy Capsicum Peas Curry, also they use 2 tbsps of tamarind juice at the end but i skipped it, you can reduce tomato and add tamarind juice as you wish, lets move in detail..
To Dry Roast and Grind Part I
Raw Peanuts – 1/4 Cup
Coriander Powder – 1 Tbsp
Shredded Coconut – 2 Tbsp
White Sesame – 2 Tbsp
Cumin Seeds – 2tsp
To Grind Part II
Onion – 1 Large (US Onion)
Tomato – 3 Medium or 2 Large
Ginger – 1 inch
Garlic – 3-4 Cloves
Oil – 2 Tbsp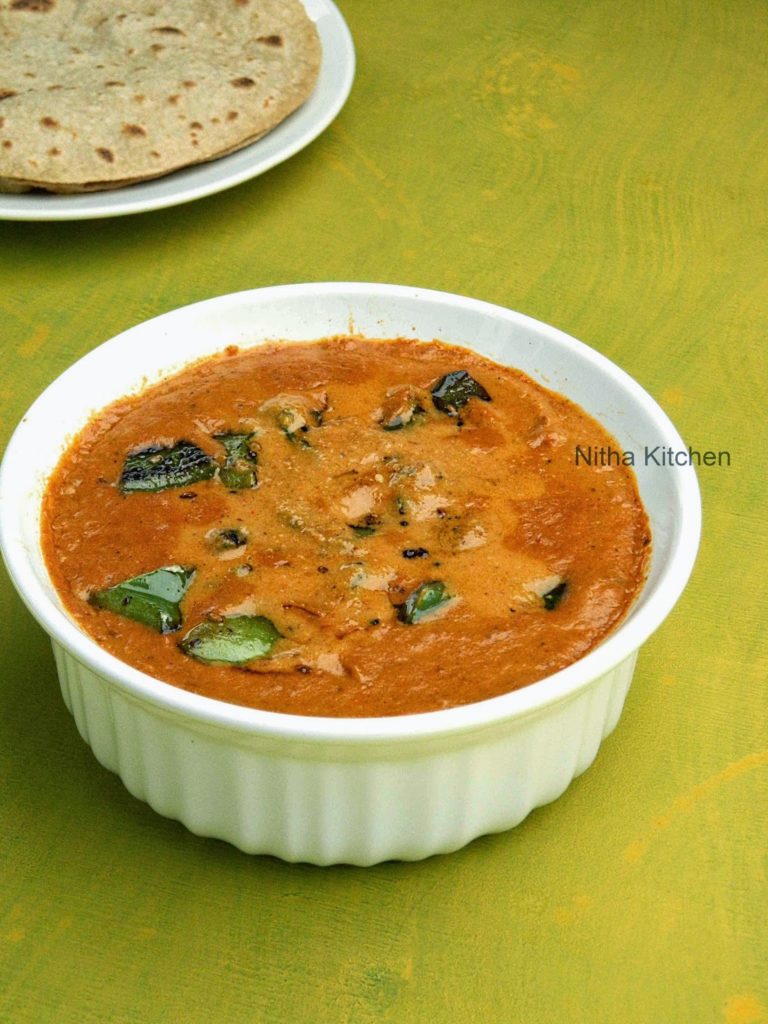 Other Ingredients
Shimla Mirch (Capsicum) – 2 big ones, cut into cubes (If using banana peppers slit all over before sauteing)
Frozen Peas – 1/3 Cup
Garam Masala Powder – 1/2tsp
Red Chili Powder – 2tsp or More
Turmeric Powder – 1/2tsp
Mustard Seeds – 1/2tsp
Methi/Fenugreek Seeds – 1/2tsp
Oil and Salt – As Needed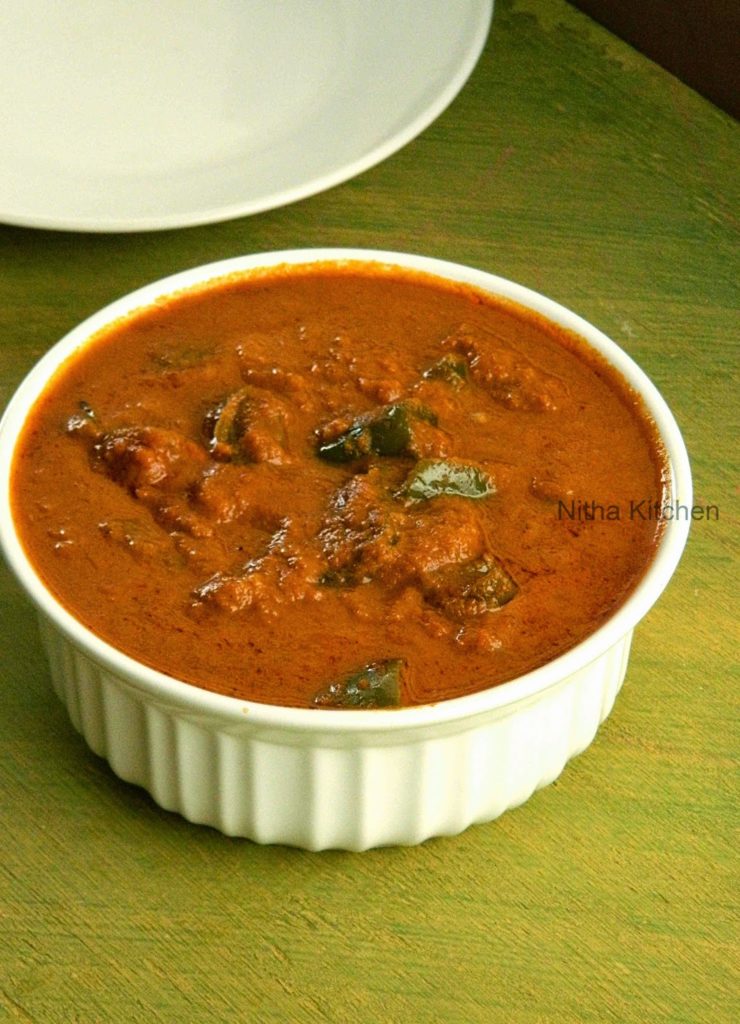 Method
In a pan dry roast peanuts, sesame and cumin till they turn crisp and nice brown finally add shredded coconut and coriander powder saute for a minute and remove from flame (Pic 1).
Keep aside and allow them to cool down.
In one more pan or same pan add 2 Tbsp oil.
Add the roughly chopped onions, once they turn light brown add chopped tomatoes, sliced ginger and garlic.
Saute them well with 1/2tsp salt till raw smell disappears and tomatoes turn mushy, let them cool (Pic 1).
Grind the dry roasted stuff to coarse powder then add water and grind to fine Paste I (Pic 3)
Grind the Tomato Onion mixture to fine Paste II as well (Pic 3).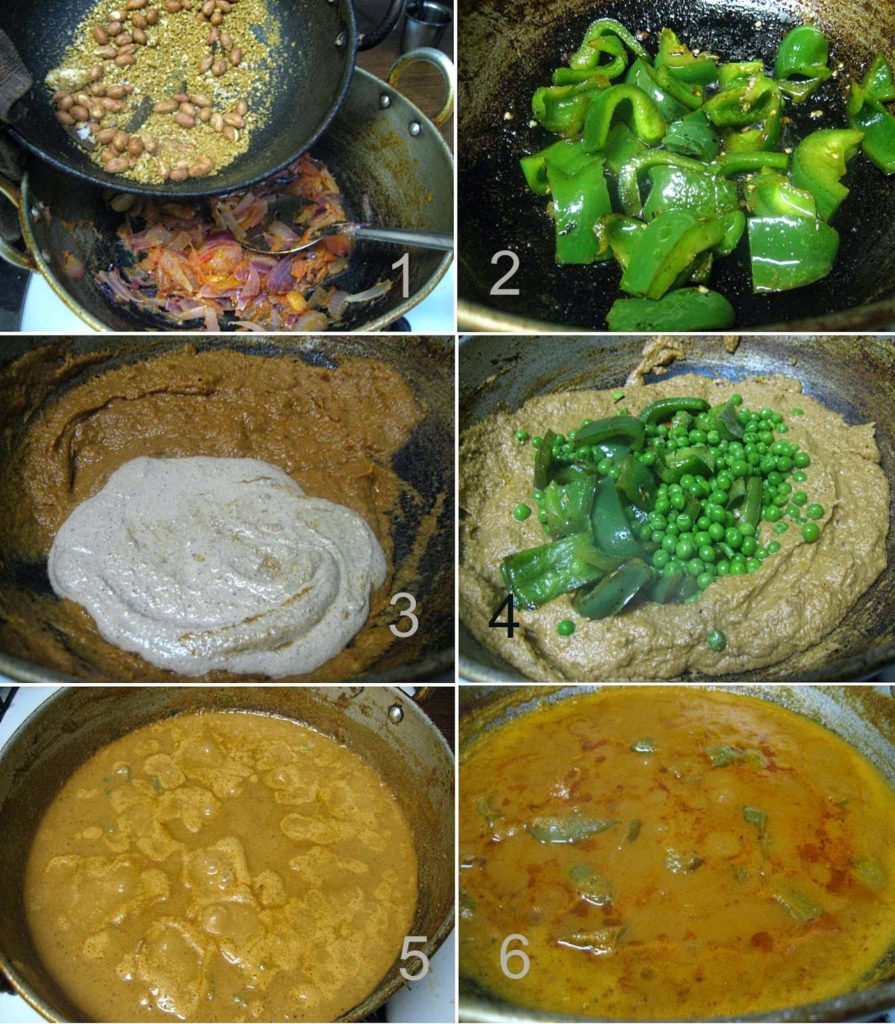 In the same pan add 2 Tbsp oil (approx) and when it is hot add sliced/cube capsicums and 1/4tsp salt, saute till corners turn brown (Pic 2).
Once done remove the capsicums in a separate bowl and keep aside.
In the same add 2 more Tbsps of Oil, when oil is hot splutter Mustard and Fenugreek seeds.
Add ground paste II, red chili powder, garma masala and turmeric powder to it then saute in medium flame till raw smell disappears (Pic 3)
Now add ground paste I (Pic 3) and saute everything till the ground paste turns thick and oil separates on top.
Once gravy is cooked, add the fried capsicums(refer note) and frozen peas (Pic 4) with necessary water,1 cup is approx (Pic 5).
If like to add tamarind juice add it right now.
Mix everything well and in medium flame cook till the gravy turns thick and right consistency.
The added oil should float on top that's the right consistency (Pic 6).
Adjust salt and red chili powder at this stage.
Note
By this way adding capsicum and cooking with masala makes the curry spicy and capsicums also cooks well.
But you can add the fried capsicums at the end 3-4 mins before removing the curry to reduce spice level.
The curry later when mix with capsicums turns spicy so don't add too much red chili powder in the beginning.