Palakottai Kulambu / Jack fruit seeds Kaara Kuzhambu is an authentic recipe from Kongu cuisine. Apart from eating the cooked jack fruit seeds as it is, this is the curry my mom usually makes with the mix of vegetables like brinjal and drumstick. Also I know my relatives add these seeds in non veg curry like fish kuzhambu or dry fish/karuvaadu kulambu which tastes so good. My mom usually says the taste of jack fruit seeds goes well with tangy curries. So here comes a vegetarian tangy curry / puli kuzhambu using it…. I may be coming with a separate post on how to cut and clean the jack fruit soon.
Ingredients for Palakottai Kulambu
Palakottai/Jackfruit – 1/2 Cup
Brinjal/Kathirikkai – 4-5 Small to Medium Size
Drumstick – 1 stick or 5-6 Numbers (Finger size)
Small Onion – 10 Numbers or Regular Onion – 1 Large Size
Tomato – 2 Numbers (small to medium size and well ripen)
Tamarind Extract – 1/3 Cup or As Needed
Red Chili Powder – As Needed
Salt – As Needed
Oil – Generous (3 Tbsp or More)
Homemade Puli Kulambu Powder – 1.5tsp (Homemade or store bought)
To Saute and Grind I
Onion – 1 Medium Size, chopped roughly
Garlic – 5-6 Numbers, chopped roughly
Red Chili Flakes or Whole Red Chili or Use Red Chili Powder – 2tsp
Coriander Powder – 2tsp
To Grind II
Shredded Coconut – 1/2 Cup
Fennel Seeds – 1/2tsp
Poppy Seeds – 1/2tsp
Pottukadalai/Split roasted gram – 1 Tbsp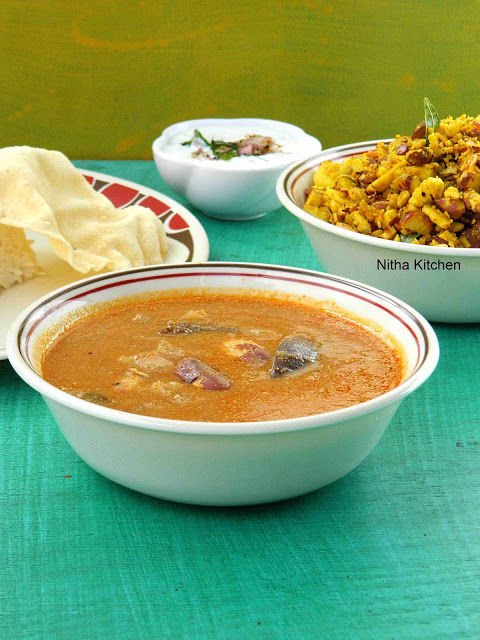 How to make Palakottai Kulambu
Soak tamarind in hot water for 15 minutes and extract the juice.
Also soak poppy seeds in warm water till grinding.
Cook the jack fruit  separately with enough water and salt for 2 hisses, keep aside Pic 2.
Precook the sliced brinjal, drumstick and with half of tamarind juice, enough water and 1/2tsp red chili powder and keep aside.
In a kadai add oil, add one by one ingredient listed under to saute and grind I.
Add roughly chopped onion, garlic and red chili flakes and saute till onion changes nice golden brown, remove from flame and add coriander powder.
Stir the mixture on and off , so that the heats goes off soon and once cooled down completely, grind the mixture to smooth paste, keep aside.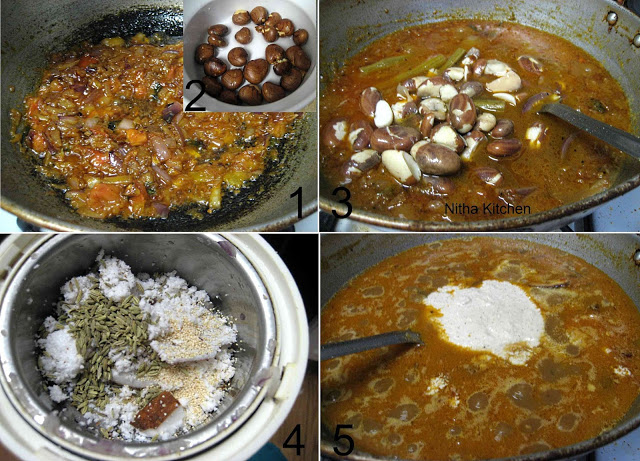 Also grind the ingredients given under Grind II list (Pic 4) and keep aside.
In a wide pan/kadai add necessary oil, splutter 4-5 methi seeds, add chopped onion and saute them well with 1/2tsp salt
Once onion becomes translucent add chopped tomato, red chili powder (i add 1tsp hot variety, anyways you are adding chili powder in other grinding part, so add minimal quantity) and turmeric and saute till it mashes well.
Now add the thick sauteed onion paste and saute well till oil separates (Pic 1).
Add remaining tamarind juice let them boil for 5 minutes in medium flame (Pic 3).
Now add the cooked vegetables (Pic 3) and allow to boil well.
Add ground coconut mixture (Pic 5) and puli kuzhambu powder mixed with water and if needed add water and cook in medium flame till the gravy get thickens and oil floats on top.
You can adjust salt, sourness and chili right now.
Finally when kuzhambu gets thicken remove it form heat.
Here in pictures i have served it with Rice,
Microwave Papad
, Seasoned Curd (thalicha Thayir) and Jack Fruit seeds Poriyal (coming soon).