Yields :- 6 Servings as shown in picture
Ingredients
Fresh Mangoes – 2 Numbers Small Size or Store Bought Mango Pulp 1/2 Cup
Sugar – 1/4 Cup
Milk (Or) Condensed Milk – 1/3 Cup (if using regular milk add more sugar if needed)
Whipped Cream
– 1 Cup (If you use 1/2 cup whipping or heavy cream you will get 1 cup whipped cream approx)
Chopped Pistachios or Almonds or Tutti Frutti or Chopped Cherries – As Needed
Shredded Coconut – 1/2 Tbsp (Optional, slightly dry fry in a pan for 2 minutes in low flame )
Popsicle Molds or Ice cream or Wooden Pop Sticks – 6 Numbers or As Needed
Any Flavor like Vanilla or Almond Essence or Cardamom Powder (Optional) – 1/2tsp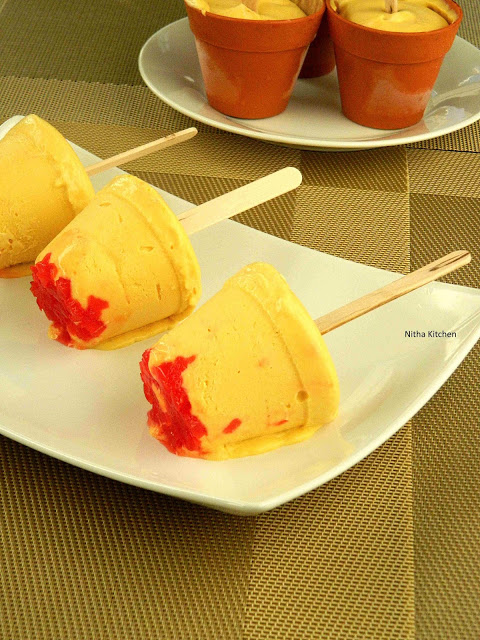 Method
If using regular milk boil the milk in low flame for 2-3 minutes after it foams.
Allow to cool completely.
Blend the mango pulp, milk or condensed milk and sugar well.
Keep the bowl and beater in freezer for a while and whip the heavy cream to stiff peaks.
Gently fold the mango pulp mixture to the whipped cream.
Add the vanilla essence and cardamom powder right now (Pic 1 below).
Add powdered sugar if required at this point and Coconut or few chopped nuts or cherries or tutti frutti or any chopped fruits as desired(I added some chopped and frozen fruits to avoid discoloration I kept it in freezer till use) to the kulfi mixture as shown in pic 2 and 3, mix all together well.
In the Popsicle molds or juice cups or any ordinary tumblers add the chopped nuts/cherries at the bottom of the mold then pour the kulfi mixture to the cups (Pic 4).
Cover it with food wraps, and freeze it for 30 minutes to 1 hour.
After 30 minutes to 1 hour then insert the stick at the center and freeze it for another 1-2 hrs (the time varies).
You can sprinkle few more nuts before serving.
Old Post updated…