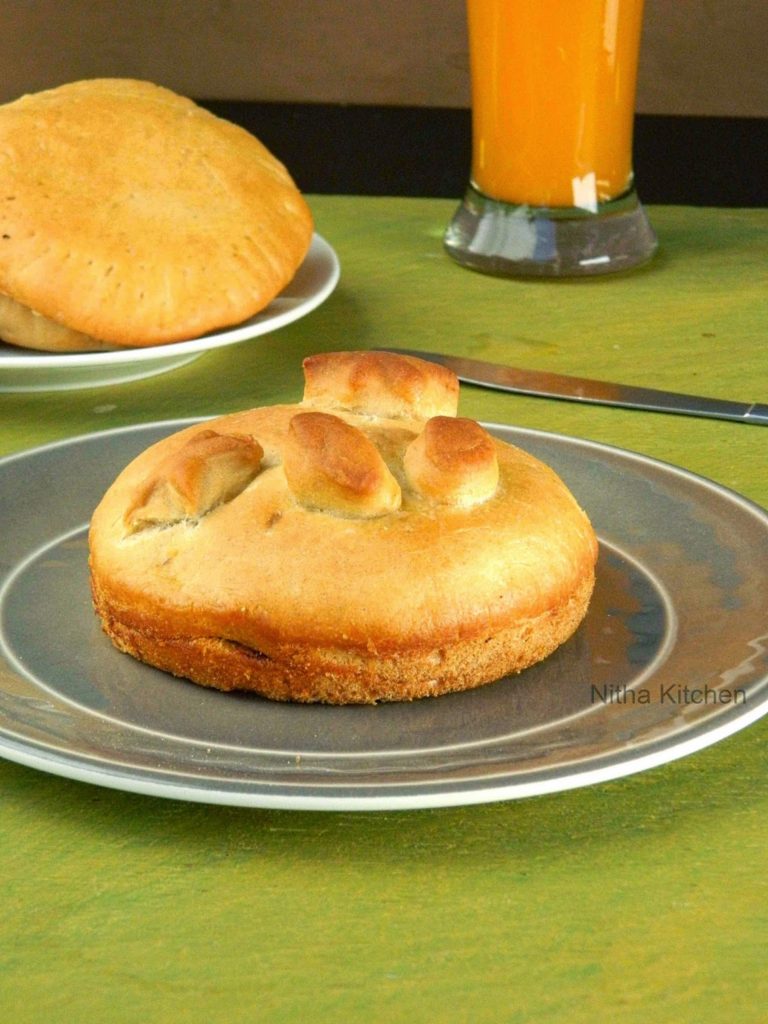 Today I am posting a healthy mushroom and carrots stuffed vegetarian empanada/pie recipe also the dough doesn't have any butter or egg with it. You can use whatever veggies your fridge hold. Also I heard from Marisa of Thermofan that they use special flour to make this in empanadas in their cuisine called Galician flour. Coming to this Swathi's Baking Partners Challenge recipe, I have tried 3 ways without empanada press to make those one is semi-circle and next one is round, the third is same circle pie/empanadas but I tried in 4inch stoneware/baking pan as shown in above first picture. I went for medium thick empanadas since my kids love so. You can check all the versions in step wise pictures below. My special thanks to Marisa for introducing me to this recipe 🙂
For those who find some new words in this recipe here are the meaning for it…
Empanada –> Wrap or Coat, folding dough/Stuffed bread usually baked or deep fried
Galician Empanada –> Popular stuffed bread in Galician cuisine
Gallega –> Large two crusted savory pie form Galicia
Zaragallada –> The fillings like mixture of vegetables or meat or seafoods.
Ingredients for Empanada Dough
All Purpose Flour (Maida) or Bread Flour (You can substitute a little bit of plain flour with whole wheat) – 250 gms
Lukewarm Water – 175 ml (5-10ml less or more as needed)
Sugar – ½ tsp
Salt – 1tsp
Instant Yeast – 1 tsp or Active Dry Yeast – 1.5tsp
Olive Oil – 1 Tbsp (You can also extract oil from the pan where you have cooked the filling)
Ingredients for Filling (Zaragallada)
Olive Oil – 2-3 Tbsp
Onion – 1 Number Large Size
Carrot – 2 Number Large Size
1 Zucchini or 1/2 Bottle Gourd
Mushrooms – 8-10 Numbers
Red Chili Powder/Paprika – 1-2tsp, as needed
Seasoning Mix or Curry (Sambar) Powder – 1tsp
Ripe Tomato – 1 Number Large
Salt & Pepper – As Needed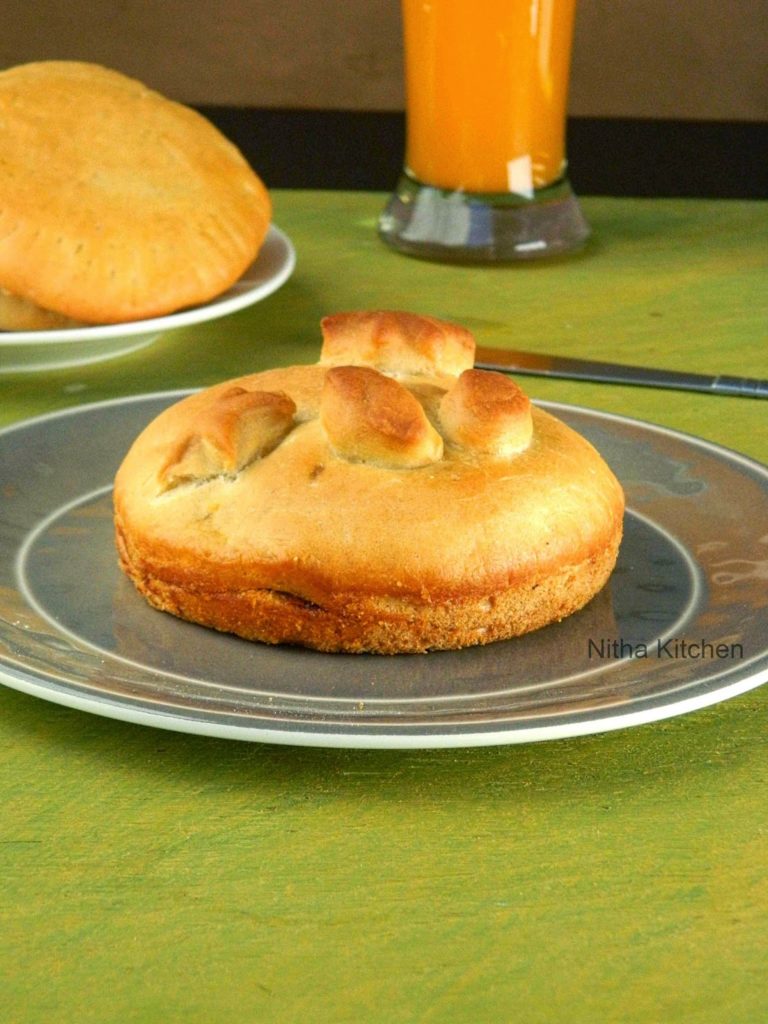 Method
Better to make the zaragallada filling a day or night before but i prepared it after making the dough.
Wash all the veggies and finely chop them.
Heat the oil in a frying pan and add the onion.
Fry over medium heat until the onion is transparent.
Add the chopped tomato, peppers and all powders stirring constantly and when tomato turns mushy add finely chopped carrots and cook at medium heat for 5 minutes.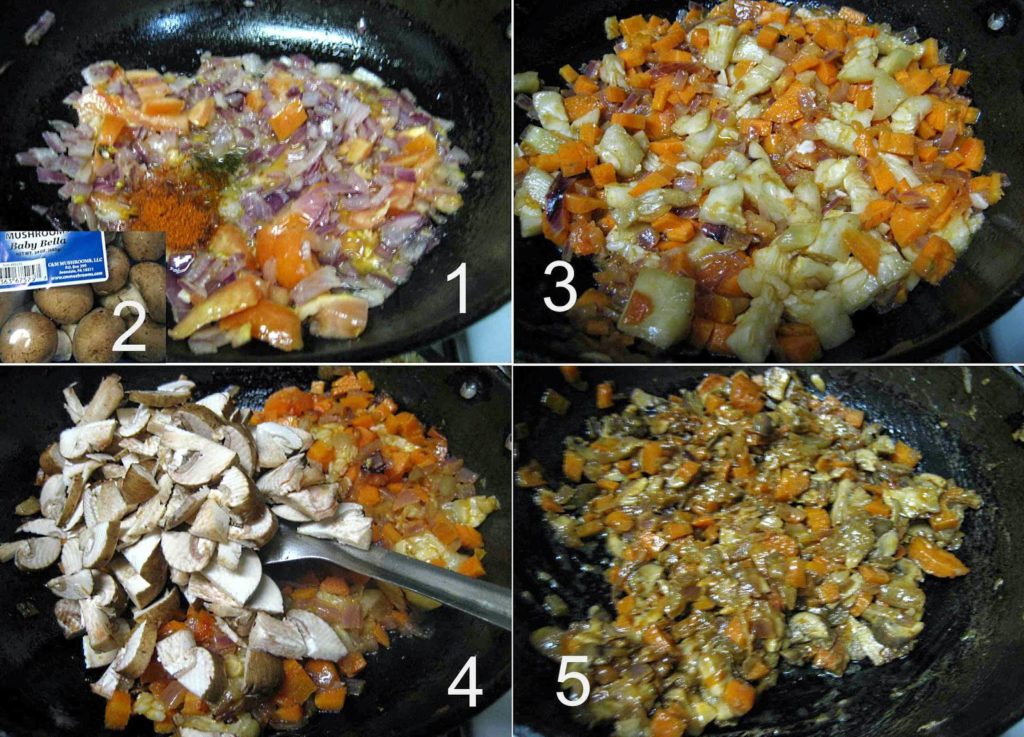 Add the chopped bottle gourd and cook for another 2-3 minutes then finally add chopped mushroom, cook for 10 minutes more.
Take the pan off the heat. Leave to cool for 20-30 minutes.
You can make the filling dry by filling in a colander and let drain overnight or for a while.
Do not forget to reserve a little oil for use in preparation of the dough (optional).
Dough Preparation
Measure, sift the flour and salt and keep all ingredients ready (Pic 1).
In a bowl dissolve yeast into 100 ml tepid or warm water (Pic 2).
Add sugar and let it stand for 5 minutes (Pic 3).
In a big bowl add the sifted flour and salt. Make a well in the center and pour in the mixture of water and yeast, 1 tablespoon of oil (zaragallada's oil or olive oil, Pic 4) and remaining water, a little at a time until the mixture forms a slightly sticky (but not wet) and elastic dough (Pic 5).
Turn the dough out onto a lightly floured surface. Knead lightly. Gradually, you can handle the dough faster, until the dough is smooth and elastic. This process takes about 15 minutes.
Let it rest halfway through, knead lightly about 7 minutes, let it rest 5 minutes and then knead another 7 minutes.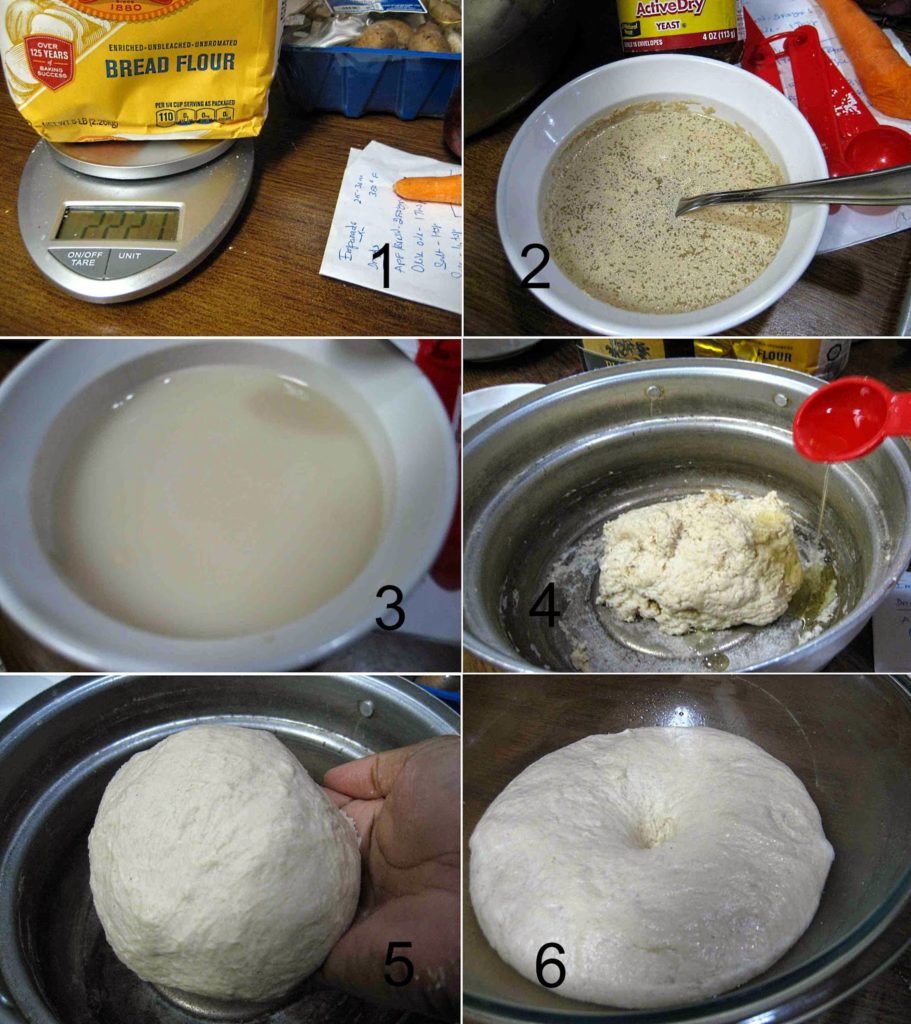 Form a ball and place on a oil greased bowl, cover with plastic wrap and let the dough ferment for about 30 to 45 minutes or until doubled in size (depending on ambient temperature Pic 6).
To verify that the dough has risen, pressed with a fingertip (Pic 6). When the process is complete, the mark made with the finger gradually disappear. If the dough has not finished fermenting, the mark will disappear immediately. If has grown to excess your finger will leave a permanent mark.
Assembling the empanada
Meanwhile, cover the tray with baking paper.
When the dough is fermented completely, gently press on the dough to degas and remove it to a lightly-floured work surface.
Divide dough in half.
Roll out one half of dough really thin (cover the other half with a napkin to prevent drying) and make a circles (Pic 1) and place it on the baking paper.
If the dough shrinks wait 10 minutes to relax and stretch again. The thinness of the dough will depend on your choice.
I made medium thick 4–>4n1/2″ semicircle empanadas and 4 double/two crust pies, i mean you need 8–4″ rounds to make 4 empanadas).
Please try to work over parchment paper so you no need to transfer the decorated empanadas just transfer the empanadas placed parchment over baking tray and bake as needed (Pic 6).
Spoon the cooled filling into the center (Pic 2) and spread it out towards the edge, leaving a 2cm/1in border all the way around (Pic 2).
For semi circle, fill in one side/semi circle and cover with the other side of same dough as shown in Picture 3, before sealing just brush the sides with water so it seals properly.
For round empanadas roll out the remaining dough and gently transfer it over the filling (Pic 4).
Using your fingers, pinch edges to seal. You can also do this with a fork or a cutter (Pic 5).
With left-over dough you can decorate the empanada, making some ornaments (Pic 6).
Pre heat the oven at 180º C / 350° F.
Make a small slit in the top to allow the steam to escape and helps baking without breaking the top layer.
You can brush the empanadas with beaten egg mixed a tbsp of cold water but i didn't do so.
Bake for 30 minutes or until golden brown (depending on your oven).
Check that the bottom part is perfectly baked; let it cool on a cooling rack and then cut into wedges.