Most of the recipes call for blanched almonds ie to peel/remove the skin and never ever specify what to do with the skins we remove from raw whole almonds. Today's Almond Skins Chutney recipe is going to talk about health benefits in almond skins and a chutney/dip recipe to use it effectively. I posted Gevulde Speculaas Recipe last month, so I used the leftover almond skins/peels to make this yummy chutney!!!
Health Benefits in Almond Skins ( I have gathered info from several websites)
Brown skin of almonds promotes good bacteria in the gut.
Skin of almond has essential flavonoids (natural Yellow Color) that combine with the Vitamin E in the meat of the nut to deliver powerful cholesterol lowering benefits.
Almond skin is made of insoluble fiber which helps to clean the digestive tract.
Also Almond skins work synergistic-ally to prevent LDL cholesterol from being oxidized, promoting heart health.
Almond skins contain a combination of antioxidants and vitamin E which work together synergistic-ally to protect cells from being damaged by free radicals.
Soaking almonds increases the amount of nutrients and vitamins your body absorbs from the food.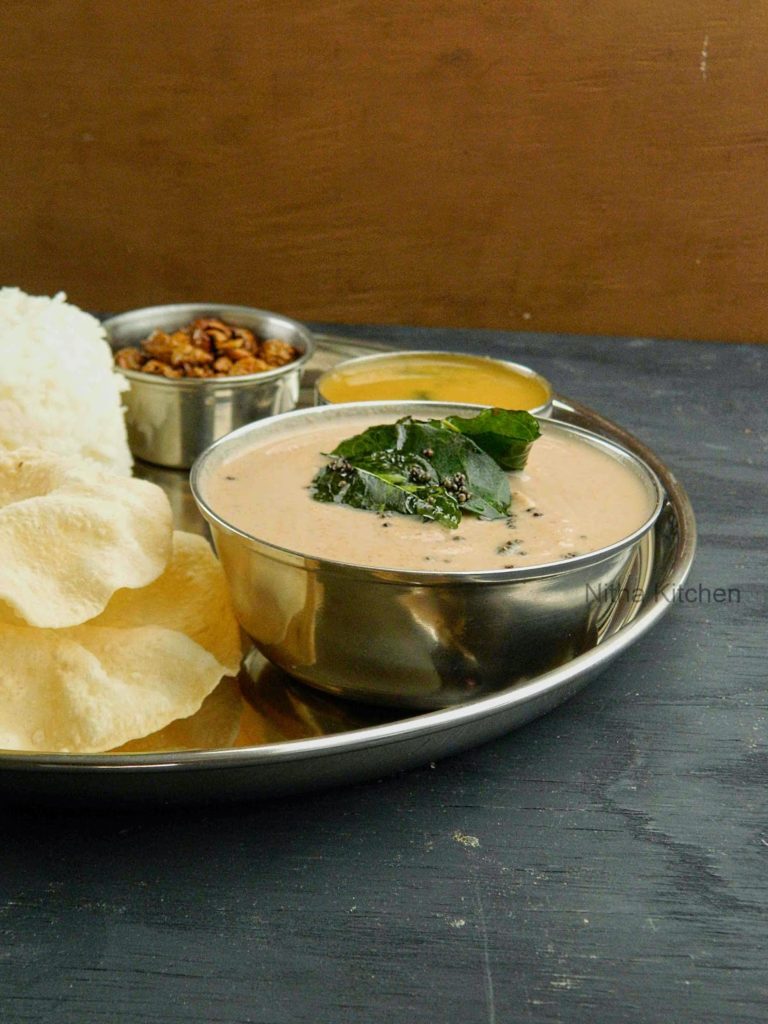 Ingredients for Almond Skins Chutney
Almond Peel/Skin – 1/2 Cup
Raw Peanuts – 1/2 Cup (Or Replace with * Soaked Almonds)
Tamarind Juice/Pulp – Lemon Size (Replace with Tomato)
* Soak the almonds overnight, if its time consuming then soak at least 30 minutes in warm water later discard the water.
To Temper
Mustard Seeds – 1/2tsp
Curry Leaves – Few
To Saute and Grind
Onion – 1 (Small Size) or Shallot – 5-6 Numbers
Mix of Whole Green and Red Chili – 2 to 3 Numbers
Chana and Urad Dal – 1/2 Tbsp Each
Garlic – 3-4 cloves
Pepper – 1/2tsp
Cumin – 3/4tsp
How to make Almond Skins Chutney
Soak tamarinds in warm water for 15 minutes meanwhile make the other stuffs ready for chutney.
Also soak the almond skins till you use so that it grinds evenly with other ingredients.
If using peanuts dry roast them in a pan under medium flame till raw smell disappears (Pic 1).
Later when its cool down, remove the peanut skins, its optional you can include the skin too, then add the soaked almond skins to it (Pic 1).
In a pan add a tbsp of oil saute sliced onions, chilis, both dal, cumin and pepper.
Saute the mixture till onion changes translucent and light brown.
Extract pulp from tamarind and keep it ready.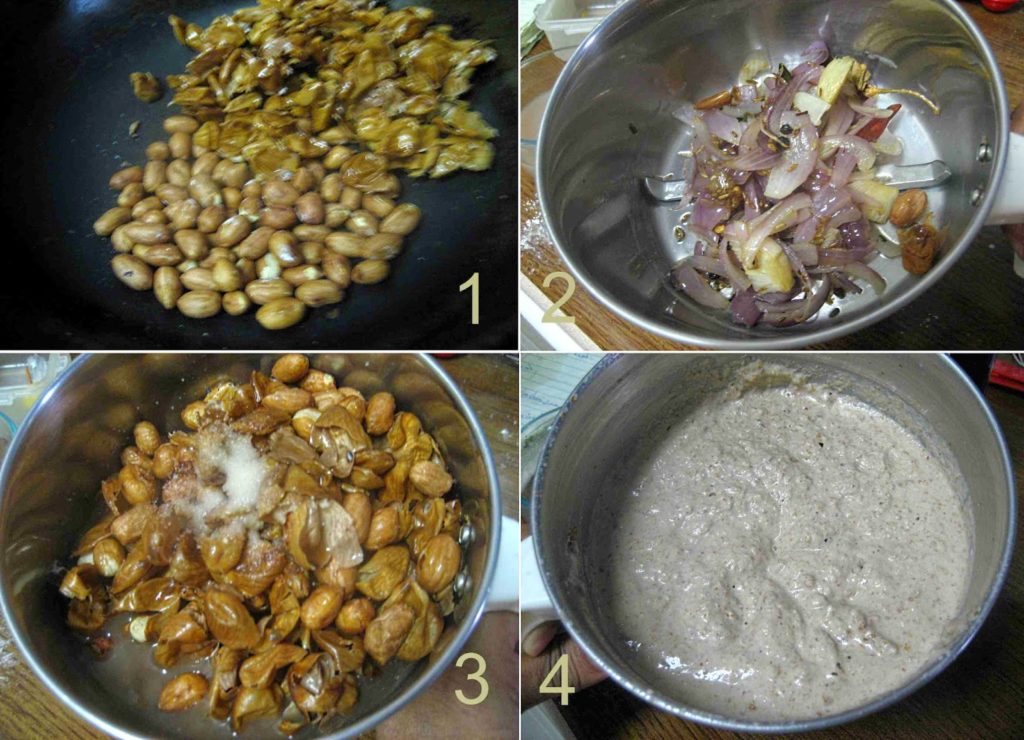 Once onion stuff cooled add them in the food processor jar (Pic 2).
Add the almond skin and peeled roasted peanuts(Pic 3), tamarind extract (Pic 3) and salt (Pic 3).
Blend all together and adjust water, salt and sourness according to your taste (Pic 4).
Finally garnish the ground chutney with some tempered mustard and curry leaves, below picture.