Today's Black Forest Buns recipe is soft, pillow like stuffed/rolled with chocolate sponge cake and cherry/jam. Black Forest cake is all about chocolate cake, cherry compote and kirsch (cherry brandy) and loads of cream. These buns use chocolate cake and cherry compote. Black Forest Buns obviously use cherry and if you don't have that, you can always substitute with strawberry jam/ compote. The method of kneading, rolling out the dough, covering it with the filling, and then rolling it back is just like making cinnamon rolls, I have shared a You tube video link in the tip section, do refer it. As for the egg, it adds to the texture of the dough and the finished buns, but those who don't use egg can leave it out. This recipe is off to Aparna's We Knead to Bake Baking Group.
Yields – 6 Buns
Ingredients
For the Dough
All Purpose Flour or Bread Flour – 1and1/2 Cups + 2 Tbsp
Water – 1/4 Cup
Milk – 1/4 Cup
Butter – 25gms
Sugar – 2 Tbsp
Egg – 1/2 Number ((at room temperature, optional)
Salt – 1/4 tsp + A  Pinch
Instant Yeast – 3/4tsp or Active Dry Yeast – 1tsp
For the Filling
Cherry or Strawberry Jam or compote – 1/3 Cup + 1 Tbsp
* Crumbled Chocolate Sponge Cake – 1and1/4 Cup to 1n1/2 Cup
* I have used eggless and butterf ree chocolate cake recipe for this black forest buns, you can pick a recipe from here.
For drizzling (Optional)
Chopped Semi Sweet Chocolate – 1/4 Cup
Method
Add water and milk in a microwave safe bowl and heat till it attains bit hot temperature, 30-40 seconds approximately in microwave.
You can add butter in to this hot milk mixture now but i have added it at the end.
Add the sugar and stir till the sugar dissolves.
Let this mixture cool down till it is lukewarm, so that the yeast will proof.
If it is too hot, it will kill the yeast and curdle the egg.
You may knead the dough by hand (Pic 1) or in the processor as you prefer.
Add the flour and salt in a mixing bowl, mix it well then reserve 2 Tbsp flour to add it later.
Pour the lukewarm mixture in batches (Pic 1) and add the egg.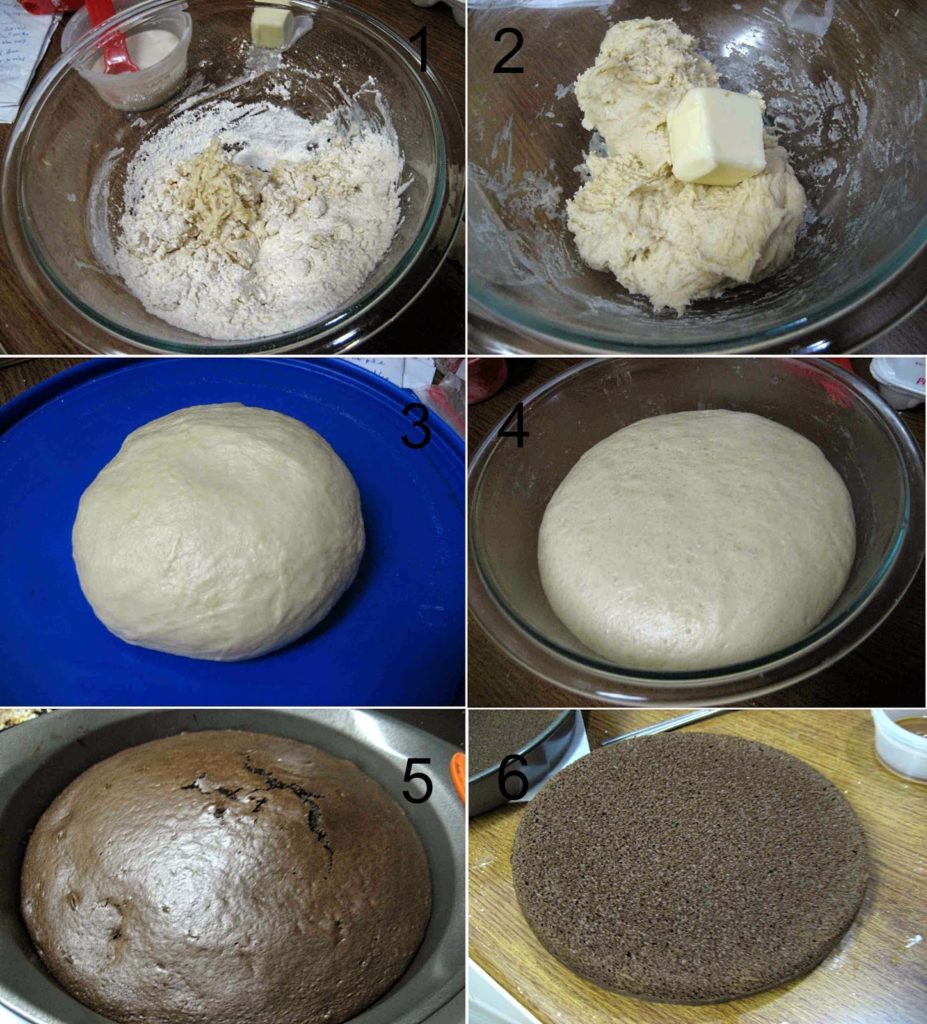 Pulse a couple of times or mix with your hand well.
Then sprinkle remaining milk mixture and knead the dough.
Finally add the softened butter(Pic 2), if you have not added it with the milk mixture.
Knead the dough until it is smooth, elastic but not sticky.
Once the mixture becomes difficult to mix, turn it out onto your work surface.
Add more flour (reserved one) and continue to knead for about 10 minutes till the dough is not sticky and elastic (Pic 3).
Place the kneaded dough in an oiled bowl, turning the dough till lightly coated with oil.
Cover loosely, and allow to double in volume, for about 1 – 1n1/2 hours (Pic 4).
Meanwhile prepare the chocolate cake or a day before and crumble it (Pic 5 and Pic 6).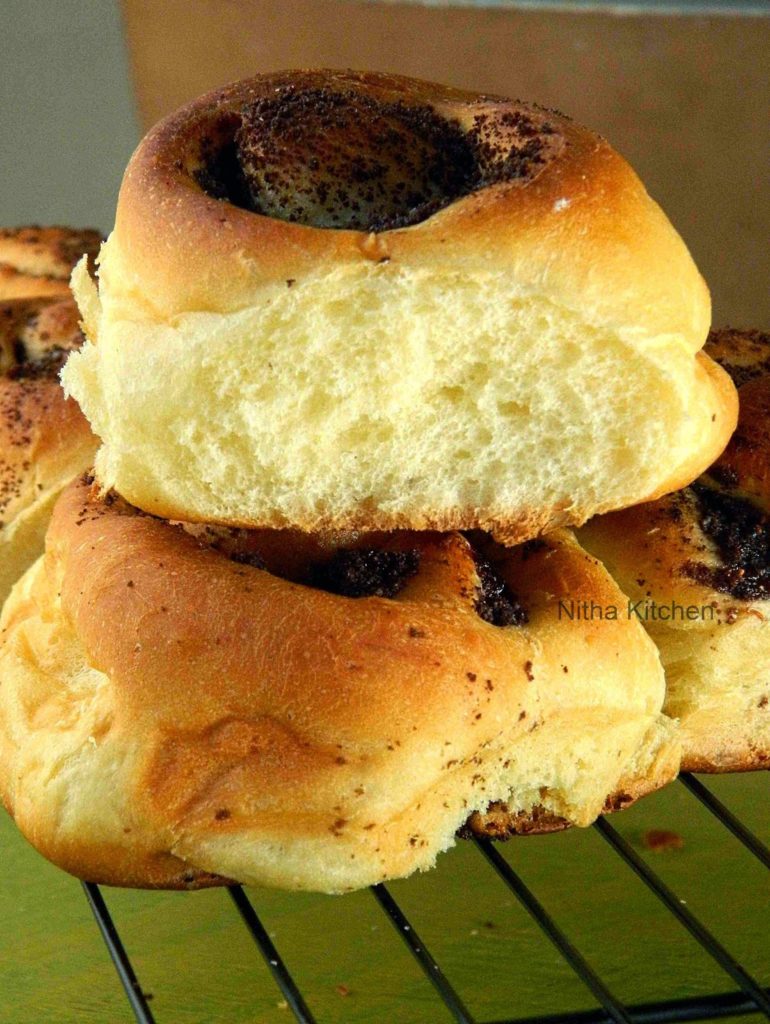 After 1.5hrs, place the dough on a flat surface and roll it out into an approximately 11 by 4″ rectangle (Stepwise Pic 1 below), if doubling the quantity then 12″ by 8″ works.
Spread the cherry compote/strawberry jam over the dough (Pic 2), leaving a 1/2 inch all around.
Sprinkle the chocolate cake crumbs on top of this (Pic 2).
Roll the dough away from you, as snugly as possible, starting with the 18" edge like a jam/ jelly roll (as for cinnamon buns).
Try to pinch the dough closed as best as possible, or dampen the edge with a little water to seal well (Pic 3).
Cut the roll into 1 1/2″ wide pieces with a very sharp knife/ dough scraper (Pic 4). You should have 6 pieces for this recipe or 12 when you double it.
Place each piece in a mould (or make collars using foil or parchment paper to fit well around each piece) and then on a baking tray.
Otherwise place them in a cake tin leaving enough space for them to expand (Pic 5).
If you place them too far apart, they will spread rather rise in height.
Initially i placed it in a small rectangle tray (8″) and later iI transferred to the 11″ rectangle cake pan and i covered the sides with 1-1n1/2 inch aluminum wrap (Pic 5), since the tray is bit wide enough.
So when you feel the pan is big enough you can roll sides with some foil that works.
Cover loosely, and allow to rise, for about 1 hour or till almost double (Pic 6).
Bake at 180°C or 350°F for 22-22 minutes as shown in below picture.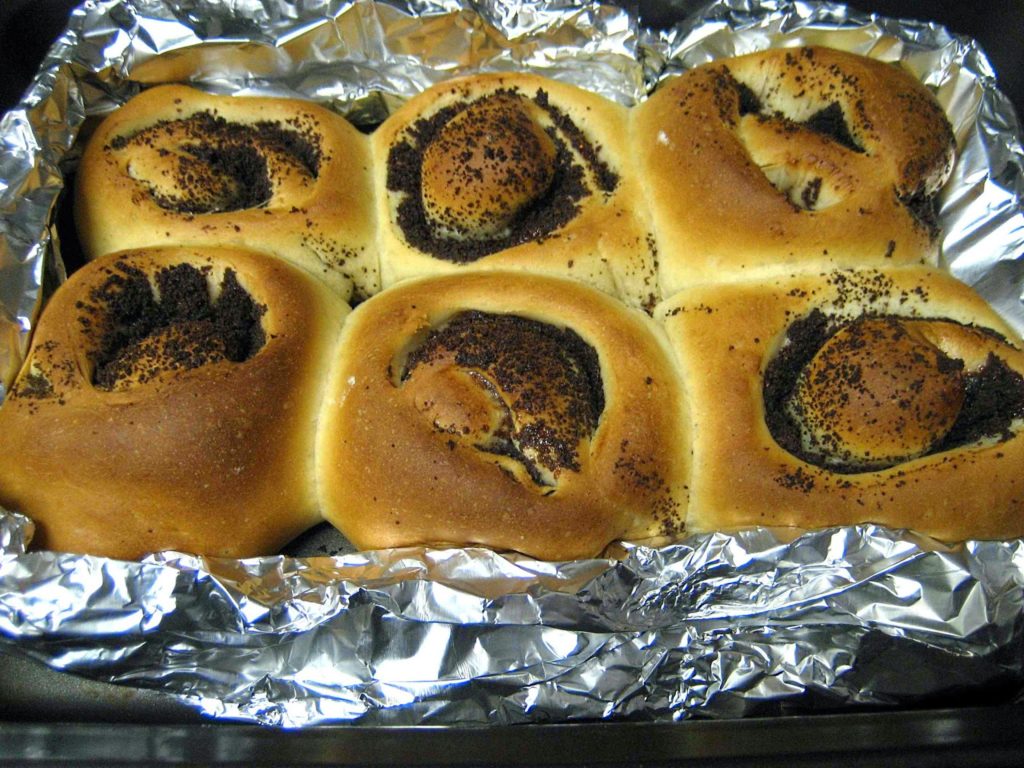 Drizzle melted chocolate optional) and serve.
Remove from oven and cool completely.
Tips
Just make sure you roll the dough, with the filling, as tightly as you can and well because these buns swell up quite a bit.
Dust the knife with flour for easy cutting.
You can refer this You Tube Video…