Pasi Paruppu Keerai , recently i found spinach/verdolaga in Indian grocery store (Pic 1 in stepwise pictures below). First time i bought it (bit expensive when compared to other leaves) and searched for its Tamil name in google. It says paruppu keerai, i usually make paruppum keeraiyum dish with palak/spinach and much excited to make it with this new green leaves.
It tasted good moreover i liked the aroma :-). Let a short note about this green leaves before moving in to the recipe.
Commonly known as Purslane/Verdolaga, which may be used fresh as a salad, stir-fried, or cooked as spinach, and because of its mucilaginous quality it is also suitable for soups and stews. This is known as Ma Chi Xian (translated as "horse tooth amaranth") in traditional Chinese medicine. Purslane leaves are used to treat insect or snake bites on the skin, boils, sores, pain from bee stings, bacillary dysentery, diarrhea, hemorrhoids, postpartum bleeding, and intestinal bleeding. The stems, leaves and flower buds are all edible. In tamil this is called as பருப்புக்கீரை (Paruppu keerai) or கோழிக்கீரை (kolik keerai). I got all these informations from purslane wiki and other sites.
Ingredients
Split Yellow Moong Dhal (Pesara pappu)/Masoor Dhal – 1/2 cup
Verdolaga/Palak Spinach – 1 bunch
Onion – 1 Small
Garlic – 4 Numbers
Cumin seeds: 1 tsp
Pepper Corns – 1tsp
Tomato – Quarter (small size)
Mustard seeds- 1/2 tsp
Red chilies – 2 Numbers
Sambar/Red Chili powder – 1tsp (Optional)
Turmeric powder – 1/8tsp
Hing/Asafoetida – 1/8tsp
Curry leaves – 1 sprig
Salt – to taste
Oil – 2 tsp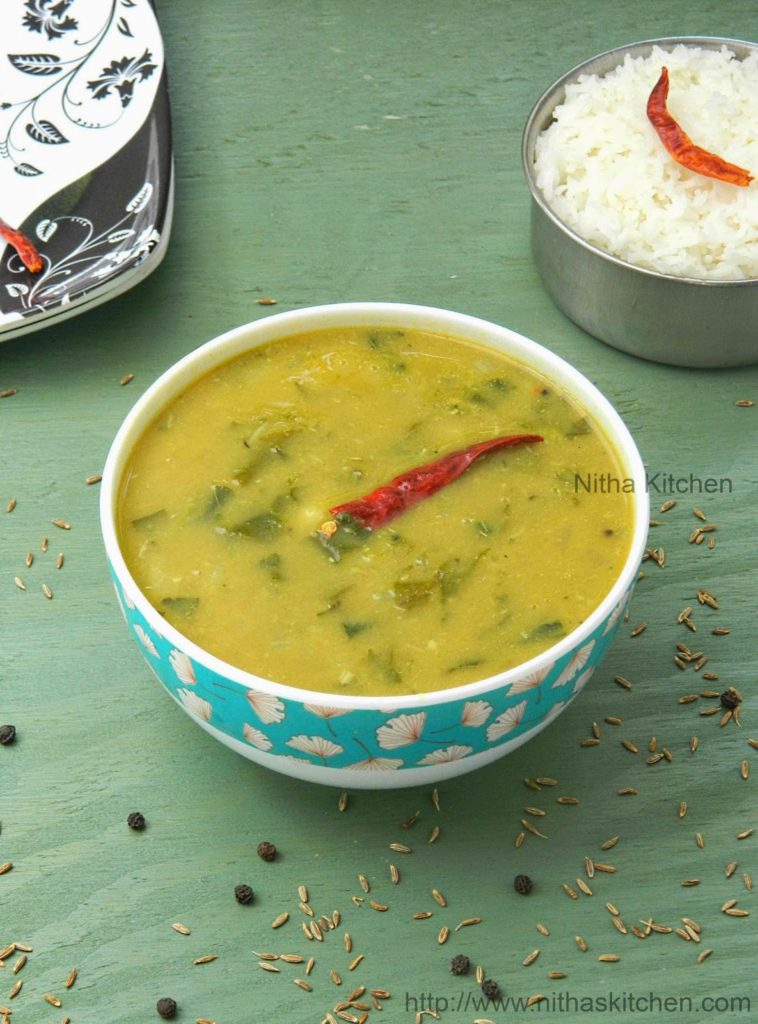 Pasi Paruppu Keerai Preparation
Cook the dhal with tomato, 1-2 garlic, enough water in pressure cooker for 3 hisses (Pic 2).
Can add turmeric powder while cooking but i add while seasoning.
Wash the green leaves/spinach thoroughly and chop the leaves and the thin stems (Pic 2).
Heat oil in a pan and add mustard seed, cumin seeds and pepper corns.
Once it starts spluttering add chopped onion, garlic, turmeric powder, hing/curry leaves and split red chilies.
Add the chopped green leaves (Pic 3) and fry for just a couple of minutes (Till it becomes tender).
You can sprinkle water and cook in medium flame until the spinach is well cooked.
Now add the cooked dhal and salt and mix well.
When starts boiling well, remove from heat (Pic 4).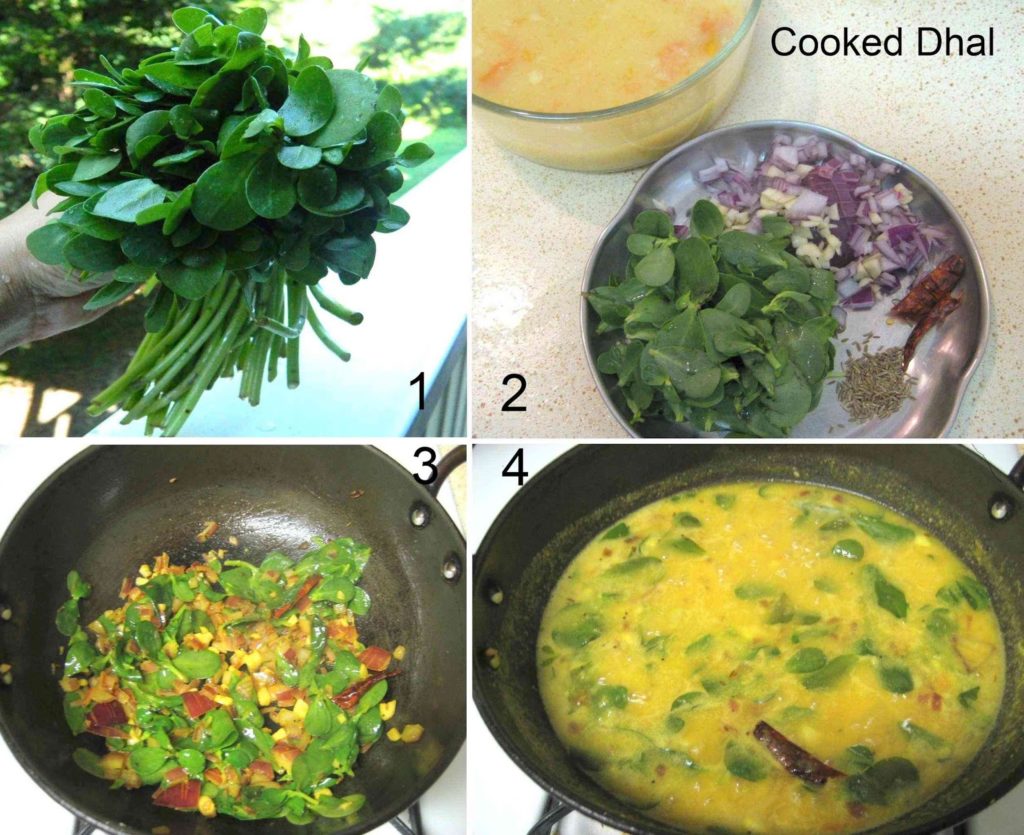 Finally you can garnish it with fried vengaya vadagam too.
Serve hot with rice and ghee 🙂
Notes
You can enhance taste by adding sambar/red chili powder while cooking the green leaves.
Updated with recent pictures.