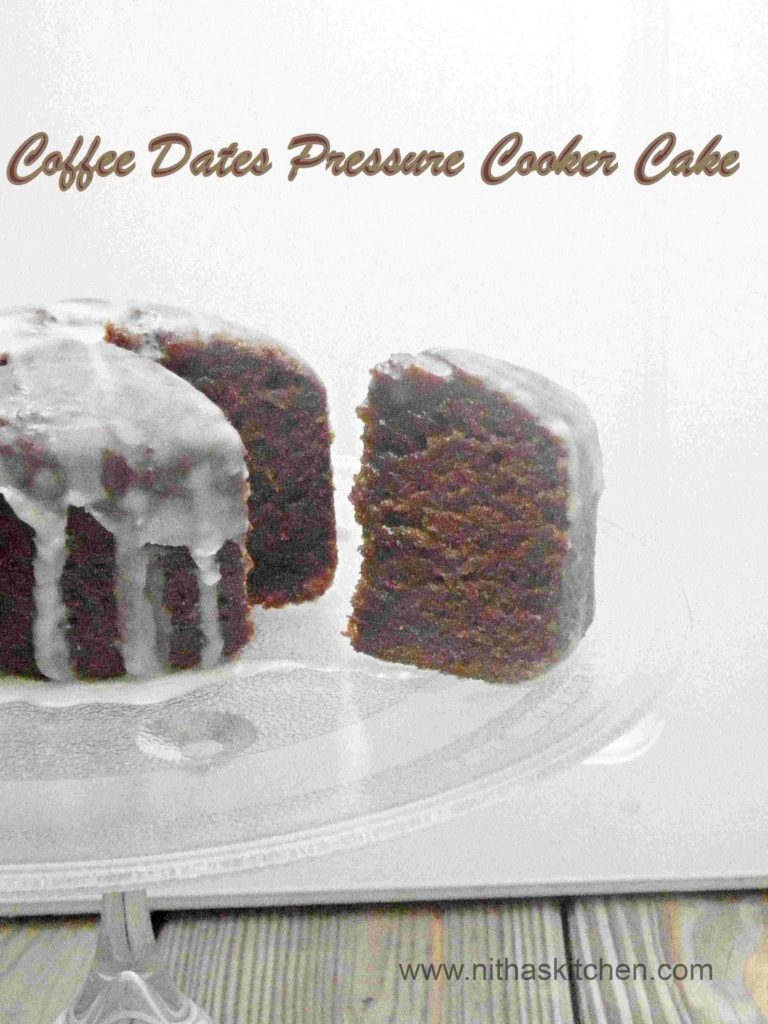 Today is a birthday to a wonderful person who is a great inspiration in blogging. She is very dynamic and post her recipes on daily basis, sometime more than one recipe in a day. She is none other than Priya Suresh aks from Priya's Versatile Recipes. Wish you Many More Happy Returns of the Day Sis. She is such an active blogger, lovely mom, humble and sweet person to interact. When I was new to this blogging world my school friend insisted about her blog, truly inspired in the very first sight J. We the blogger friends decided to give her a virtual treat. She loves chocolate so I made a dates pressure cooker cake with instant coffee powder (instead of chocolate) and this is my creative recipe to the innovative ladyJ Hope you enjoy this virtual treat.
Ingredients
APF/Maida /Wheat Flour – 3/4th Cup
Dates – 15 Numbers
Oil – 1/4 Cup
Milk – 1/2 Cup + 2 Tbsp
Brown Sugar / Jaggery – 4 Tbsp
Baking Soda – 1/2 tsp
Baking Powder – 1/4tsp
Instant Coffee Powder – 1 Tbsp ( used Bru, replace with cocoa powder 1.5 Tbsp)
Buttermilk – 2 Tbsp
Salt – 1/4 tsp
Method
Boil 1/2 cup milk and soak dates in it for 30 mins (Pic 1).
Mix dry ingredients like flour, salt and baking powder soda in a separate bowl (Pic 2).
After 30 mins puree the dates with same soaked milk.
Warm 2 tbsp of milk and add instant coffee powder to it (Pic 2).
In a wide bowl add dates puree, oil, brown sugar and mix well (Pic 2).
Add the coffee mixture and in batches add the flour mixture.
For the final batch you may need 2tbsp of butter milk to get batter consistency (Pic 3).
Grease the stainless steel vessel with butter and pout the batter in to it (Pic 4).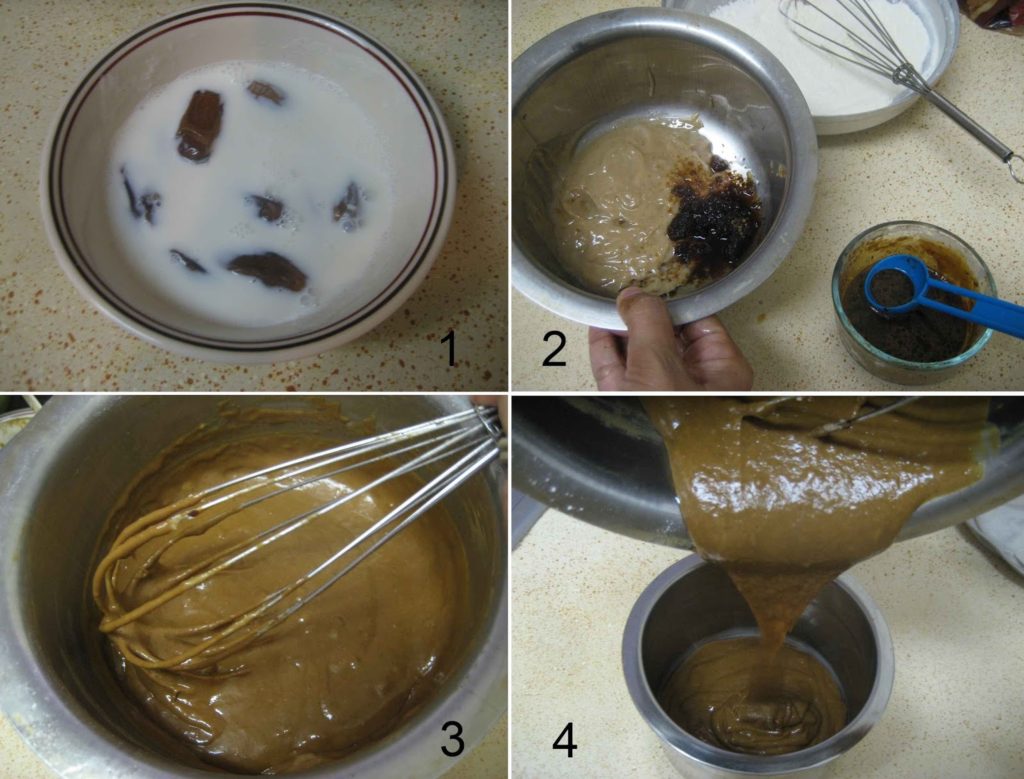 Heat the cooker for at least 5 minutes.
Place a stainless steel plate to prevent direct heat to the cake pan (Pic 5).
If you have the old cooker then you might have the base (Check the pictures here).
Tap the batter and place carefully in to the pre heated cooker (Pic 6).
In medium flame cook for 30-40mins (depends on cooker, batter quantity and quality of steel vessel the time varies) or when wooden stick inserted at center comes out clean(Pic 7).
Allow to cool completely and turn upside down.
The glaze/sugar topping is optional (Pic 8), you can have the plain cake too.
If using oven bake at 350°F for 18-22 or center comes out clean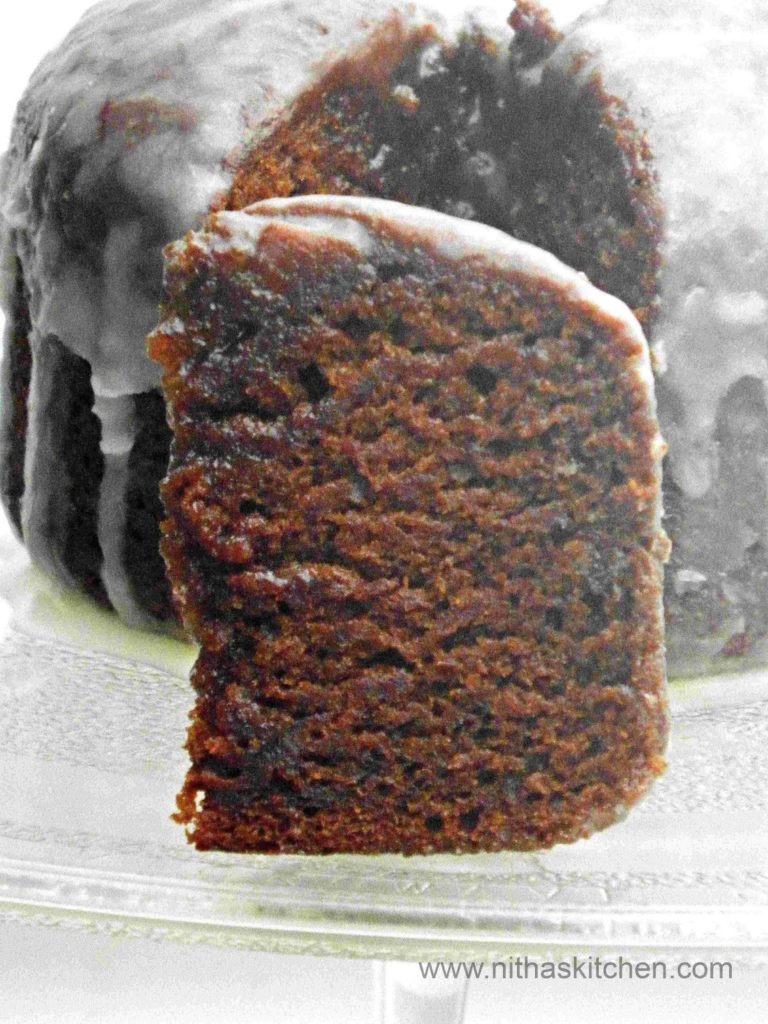 For Sugar Glaze/Topping
Confection Sugar – 1/2 Cup (Replace with 1/2 cup minus 1/2 Tbsp Powdered Sugar + 1/2 Tbsp Corn starch)
Milk – 2tsp
Butter – 1 Tbsp
Vanilla Essence – 1/2tsp (Optional)
Method
Melt butter and add sugar, vanilla essence and milk to it (Pic 8 in step wise pictures above).
Stir well without lumps and pour it over cake.
Leave few minutes for sugar to set, slice and enjoy 🙂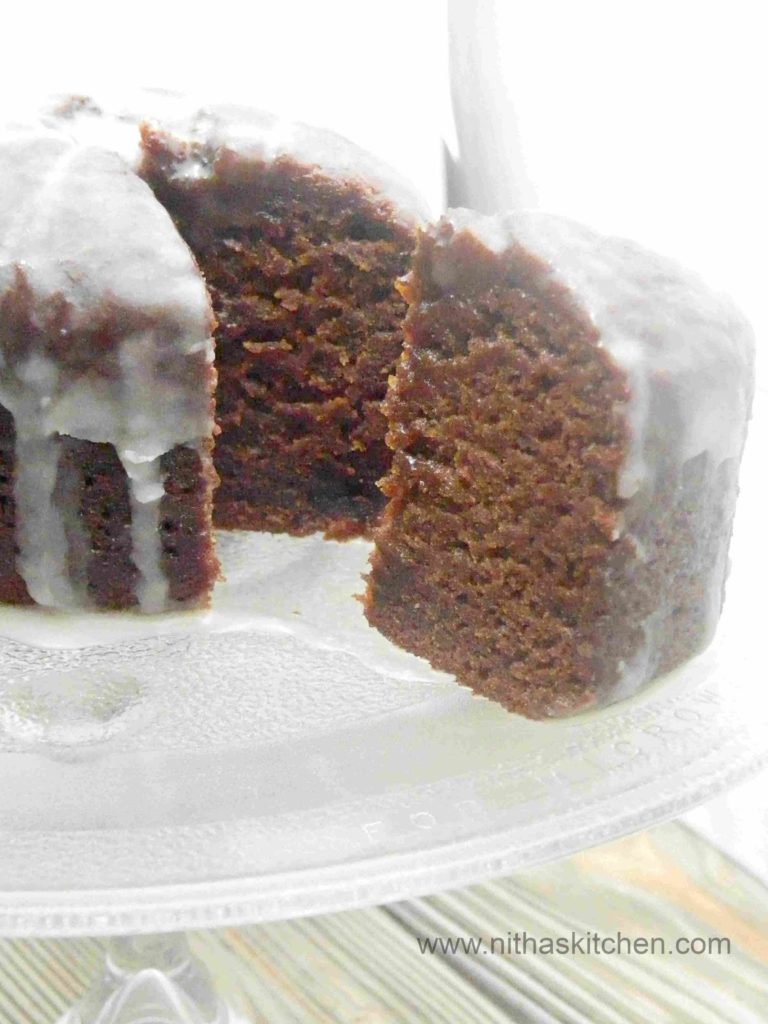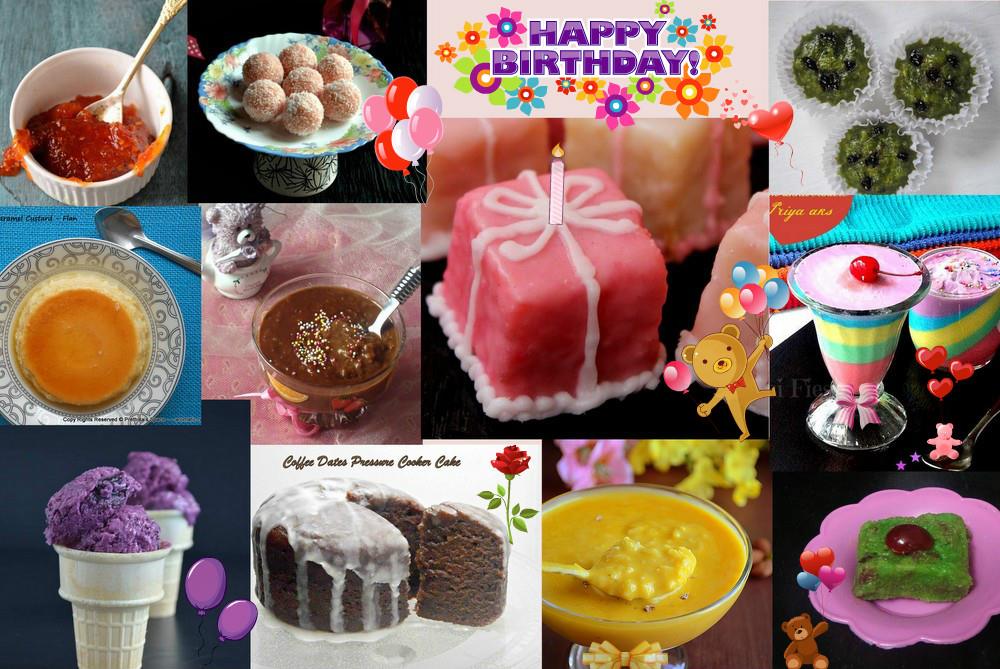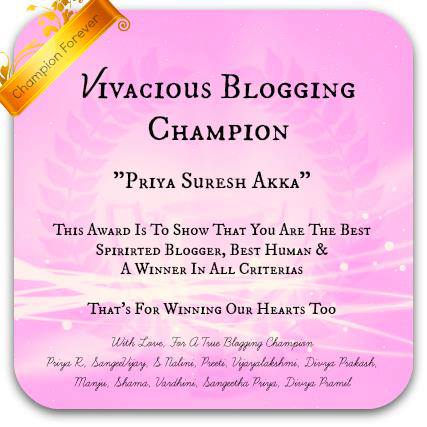 You can dust the pan with cocoa or apply butter or oil to the pan before adding the cake batter. It helps to remove the cake easily out from pan once it's done.