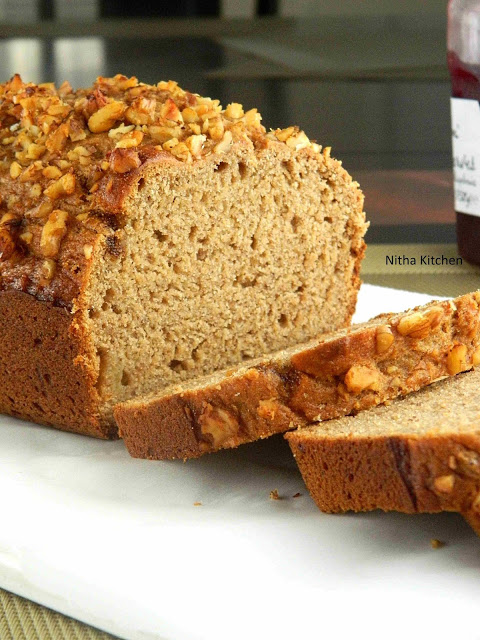 Here comes a fool proof eggless banana wheat bread recipe I am practicing for years, you can add any nuts you wish or skip it. The bread has the goodness of wheat, banana, apple and honey. A slice in the morning meets the fulfillment
and I have recently updated the pictures and recipe to go for 9X5 inch loaf pan. This week kids are taking it for school snack. So if your pan size is 8X4 then do check the modification given for it as well…
Eggless Banana Wheat Bread
Ingredients for 9X5 inch loaf pan
Well ripen Banana – 4 Numbers (Large)
1 and 1/4 Cup Whole Wheat Flour not chapati Atta – 1 and 1/2 Cup
All Purpose Flour – 1 and 1/4 Cup (replace with wheat flour)
Sugar (1/4 cup Dark brown + 1/2 cup Regular) – 3/4 Cup
Apple Sauce/Puree – 3/4th Cup (mine is homemade puree)
Vanilla Essence – 1/4 tsp (Optional)
Honey – 1/4 Cup (skip for vegan)
Cinnamon powder – 1 tsp
Butter – 2 Tbsp (For Vegan skip this please)
Oil – 3 Tbsp
Baking Powder – 2 tsp (if its double acting then reduce to 1 and 3/4 tsp)
Baking Soda – 1/2 tsp
Salt – 1/2 tsp
Chopped nuts like walnut, almond, cashew and raisins – 1/3 Cup
* The puree of banana and apple both not to exceed 2 Cups. If using sweetened apple sauce then reduce sugar. also refer note.
Ingredients for 8X4 inch loaf pan
Well ripen Banana – 3 Numbers(3/4 Cup)
Whole Wheat Flour not Atta – 1&1/4 Cup
All Purpose Flour – 1 Cup
Regular Sugar+Dark brown – 2/3 Cup
Apple Sauce/Puree – 1/2 Cup
Vanilla Essence – 1/4 tsp
Honey – 2 Tbsp (skip for vegan)
Cinnamon powder – 1 tsp
Butter – 2 Tbsp (skip for Vegan)
Oil – 2 Tbsp
Baking Powder – 1.5tsp(double acting 1.25tsp)
Baking Soda – 1/2 tsp
Salt – 1/2tsp
Chopped nuts like Walnut/Almond, /Cashew/Raisins – 1/3 Cup
* The puree of banana and apple both not to exceed 1 and 1/3th Cup. If using sweetened apple sauce then reduce sugar.
Keep the butter in room temp.
Add all dry ingredients in a mixing bowl like Flour, baking powder, cinnamon powder, baking soda & salt) and mix well.
In a large bowl first add butter, then sugar whisk well till sugar dissolves completely.
Then add vanilla essence, oil, butter, honey, mix all together.
Now add mashed banana (mash banana in hand/using whisk with no big lumps) and banana puree, stir well.
Add the flour mixture in small, small batch, For batter consistency check the pictures shown.
Do the process till all the flour mixture is incorporated well.
Pour the mixture in butter+flour greased bread loaf pan.
Preheat the oven to 350°F /180 C and bake for 45 mins or check with toothpick in the center, if it doesn't sticks then remove from heat.
Allow to cool completely may take 1 hour and then cut in to slices.
Tips for Eggless Banana Wheat Bread
If using homemade apple puree the texture is diluted and so no additional milk is needed to smooth the batter.
But if you use store bought apple sauce and too sweetened, don't forget to reduce sugar quantity and also you may need 1-2 tbsp. milk to bring the right consistency as shown in pictures.
Coming to nuts, you can either mix in the batter, powder coarse and add it or just top it as you wish.
Don't make the batter runny and too soggy then the bread will be too moist and dense.
Also it takes more time to bake.