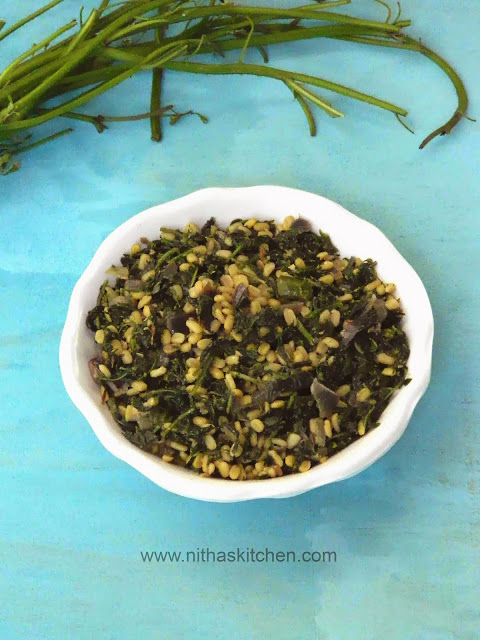 You know how much I love this Manathakkali keerai/Nightshade green leaves, It's my favorite from my childhood days and todays recipe is stir fry using it Manathakkali Keerai Paruppu Poriyal . It is called by several names European Black Nightshade or locally just "black nightshade", Duscle, Garden Nightshade, Hound's Berry, Petty Morel, Wonderberry, Small-fruited black nightshade or popolo) is a species in the Solanum. This green leaves has loads of medicinal values. Yearly once we get this here in a Korean market, and this month luckily I got 2 bunches -). For those who keep on asking (few sent mail of course) about the store please check here. I recently posted a recipe by including this in Savory cheddar muffins. Apart from usual chutney, I made this stir fry with nutritious dal. The one we get here is not much bitter so it's optional to add shredded coconut. Also you can make this stir fry with any green leaves you use in routine with any cooked dal like chana or toor dal for variations. Let's move on to the recipe in detail.
Ingredients for Manathakkali Keerai Paruppu Poriyal
Chopped Manathakkali Keerai – 2 Cups (Pressed, replace with Spinach or any green leaves)
Yelow Split Moong Dhal – 1/4 Cup
Green Chili – 2 Numbers
Cumin Seeds – 1tsp
Onion – 1 Medium Size
Salt and Oil – As Needed
How to make Manathakkali Keerai Paruppu Poriyal
Soak dhal for 15 minutes and pressure cook with less water for a hissing sound.
When pressure goes separate the dal and water, keep it aside (Pic 1).
In a pan add oil, when it is hot add cumin seeds.
Followed by chopped onion and green chili.
When onion changes color add chopped green leaves (Pic 2) and saute well.
It's starts leaving water, cook till all the water evaporates.
Finally add cooked dal (Pic 3) and give a gentle stir.
Serve with Cooked Rice, Sambar and Rasam.