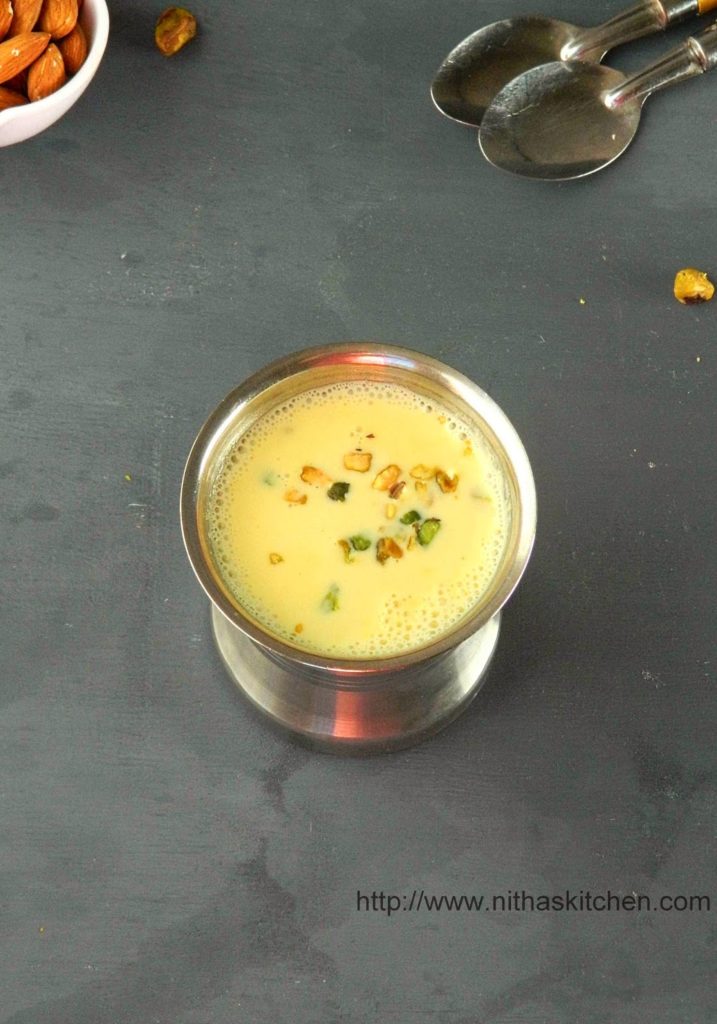 It has been ages I tasted this milk in hotel, I mean 10 yrs back as a great fan of Vasantha bhavan namma veedu, 100ft road, Vadapalani. The ambience and glass placed path, new look of the restaurant attracted much. In the entrance itself you can can see this masala paal getting simmered in big thali with nice aroma. Typical masala milk is simmered in low flame like that but I added condensed milk to bring it close to
restaurant taste. I am sure you definitely likes this recipe :-). As already said, we a bunch of bloggies wanted to do a virtual birthday treat for Priya Suresh sis. The Dates and coffee pressure cooker cake is the color theme recipe which I posted during her birthday and the other one is to cook something from her own recipe. Long time back while longing for this recipe, I saw it in her space, truly inspired and while chatting with her I promised to give a try, so this is the story behind it. Sis we thoroughly enjoyed it n I am going to make it again and again 🙂
Ingredients
Regular Milk – 2n1/2 Cups (I used 2% reduced fat milk)
Sugar – 2 Tbsp (Replace with Jaggery too)
Condensed Milk – 2 Tbsp or more (I used Fat free condensed milk)
Cloves – 3 Numbers
Cinnamon – 1/2 Inch
Cardamom – 3 Numbers (You can reduce if you dislike the flavor)
Almonds – 6-8 Numbers
Pistachios – 6-8 Numbers
Saffron/Kungumapoo/Turmeric Powder – Few
Chopped Nuts (Pista, Almonds) – Few
Method
Make the ingredients ready (Pic 1).
Soak Almonds/badam and Pista in hot water for 15 mins.
After that peel of the skin/blanch the almonds/badam.
Grind badam and pista in a mixer to a paste.
You can add the same soaked water to grind.
Soak saffron in a tsp of warm milk.
Dry roast the cardamom, discard skin and powder it with a tbsp of sugar from the above said quantity.
Bring the milk to boil.
When starts foaming add cinnamon and cloves.
Boil in medium flame till it reduces in volume and the aroma of spices are well mixed with the milk (about 5 minutes).
Now take out cinnamon and cloves and discard them.
Now add the ground paste (Pic 2) and continue boiling in medium flame.
Add the saffron milk, condensed milk, sugar and allow it to boil for another couple of minutes.
Add cardamom powder mixed with sugar (Pic 3) before removing it from flame.
Adjust sugar at this time to suit your taste buds.
Finally add the chopped nuts (Pic 4).
Garnish with chopped nuts (optional) before you serve n serve hot 🙂
Notes
Don't skip the condensed milk, it gives divine taste to masala paal.
Discard the cloves and cinnamon after certain stage without fail, it gives bitter taste when proceeded till end.
Another version i follow is adding sara paruppu and other nuts without cloves and cinnamon, i will come up with that version if i get that paruppu again.