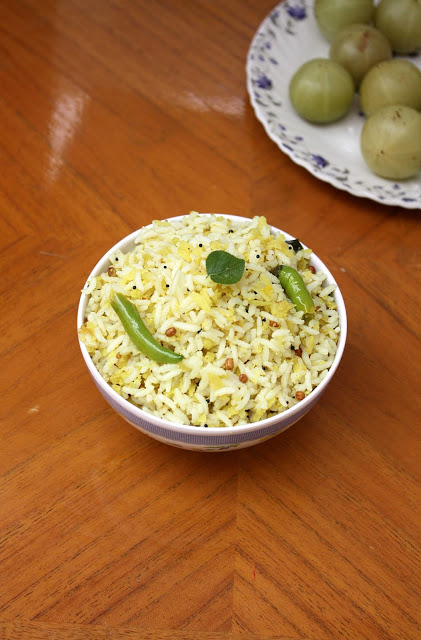 Easy and Healthy Gooseberry Rice is our today's recipe. Gooseberries are very good sources of Vitamin C therefore daily intake in any form is a good remedy for mouth Ulcers, helps to burn fat, increases our body immune etc.You can find this gooseberries even in front of schools in plain or spiced pickle version. It has sour taste hence people with sensitive teeth find difficult to eat as a whole. The best option is grate and mix with rice so they never miss this healthy gooseberry anymore. I prepared so for my Parents several times recently…
Ingredients
Nellikai/Gooseberry – 6-8 Numbers
Green Chili – 2-3 Numbers
Boiled or Cooked Rice – 2 Cups
Turmeric Powder – 1/4tsp
Mustard Seeds – 1/2tsp
Chana dal and Urad dal powder – 2tsp approx (or Idli Milagaai Podi)
Curry Leaves – Few
Salt – As Required
Oil – 2 Tbsp
Method
Grate the gooseberries in veg grater as shown in picture 1, sorry for the shaky picture.
No onions required for this rice, if you wish you can add 4 chopped shallots.
Boil the rice and make other stuffs ready.
In a kadai/pan add oil temper mustard seeds, add grated nellikai.
Saute for a while with turmeric powder and salt.
Add the Idli podi or Chana/Urad dal powder.
Finally add cooked rice (Pic 2) and gently mix all together.
Adjust salt and this rice goes well with chutney or pickle.