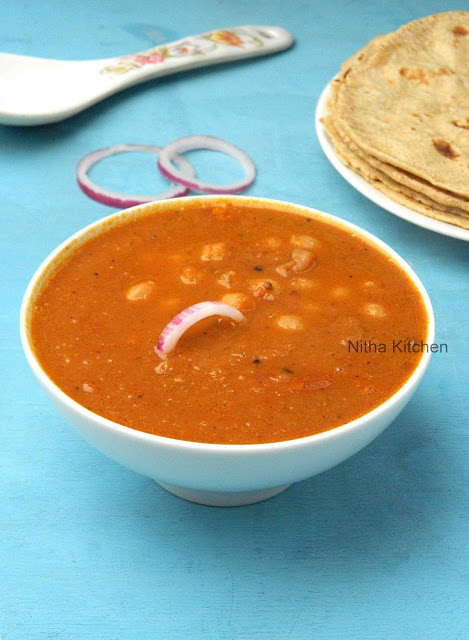 I am making a post after 11 days gap, this is the first time I didn't post anything for more than 10 days. Hope I will be back to routine soon. Coming to this Punjabi Chole Masala Chana Masala , this curry is an excellent side dish for Bhatura and Chapati. Since i have stopped making Bhatura or Poori for years (hope to post in future), i presented here with healthy zero oil soft chapati. Also I have given my style of making this chana masala with detailed notes. Do check the recipe for more info…
Recipe Source :- Own

To Saute and Grind
Cinnamon/Cloves/Cardamom – 2 Each
Onion – 1 and 1/2  Large Size
Ginger – Equivalent to 1/2 Tbsp
Garlic – 4-5 Big Cloves
Paprika Flakes – 2 Packets or Red Chili Powder
Salt – 1tsp
Oil – 2 Tbsp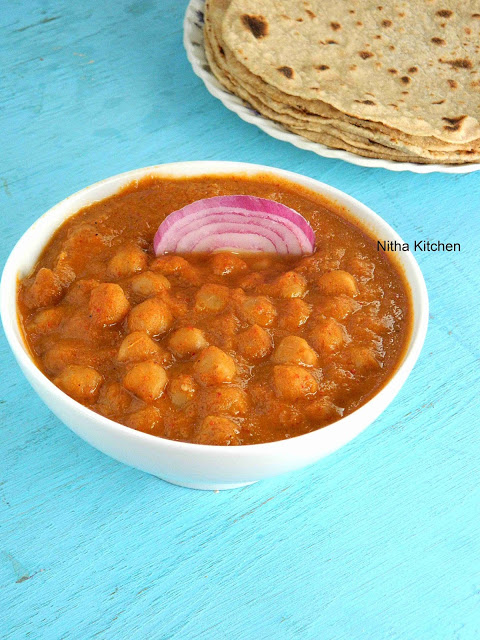 Tomato Puree
Well Ripen Tomatoes –  4 Medium
How to make Tomato Puree
Boil water in a sauce pan. When it starts boiling vigorously add the whole tomatoes (Pic 1) and switch off the flame.
Let the tomatoes sit in hot water for 3-5 minutes, later peel the skin (Pic 2) and allow to cool completely.
Grind the peeled tomatoes to smooth paste (Pic 3).
This is the basic tomato puree and you can add it with oil and other ingredients for any curry when it cooks and simmer in low flame, it changes to good red color as shown in pic 4.
Other Ingredients
Dry Chana / chickpeas – 1 and 1/4 Cups
Onion – 1 Small Size
Whole Garam Masala Like Bay Leaves, Cloves, Cardamom – 2 Each
Red Chili Powder –  1 Tbsp (More or Less as you prefer)
Garam Masala Powder – 2tsp
Cumin Powder – 1tsp
Coriander Powder – 1tsp
Dried Methi Leaves – Few
Lemon Juice – 1-2tsp (optional,to add finally)
Oil or Butter – 3 Tbsp or More
Chole Masala Chana Masala Preparation
Soak white chana or chole overnight or 8 hours at least.
After it is well soaked cook the chana with necessary water and salt for 3-4 hisses in pressure cooker.
Let them cool meanwhile prepare the masala for gravy.
In pan/kadai heat oil add roughly chopped onion, sliced ginger and garlic with enough salt.
Fry for a minute or two then add the whole garam masalas and red chili powder or flakes.
Sauté the stuff till onion shrinks and changes color.
Let them cool and grind to smooth paste.
Also make the tomato puree as mentioned above and keep it ready.
Thinly slice 1 small onion and make the other stuffs ready in "Other Ingredients" list.
Heat oil or butter in a pan add whole garam masalas and sliced onion.
After onion changes color add all masala powders like Red Chili Powder, Garam Masala Powder and Cumin Powder.
Sauté for a minute or two then add tomato puree.
In medium flame cook the tomato puree till it reduces in size.
You can add optional 1/2tsp sugar right now.
Now add the ground onion paste, coriander powder, necessary water and cook in medium flame for a while say 10-12 minutes.
Cover the pan with lid leaving some gap over sides and cook so that you can avoid gravy spilling all over.
Cook till oil floats on top, add some lemon juice(optional) and garnish the gravy with dry methi leaves.