This is really a wonderful recipe for savory liker and bakers. Thanks
Shama
for suggesting several recipes for this month Home bakers challenge event started by
Priya Suresh sis
. Me n kids thoroughly liked this soft spinach muffin.Good to go for breakfast and kids snack/lunch boxes…
Ingredients
All Purpose Flour – 1 Cup
Old Fashioned/any Oats – 1/2 Cup (Dry fry for 2-3 minutes and powder well in blender/mixie) Whole Milk/Regular Milk – 1 Cup
Chopped Spinach – 1/2 Cup frozen, thawed, drained and squeezed dry (Refer Note)
Butter – 6 Tbsp
Cheddar cheese – 1 Cup (Shredded )
Baking powder – 1 n 1/4tsp (I used double acting bakign powder)
Baking Soda – 1/2tsp
Pepper – 1/4tsp (Optional)
Dil Weeds – Few to top (Optional)
Salt – 1/2tsp
Recipe Source – Adapted from All Recipes
Method
Mix the flours, baking powder, baking soda, and salt together in a mixing bowl (Pic 1).
Shred the cheese and chop the spinach (Pic 2).
If using non stick muffin tray, lightly grease the muffin cups.
I used baking cups/papers, to know more about it click here…
When the milk is warm you can just add the butter to melt, Otherwise heat/microwave it separately to melt completely.
Add butter, milk together in a large mixing bowl until evenly blended.
Slowly stir in the flour mixture to form a batter (Pic 3).
Finally add pepper(if using),Spinach and Cheddar cheese, incorporate well.
Meanwhile preheat oven to 350°F (175°C).
Spoon 3/4th into each muffin cup.
I topped some dil weeds and shredded cheddar cheese, which is purely optional (Pic 4).
Bake in preheated oven until a toothpick inserted into the center of a muffin comes out clean or about 20-25 minutes (Pic 5).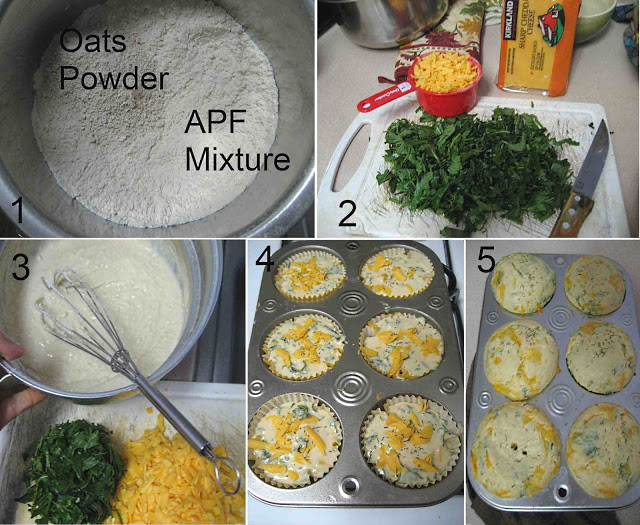 Allow to cool for another 15 minutes before serve.
If using baking papers, allow to cool completely or refrigerate a while for easy peeling…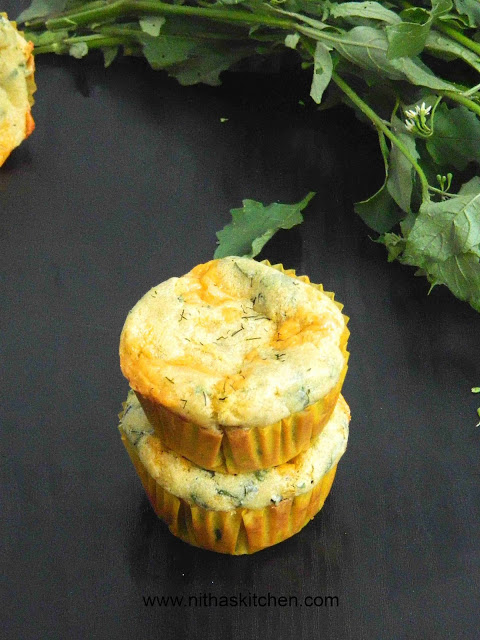 Notes
Any type of green leaves works well, I used Manathakkali keerai/Solanum nigrum (European Black Nightshade) or locally just "black nightshade"/Garden Nightshade/Kaachi Soppu.