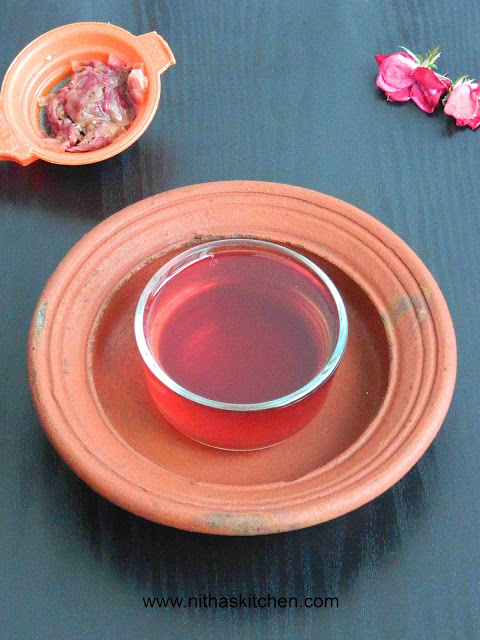 Right now beautiful Roses are bloomed all around. As few recipes call for Rose syrup, thought of making the syrup at home. I just tried and satisfied with the wonderful fresh flavor and taste. I made a small batch of the Rose Petal syrup and I really hooked with the flavor…

Ingredients
Fresh Rose Petals – 1 n 1/2 Cups
Raw Cane Sugar/Jaggery – 1 Cup
Water – 1 and 1/4 Cup
Lemon Juice – 1 tsp
Pinch of Salt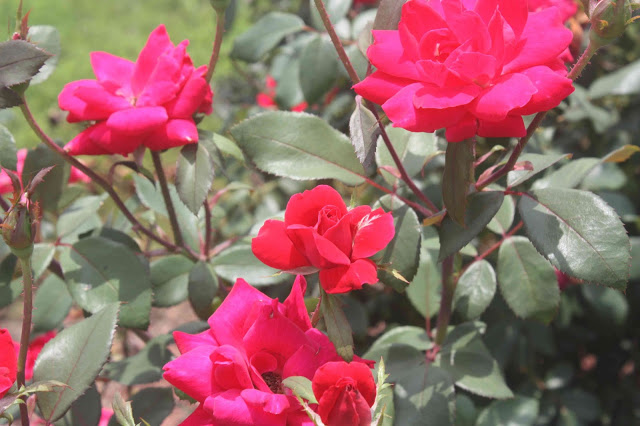 Method
Clean and pick the rose petals alone.
Pat dry to remove excess water over a dry cloth for 20-30 minutes (Pic 1)
Add 4 Tbsp of sugar and gently rub the rose petals using spoon.
Leave it for 1 hour at least or overnight in refrigerator (Pic 2).
By this time rose petals shrink and reduces in quantity (Pic 2).
You can use this as it is as Rose Jam spread/ Gulkand in recipes calls for.
The next day or after an hour, boil 1 and 1/4 cup of water in a pan.
Add the sugared rose petals, remaining sugar, salt, lemon juice and boil continuously in medium flame.
Immediately the rose petals lose its color ((Pic 3) and water gains it.
The nice rose flavor is attained with the syrup getting little thick consistency, ie it reduces to 1 cup or less.
Strain the syrup alone allow to cool (Pic 4) and store in refrigerator for future use.
Note