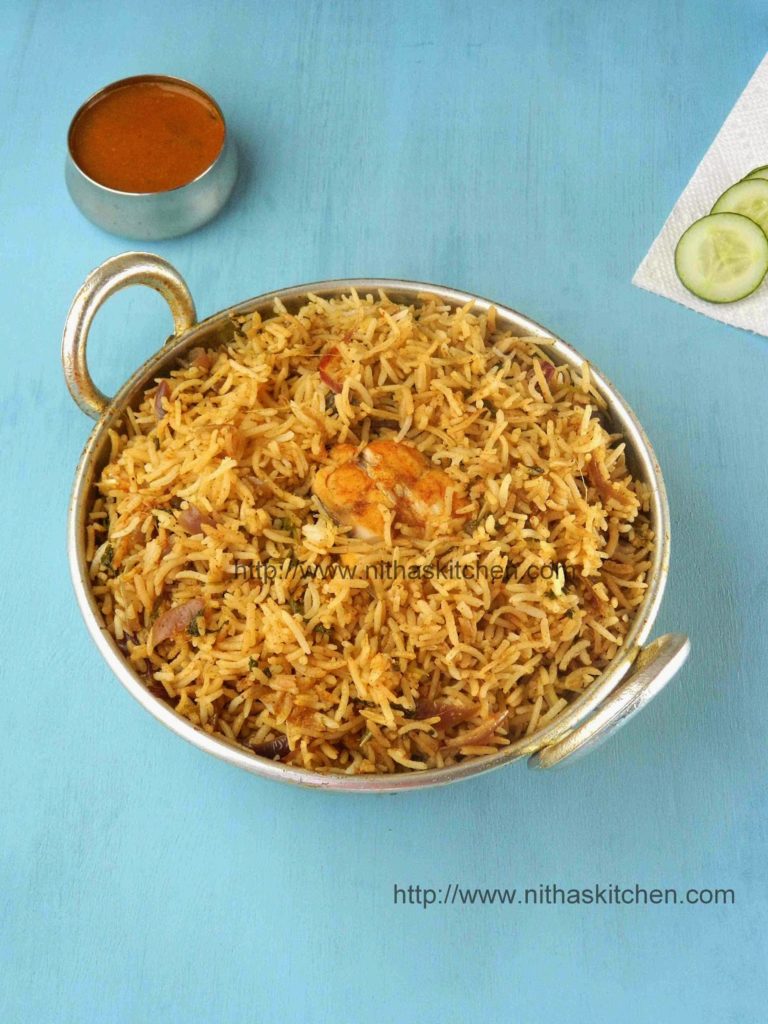 Most of my friends make biryanis' in oven and I am the one who not prefer it much. Few months back I went to a party and oven biryani is one among the buffet which attracted me much.  So nowadays whenever we buy fish this biryani is consistent in our Sunday menu. Making oven biryani's retain the freshness/moist in meat. Instead of fish you can make the same with chicken (Refer Note). Also use pressure cooker for making this biryani (refer note). Only process is bit lengthy (ingredients too :-)) but you definitely like the taste. I have added mild spices and you increase accordingly.

Ingredients to marinate Fish
Lime or Lemon Juice – 1 Tbsp
Red Chilli Powder – 1-2tsp
Turmeric Powder –  1/2tsp
Oil – 2tsp
Salt – 1tsp
First marinate the fish with ingredients given above and keep refrigerated for at least an hour or overnight.
Soak rice for 30-40 Minutes.
Step 1
After an hour/day shallow fry the fish.
I used dosa pan to fry also you can spray little oil all over while frying it.
Salmon leaves more oil so you can use the excess fish oil in layering the biryani later.
Drain the fish oil in a cup n keep the fried fish pieces in the same pan itself (Pic 1 -Step wise picture below).
Biryani Preparation
Ingredients
Rice – 3 Cups
Any Boneless Fish – 2 lbs (1kg) (I use Salmon or Tilaphia, cut in to cubes)
Onion – 2 Numbers (Large)
Slited Green Chilli – 2 Numbers
Ginger Garlic Paste – 1 n 1/2 Tbsp
Yogurt/Curd – 1 Cup
Whole Garam Masala – Cinnamom/Cardamom/Cloves/Bay Leaves/Star Anise – 2 Each
Whole Pepper Corns – 2tsp
Garam Masala Powder – 1 n 1/2 Tbsp
Red Chili Powder – 2tsp or more
Coriander Powder – 1 Tbsp
Turmeric Powder – 1/2tsp
Fried Onions -As Needed
Oil + Butter – 5 Tbsp
Food color/Saffron – Optional
Mint  Leaves – 1 Cup
Coriander Leaves – 1/2 Cup
Water – 10 Cups
Kosher Salt – 1tsp (Optional)
Salt – As Needed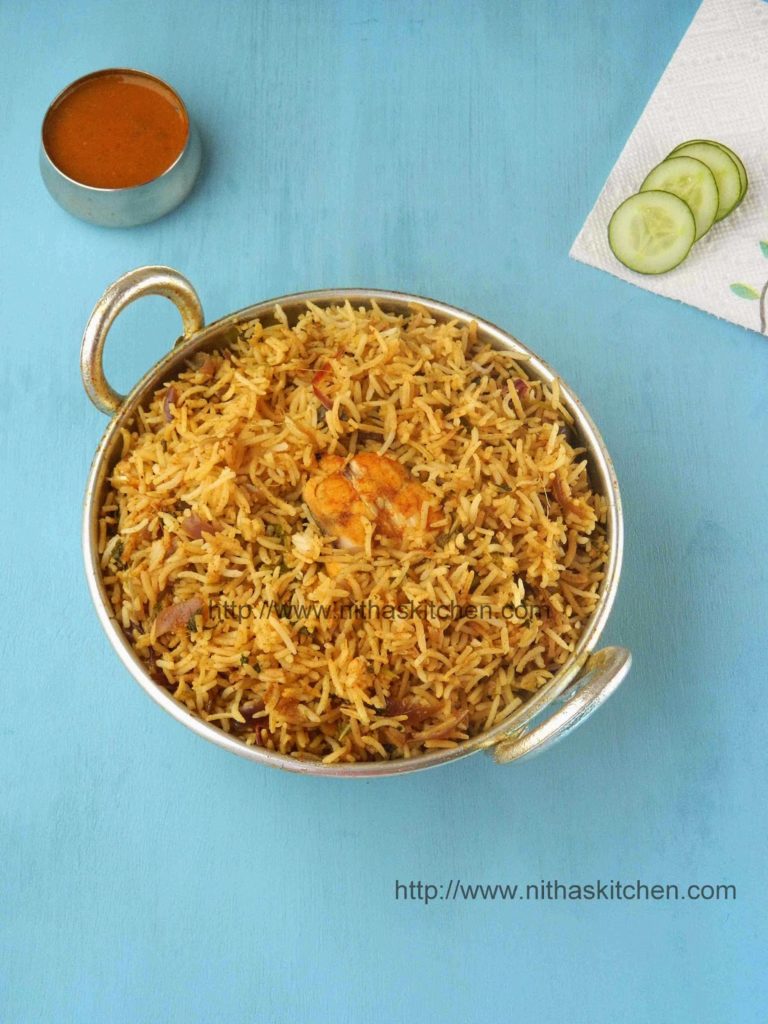 Step 2
Heat 10 cups of water in wide open pan, when water boils vigorously add 2tsp of oil, salt and soaked rice.
Don't stir often and allow to cook 90% (6-8 mins)
When cooked to your satisfaction (Pic 2 – step wise pictures below), drain the excess water and spread the rice to cool a bit ((Pic 3 – step wise pictures below).
Don't leave the rice in open air for long time, will get dry.
Meanwhile prepare the masala/gravy for biriyani.
Step 3
Next step is to prepare the masala for fish biryani.
Heat ghee + oil and add all whole garam masalas with pepper con.
When pepper con doubles in size add thinly sliced onion.
The onion will take time to change it color, add a tsp of salt, pinch of sugar and saute till turns golden brown
Now add ginger garlic paste and slitted chili.
When nice aroma attains add all masala powders and curd.
Saute few minutes and add half cup of chopped mint and 1/2 cup of coriander leaves.
Wait till oil separates and float on top, keep it aside (Pic 1 – step wise pictures below).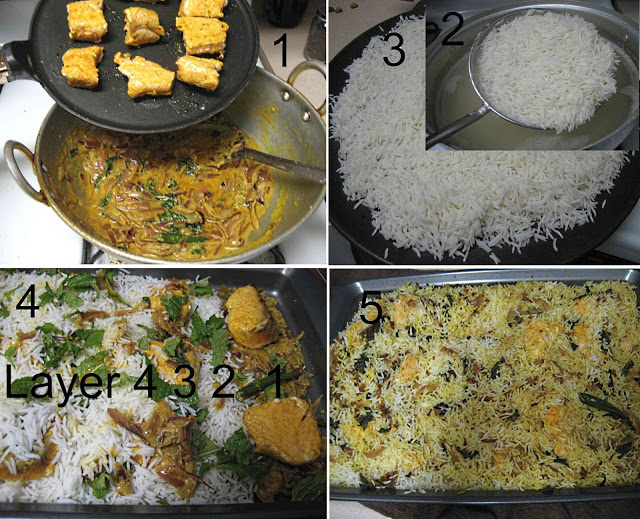 Stepwise Pictures
How to Layer biryani and dum in Oven
Mix the remaining 1/2 cup mint leaves with few drops of lemon juice.
This method is to prevent mint burning when layered in oven.
Take a oven safe pan or aluminum tray, grease with oil or ghee.
Spread a thin layer of gravy first (Layer 1 in Step 4 above Step wise Picture).
Add a thin layer of cooked basmati rice, mint leaves and insert fried fish here and there (Layer 2 in Step 4 above Picture).
Next spread the gravy((Layer 3 in Step 4 above Picture).
Finally top with cooked basmati rice and mint leaves (Layer 4 in Step 4 above Picture).
Add left over fish oil now (optional) and mix saffron/food color in milk/water and sprinkle here and there(optional).
Add few fried onions.
Cover the top with aluminum foil and cook in oven at 350°F for 15-20 mins or till its done.
After 7 minutes,take the tray out and gently(without breaking the fish) give a stir from bottom to top for the gravy to mix with rice.
Serve with Raita or Fish Gravy.
Notes
Neither dry the gravy much nor make it watery.
Too much of moisture takes long time for the biryani to cook in oven and vice versa.
When replacing fish with chicken, marinate with same ingredients+1 tbsp of yogurt and mix it with biryani masala/gravy instead of shallow frying part n the other procedures are same.
When using pressure cooker, cook the rice and gravy with 1:2 ratio of rice and water, finally mix the fried fish, fried onions, saffron water etc (add all mint in masala part itself).
Old pictures updated.